This easy gazpacho is a chilled summer soup made with tomatoes, cucumber, pepper, and onion blitzed in the blender and seasoned with hot sauce. Simple, fresh, and healthy.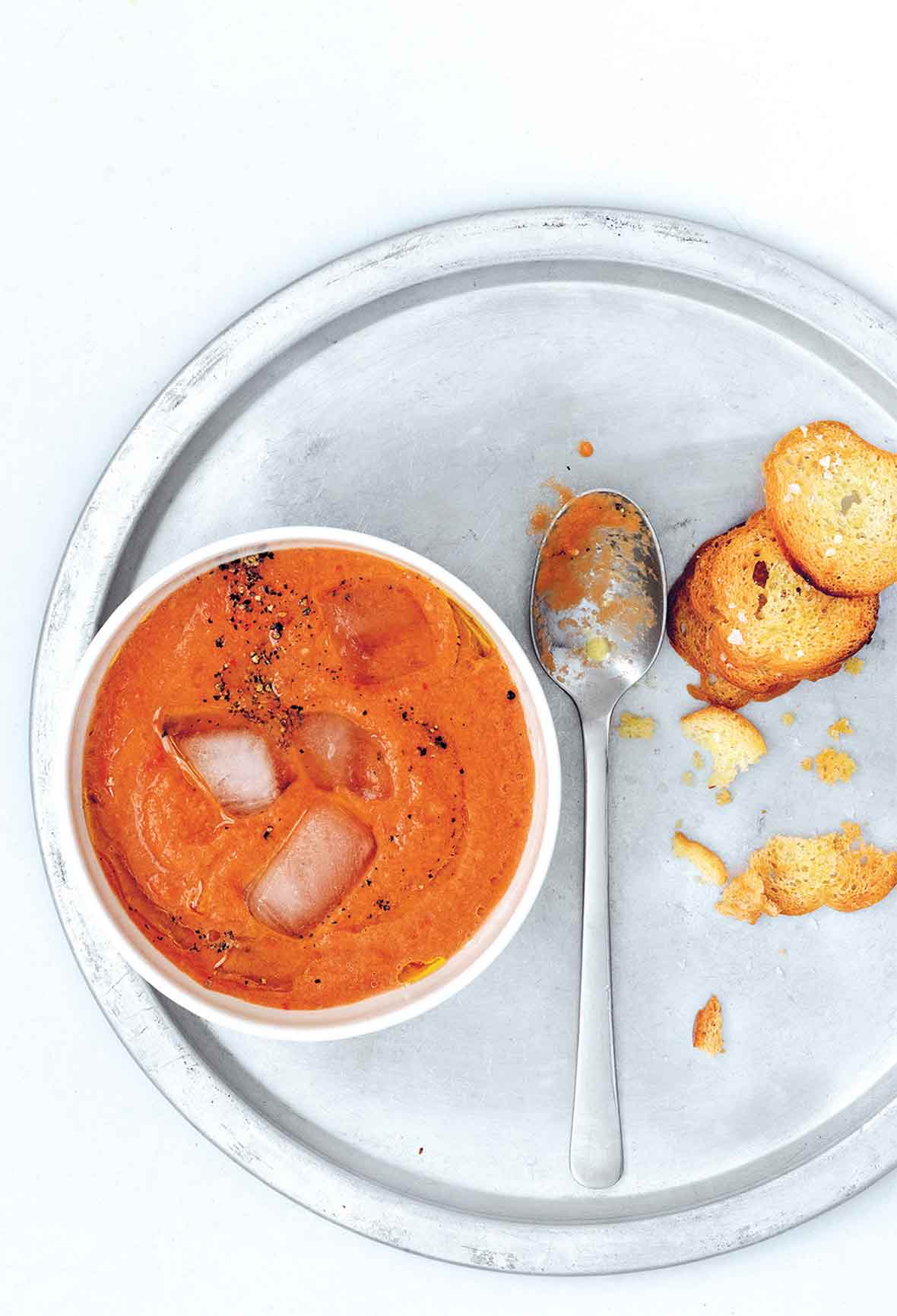 Technically speaking, no gazpacho recipe is difficult to make. Yet we'd have to say the author is correct when she asserts this is perhaps the easiest easy gazpacho recipe ever. Just blitz some ingredients in the blender and pour it into a bowl. We swear this riff on a Spanish classic will have you swearing off takeout all summer long, whether with feta crumbled atop or finely diced cucumber or, well, use your imagination. What else could you strew atop your gazpacho to make you swoon? Let us know in a comment below.–Renee Schettler Rossi
Easy Gazpacho
Quick Glance

(1)

20 M
20 M

Serves 2
Print Recipe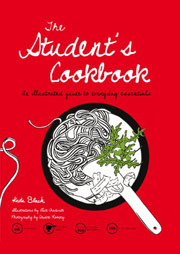 Ingredients
Email Grocery List
Directions
Bring some water to a boil in a small saucepan. Place the tomatoes in a large bowl. Pour the boiling water over the tomatoes and let them stand for a few minutes.
When the tomatoes are cool enough to handle, use a paring knife or your fingers to peel or slip off the skin. Cut the tomatoes into chunks.
Remove the stem, white parts, and seeds from the bell pepper and cut it into chunks. Peel the cucumber and cut it into chunks. Peel the onion and cut it into chunks.
Toss the tomato, pepper, cucumber, and onion in a food processor or blender and process until the desired consistency is achieved. For a thinner consistency, add 1/4 cold water, blend again, and continue to add water until the desired consistency is achieved.
Add the oil, hot sauce, salt, and pepper and stir to combine. Taste and adjust the seasoning accordingly. Cover and refrigerate until chilled through.
Ladle the gazpacho into bowls and plop the ice cubes in the bowls. Originally published August 20, 2014.
Print Recipe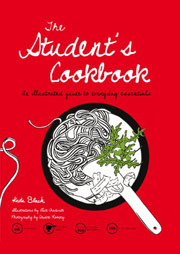 Recipe Testers Reviews

This easy gazpacho recipe is infinitely adaptable and the perfect fix for a gazpacho craving. The soup was really easy to put together with the help of my immersion blender. The key here is to make the basic soup and then add any number of toppings to take it to the next level.
I added about 5 tablespoons cold water to get the soup to the desired consistency. Without the water, it was just too thick for my taste. I added 1 teaspoon Louisiana hot sauce, which gave the gazpacho just enough kick for my husband and me.
We let it sit overnight to get cold, and it was perfect the next day. We tried it topped with a dollop of yogurt, a big squeeze of lime, a sprinkling of chopped peppers and cucumbers, some croutons, chopped avocado, a handful of toasted walnuts—all were great.
I will definitely make this again.

This easy gazpacho seems to be the absolute traditional Spanish soup. Make sure to use high-quality tomatoes, so home-grown or organic are better.
I added exactly 2 teaspoons hot sauce, as more than that obscures the taste of the tomato. I only used 1 cup cold water and added 9 ice cubes to make it cool faster. I placed it in the fridge for about an hour and it was the perfect temperature.
Growing up in Spain, we had gazpacho like this topped with chopped hard-boiled eggs, cubed tomatoes, peppers, onions, and cucumbers. Enjoy!

For this easy gazpacho recipe, the first thing I was did was remove the tomato seeds and the whitish inner membranes, as well as the skin. When blended, the gazpacho had a light salmon orange color, much lighter than might be expected from tomatoes and red bell pepper.
I added 1 teaspoon hot sauce, which I would probably not have added if the recipe didn't call for it. I left the soup in the fridge for 1 hour. If desired, ice cubes could be blended with the soup to bring the temperature of the soup down more quickly, although there would be some dilution.
Although the soup had a slightly rough overall taste, which I attributed partly to the hot sauce and partly to the raw onion, I would still make it again, but I'd perhaps try using fresh chile pepper instead of store-bought sauce.
Easy Gazpacho Recipe © 2011 Keda Black. Photo © 2011 Deirdre Rooney. All rights reserved. All materials used with permission.
If you make this recipe, snap a photo and hashtag it #LeitesCulinaria. We'd love to see your creations on Instagram, Facebook, and Twitter.