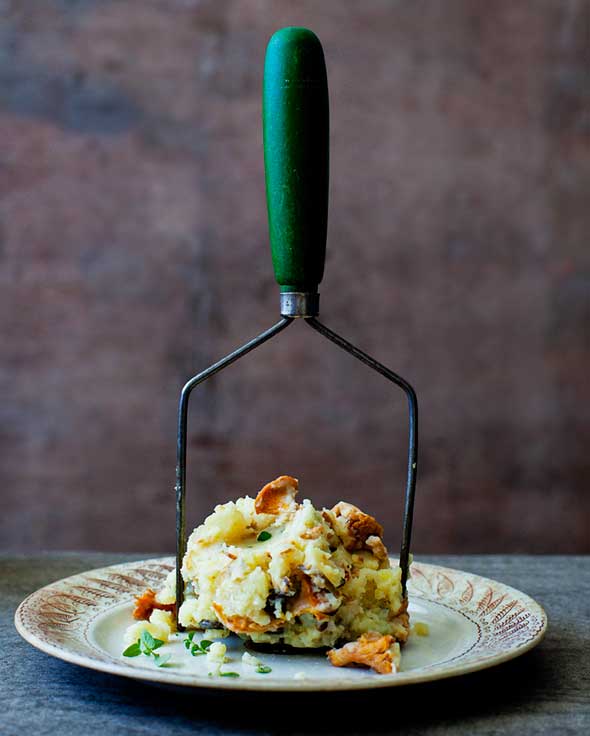 The flavor of these chanterelle mashed potatoes is simply a delight. It is great served with meat. A rather unfamiliar pairing that is common throughout Nordic countries—and one I have been forced to come to terms with—is mushrooms and fish. Try it for yourself.–Simon Bajada
LC For Chanterelle Mushroom Mavens Only Note
With just potatoes, milk, butter, thyme, and mushrooms in this chanterelle mashed potatoes recipe, you're going to be tasting some earthiness. It's a good thing if you're into mushrooms. Heck, it's a phenomenal thing if you're into mushrooms. Just saying, with the chanterelles definitely the alpha ingredient, this recipe probably shouldn't replace your classic mashed potatoes at the traditional Thanksgiving table. Though it could definitely make an admirable stand-in should your family be the sort that welcomes a little lawlessness.
Special Equipment: Ricer or potato masher
Chanterelle Mashed Potatoes Recipe
Quick Glance
10 M
35 M

Serves 6
Ingredients
2

pounds 3 ounces

potatoes

, such as russets or Yukon Golds, peeled and cut into 1 1/2-inch chunks

Salt

, to taste

7

ounces

chanterelle mushrooms

, brushed clean, the larger ones torn in half

2

teaspoons

chopped fresh thyme

1

tablespoon

mild olive oil

2

tablespoons (1 ounce)

salted butter

White pepper

, to taste

10

fluid ounces

whole milk
Directions
1. Toss the potatoes and some salt in a large saucepan, add enough cold water to cover, and bring to a boil. Cook for 12 to 15 minutes, or until the potatoes are tender.

2. Meanwhile, sauté the mushrooms and thyme in the oil and half the butter in a frying pan over a medium heat. Season well with salt and white pepper. Once the mushrooms have softened and released some of their liquid, remove the pan from the heat and set aside.

3. Put the milk and the remaining butter in a small saucepan. Season with salt and pepper and then gently warm over low heat just until the milk is steaming. Do not let it boil.

4. Drain the potatoes well and then return them to the hot pan, place it over low heat, and slide the pan back and forth over the burner for a minute or so to shake the potatoes and help evaporate any excess moisture. Press the potatoes through a ricer for best results or use a handheld potato masher.

5. Stir the buttery milk mixture into the potatoes, a little at a time, using a wooden spoon. Mix gently just until it forms a smooth purée. You don't want to over-mix the mash or it will turn to a sticky paste. And no one likes gluey mashed potatoes.

6. Gently stir in the mushrooms. Taste and correct the seasoning with salt or pepper as desired. Serve immediately.
Hungry for more?
Chow down on these:
Chanterelle Mashed Potatoes Recipe © 2015 Simon Bajada. Photo © 2015 Simon Bajada. All rights reserved.
Hey, there. Just a reminder that all our content is copyright protected. Like a photo? Please don't use it without our written permission. Like a recipe? Kindly contact the publisher listed above for permission before you post it (that's what we did) and rewrite it in your own words. That's the law, kids. And don't forget to link back to this page, where you found it. Thanks!