This quick broccoli rabe recipe is mellowed by sweet, roasted garlic and spiked with the heat of red pepper flakes. An easy side dish for weeknight dinners.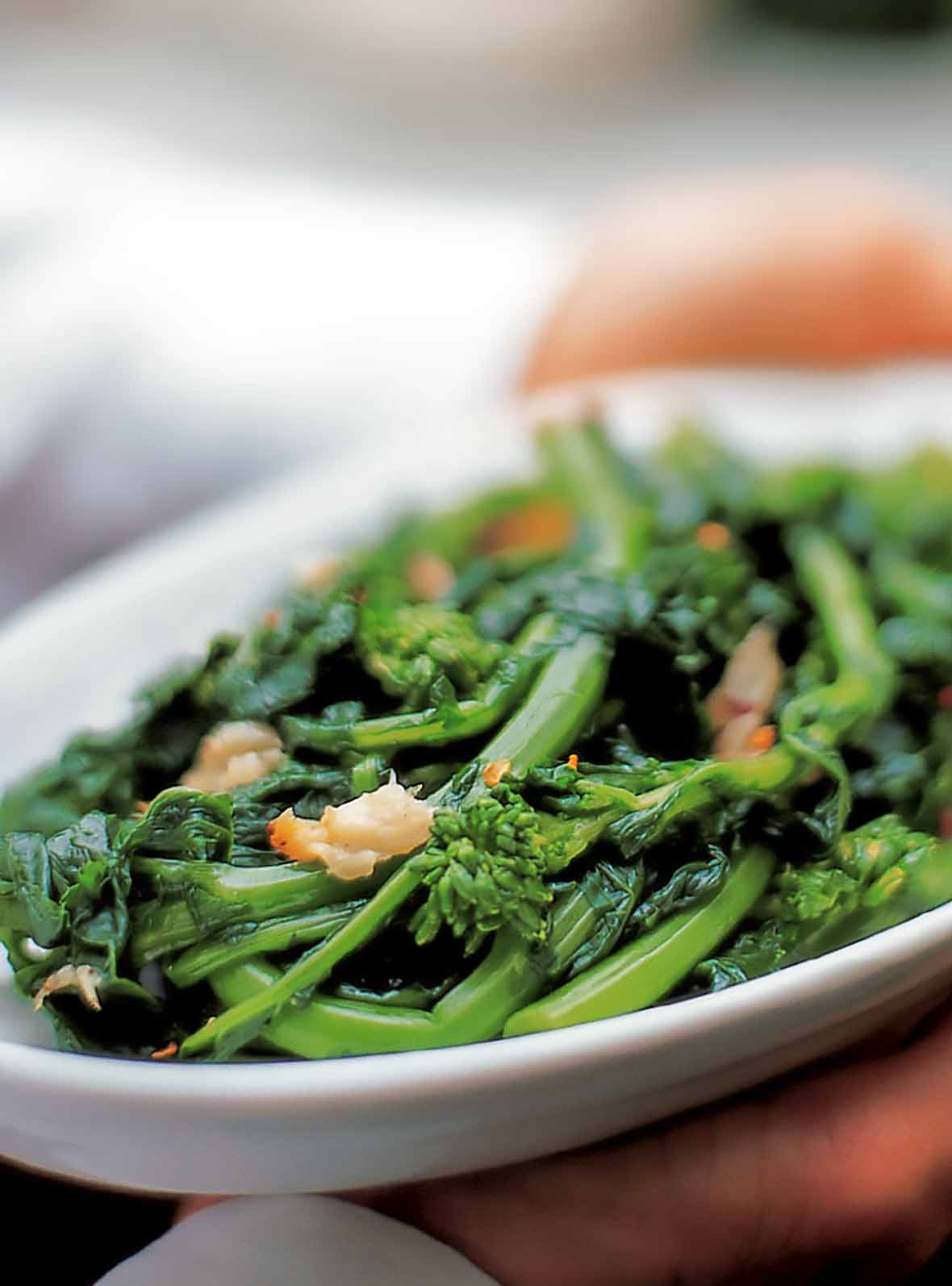 Large spears of broccoli fried in copious amounts of oil and garlic are a staple at old-school Italian restaurants in Manhattan and the outer boroughs. As newer restaurants have begun to reflect a broader spectrum of Italian regional cuisine, broccoli rabe, favored especially in northern Italy, has grown in popularity. Known also as broccoli raab and rapini, it's endowed with green stalks and florets, but is more closely related to cabbage and turnips than its namesake, broccoli. In this version, its pleasant bitterness is balanced by the nutty, almost sweet flavor of roasted garlic. It's an excellent accompaniment to roasted pork, grilled steak, or pasta.–Carolynn Carreño
LC You Say Rabe, I Say... Note
It's nice to be able to pronounce the food that you eat—and not just in terms of avoiding multisyllabic ingredients that mess with Mother Nature. What we mean in terms of this recipe is that it's sorta common decency to appreciate and convey your respects for food from another culture via—you guessed it—proper pronunciation. That tricky looking word after "broccoli"? Don't pronounce the "e" at the end. It should sound like "rahb." As if you were talking about going to rob a local grocer of his rabe. Not that you would ever do that. (Would you?!)
Broccoli Rabe with Roasted Garlic
Quick Glance
10 M
1 H

Serves 6
Ingredients
Email Grocery List
For the roasted garlic

1 head garlic

2 tablespoons olive oil

Sea salt and freshly ground black pepper

For the broccoli rabe

3 pounds broccoli rabe

1/4 cup cold water

2 to 4 tablespoons olive oil

Pinch crushed red pepper flakes (optional)

Sea salt and freshly ground black pepper
Directions
Make the roasted garlic

1. Preheat the oven to 350°F (176°C).

2. Break the head of garlic into individual cloves but do not peel them. Stack 2 pieces of aluminum foil, each about 6 inches square, on top of one another. Pile the garlic cloves in the center of the foil, drizzle with the olive oil, and sprinkle with salt and black pepper. Bring up the corners of the foil and crimp together to make a tightly sealed little package. Roast until the garlic cloves feel soft and yielding when you gently pinch them, 30 to 40 minutes. Let the garlic cool slightly.

3. When the garlic is cool enough to handle, pinch the tip of each clove to squeeze the mushy goodness from the papery skins. Discard the skins but reserve the garlic oil in the foil.

Make the broccoli rabe

4. Meanwhile, trim and discard the tough stem ends from the broccoli rabe. Place the rabe in a large saucepan and add the water. Cover the pan and bring to a boil. Reduce the heat to medium-low and cook until the broccoli rabe is tender and bright green, about 5 minutes. Drain and pat the broccoli rabe dry. If desired, cut it into 1-inch lengths.

5. In a large skillet over medium heat, warm the olive oil. Add the roasted garlic, any oil from the foil package, and the red pepper flakes, if desired, and saute for 3 to 4 minutes. Add the broccoli rabe, stir to combine, and saute just until heated through, about 3 minutes. Season to taste with salt and black pepper.
Recipe Testers Reviews
Broccoli Rabe with Roasted Garlic Recipe © 2005 Carolynn Carreño. Photo © 2005 Quentin Bacon. All rights reserved. All materials used with permission.
If you make this recipe, snap a photo and hashtag it #LeitesCulinaria. We'd love to see your creations on Instagram, Facebook, and Twitter.