These pressure cooker ribs, which are easy and ideal for the Instant Pot, are finished in the oven with a brown sugar and Dijon glaze. It's a super-fast method for knee-wobbling, lip-smacking, fall-off-the-bone tenderness.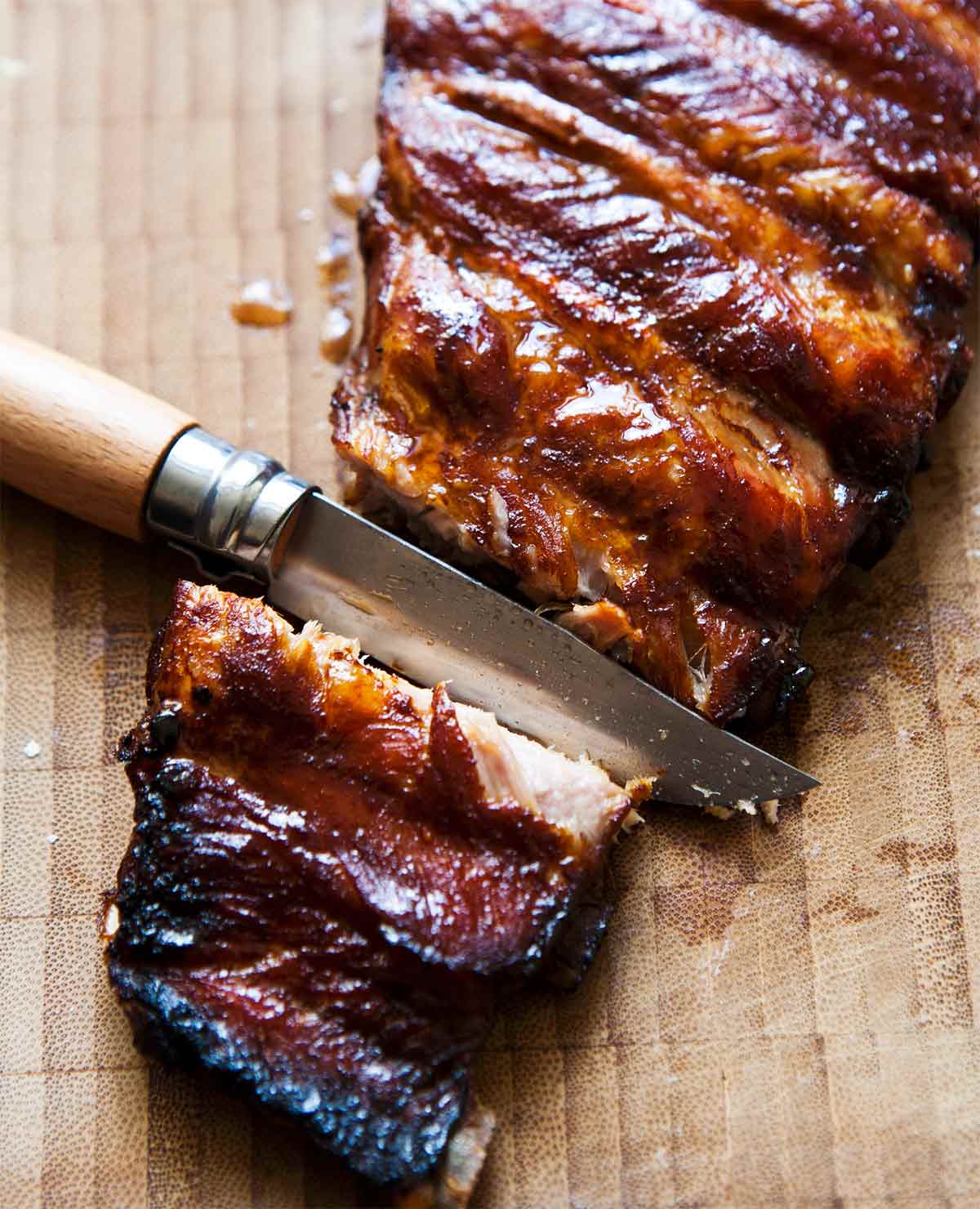 We confess that until we tried this pressure cooker spare ribs recipe, we'd always been a little leery of pressure cookers. We'd just never imagined you could turn out anything like ribs that are fall-off-the-bone tender in 30 minutes or less. We were wrong. So spectacularly wrong. This pressure cooker pork ribs recipe made believers out of us. One taste and it'll convert you, too.–David Leite
Pressure Cooker Ribs FAQs
How do you remove the membrane from ribs before cooking?
To remove the membrane or silver skin from a rack of ribs, use the tip of a small knife to loosen a corner and then grab the membrane with a paper towel and slowly pull it off.
Can I use a different cooking liquid?
Definitely. Water will do fine, though it won't impart as much flavor as stock or broth. Feel free to try it with apple juice or even root beer.
☞ Like pressure cooker recipes? Try these:
Pressure Cooker Ribs
These pressure cooker ribs, which are easy and ideal for the Instant Pot, are finished in the oven with a brown sugar and Dijon glaze. It's a super-fast method for knee-wobbling, lip-smacking, fall-off-the-bone tenderness.
Ingredients
1/2

(3-pound) rack

pork spare ribs

membranes removed

1

teaspoon

kosher salt

Freshly ground black pepper

1

cup

Beef Stock or low-sodium broth

3

tablespoons

Dijon mustard

3

tablespoons

packed brown sugar
Directions
Cut your 1/2 rack of spare ribs into 2 or 3 pieces so all the ribs will fit in the pressure cooker. Sprinkle the ribs on both sides with the kosher salt and season with pepper. Pour the beef stock into the pressure cooker and place the steamer insert in the cooker. Place the ribs on the steamer insert. Rather than stacking sections of ribs, place the rib sections on end and sort of curl them around the pot so the pieces aren't touching to ensure even cooking.

Lock the lid in place and bring the pot to high pressure (15 psi for stove top or 9 to 11 psi for electric).

If using a stove-top pressure cooker, maintain the pressure for 20 minutes for tender ribs or, if you prefer that the ribs be falling-off-the-bone tender, cook for 30 minutes, adjusting the burner as necessary.If using an electric pressure cooker, such as an Instant Pot, cook at high pressure for 20 minutes for tender ribs or, if you prefer ribs that are falling-off-the-bone tender, cook for up to 30 minutes. When the timer goes off, turn the cooker off. Do not let the pressure cooker automatically switch to the "warm" setting.

Use the natural method to release the pressure in the cooker. Unlock and remove the lid. Using tongs, move the ribs, bone-side up, to a rack placed on an aluminum foil-lined sheet pan. Let the cooking liquid in the pressure cooker rest for several minutes to allow the fat to rise to the surface.

Meanwhile, preheat the broiler and adjust an oven rack to the top or second position.

While the broiler heats, spoon off and discard the fat from the surface of the cooking liquid. Place the stove-top cooker over medium heat or turn the electric cooker to "brown" or "saute" and bring the stock to a vigorous simmer. Cook until the stock is reduced to 1/3 of the original volume, 8 to 10 minutes.

Stir in the mustard and brown sugar, and continue simmering for 6 to 8 minutes more, or until the sauce resembles a thick syrup. Remove from the heat.

Baste the bone side of the ribs with some of the mustard sauce. Slide the ribs under the broiler until the sauce is bubbling, about 4 minutes. Remove the sheet pan from the oven, turn the ribs over, and baste with the remaining glaze. Return to the broiler until warmed through, about 6 minutes. Cut the ribs into 1- or 2-rib sections and serve.
Show Nutrition
Serving:
1
portion
Calories:
1034
kcal
(52%)
Carbohydrates:
19
g
(6%)
Protein:
55
g
(110%)
Fat:
81
g
(125%)
Saturated Fat:
26
g
(163%)
Polyunsaturated Fat:
14
g
Monounsaturated Fat:
30
g
Trans Fat:
1
g
Cholesterol:
272
mg
(91%)
Sodium:
2145
mg
(93%)
Potassium:
943
mg
(27%)
Fiber:
1
g
(4%)
Sugar:
18
g
(20%)
Vitamin A:
16
IU
Vitamin C:
1
mg
(1%)
Calcium:
87
mg
(9%)
Iron:
4
mg
(22%)
If you make this recipe, snap a photo and hashtag it #LeitesCulinaria. We'd love to see your creations on Instagram, Facebook, and Twitter.
David Says
I am not an Instant Pot fan. I've made a couple of Insta-Recipes, and they were disasters. The meat tasted bland and boiled and felt waterlogged. The third time, The One just stared at me, giving me his why-do-you-always-have-to-buy-every-gadget-you-see look. (Yes, that is an actual expression brought on by the junk heap of discarded appliances, tools, implements, and doodads in the basement.) After I washed the Instant Pot after that last experiment, I stuffed it with its manuals, little red silicone gloves, and plastic spoon and tossed it on the heap, where I was certain it would stay until the basement grew so overwhelmingly stuffed we'd be eligible to star in an episode of "Hoarding: Buried Alive, Culinary Edition."
Since the New Year, though, we've been Inventory Eating to empty out the fridge, pantry, and freezer. Yesterday we were rummaging through our serial-murderer freezer (you know, the long chest kind), and in among the chickens, ground beef, fatback that I will never use, and the crystalized shrimp and lobster shells was a frozen rack of ribs.
"What can we do with it?" The One asked.
"Not a lot today." The temperature was hovering at near zero, so grilling was out of the question. Then I remembered this recipe. "Well, there is a pressure cooker ribs recipe on the site," I added.
"Is that the crazy Instant Pot thing?"
"Yes."
"Are you kidding? More boiled meat? What are we? British?"
When I told him he could make dinner if he was so offended, he suddenly expressed his undying affection "for a good boiled joint followed by a Spotted Dick."
I followed the recipe exactly. I cut the ribs into three sections, laying them on top of one another like a pile of books, which was I discovered was wrong. Even 25 minutes of high pressure couldn't cook that meat stack all the way through. So I put them back in for 5 minutes standing on end, and they cooked--I freaking hate to say it--perfectly.
All that was left was to baste them with the glaze and broil them. Apparently, I've had bad broiler mojo, too, because I burned one side. Luckily, it was the underside, so there wasn't too much damage. (Note to self: Learn the difference between low, medium, and high broil on the wall oven.) I hovered at the oven while the meaty side turned from gray to tan to a burnished terra cotta.
"These are amazing," said The One.
"I know, right?" Who knew pressurized meat could be so good.
I don't know if our success was due to Janet Zimmerman's excellent directions (other pressure cookbooks, especially Instant Pot tomes, have proven a bust for me), or perhaps I'm starting to get a handle on this Instant Pot headache contraption. Or a little bit of both.
As of now, this jury is still out on Instant Pot. But this recipe? Not guilty by reasons of insane deliciousness.
Recipe Testers' Reviews
Ribs are generally relegated to the weekend when we have enough time to complete the arduous task. No more! I've tried many methods and recipes for preparing the perfect porcine delight. Smoking, oven-roasting, and on and on and on. These ribs are as fine as any that I've made. The most exciting thing? I can roll in the door at 5:30 p.m., hit the shower, and still have amazing ribs on the table by 7 p.m.
If you want to add a bit of smoke, how about some smoked sea salt? The rib meat was very tender yet still firm and close to falling off the bone. If I could use just one word, that word would be astonishing!
If you don't own a pressure cooker, this pressure cooker ribs recipe alone justifies the purchase.
Pressure cooker ribs is absolutely my new go-to method. The ribs were falling off the bone tender at 25 minutes, just the way we like them.
Removing the membrane from the backside of the ribs isn't difficult but many brands offer ribs pre-packaged with the membrane already removed. Also, most behind-the-counter butchers will do this for you if you ask. Glazing the ribs under the broiler yielded a "cooked on the grill" appearance with a nice caramelized glaze.
Using a 6-quart electric pressure cooker, I was able to lay the full slab of ribs on its side on top of the steamer insert and coil it around the pressure cooker bowl. This was a nice alternative to cutting the ribs into pieces and trying to keep them standing upright.
On my second try at this recipe, I wanted to get more flavor on the ribs so I used my favorite rib rub instead of salt and pepper. The brown sugar and Dijon mustard glaze is nice but I prefer discarding the broth and fat that cooks out of the ribs and finishing with our favorite BBQ sauce. If that's what you try, feel free to substitute 1 cup of water in place of the beef broth or experiment with other liquids like apple juice or even root beer. Just remember to use 1 cup of liquid to get enough pressure for cooking.
Depending on the size of your cooker, you might be able to make more than one rack of ribs at a time – check your cooker manual.
Spare ribs are exactly the kind of food I'd really rather eat at home, where one can unabashedly eat with one's hands and lick one's fingers, but this never happens at our house—too much epic prep and time for 2 people—so I eagerly accept invitations for BBQ ribs from friends with smokers and maybe some Texas experience.
While I was excited to see this recipe for pressure cooker ribs, I was also skeptical that such a simple approach would work. With the confidence of my pressure-cooker-loving spouse, we took this recipe on.
What I love about this pressure cooker pork ribs recipe is that while it may not be something you always want to do on a weeknight, these are short-timeline spare ribs, and the recipe works for just 2 people! We actually made it twice. Batch one was strictly according to the recipe and at the low end of the time at just 20 minutes under pressure (2 rings on a 7 liter Kuhn Rikon stove-top pressure cooker, using induction hob).
For the second batch, we extended the pressure time to 30 minutes. The second batch was also from the larger, fleshier end of the rack and gave off a bit more fat. At 30 minutes, you have fall-off-the-bone meat, followed by just-short-of-blistering charred crispness from the broiler. If you can leave your oven door open when your broiler operates, you'll do well to stand right there and monitor it.
The height of our tall pressure cooker made separating and reducing the liquid awkward, so I poured the cooking liquids into a gravy separator and then decanted that into a smaller saucepan that a short cook could easily watch and stir. I had to watch my broiler like a hawk, even dropping the ribs down to the third position, which was 6 1/2 inches away from the element, and I dialed back the broil setting shy of full high and snatched the ribs out a couple minutes early on each side.
The ribs were tasty and gone quickly, but we thought it needed a little more depth, either in the cooking or the sauce. Maybe a rub in addition to the salt and pepper? More depth of flavor could easily be achieved with a bit of chipotle or a smoked hot paprika in the glaze, giving you some smokiness and heat. The glaze needed a bit of something, too.
It would become a little more interesting with some acid to play against the mild heat of the mustard and brown sugar combination—we thought a splash of vinegar added at the end would work just fine for this. Those are very minor issues and easily adapted to individual preferences.
Originally published December 4, 2015
Recipe © 2015 Janet A. Zimmerman. Photo © 2015
Silvio Knezevic
. All rights reserved. All materials used with permission.
If you make this recipe, snap a photo and hashtag it #LeitesCulinaria. We'd love to see your creations on Instagram, Facebook, and Twitter.