Stovetop mac and cheese takes the ultimate comfort food and makes it even creamier and cheesier.  Evaporated milk, eggs, and sharp cheddar sauce is given a glow-up with dry mustard and hot sauce so adults love it, too. All that, crowned with buttery breadcrumbs. What more could you ask for?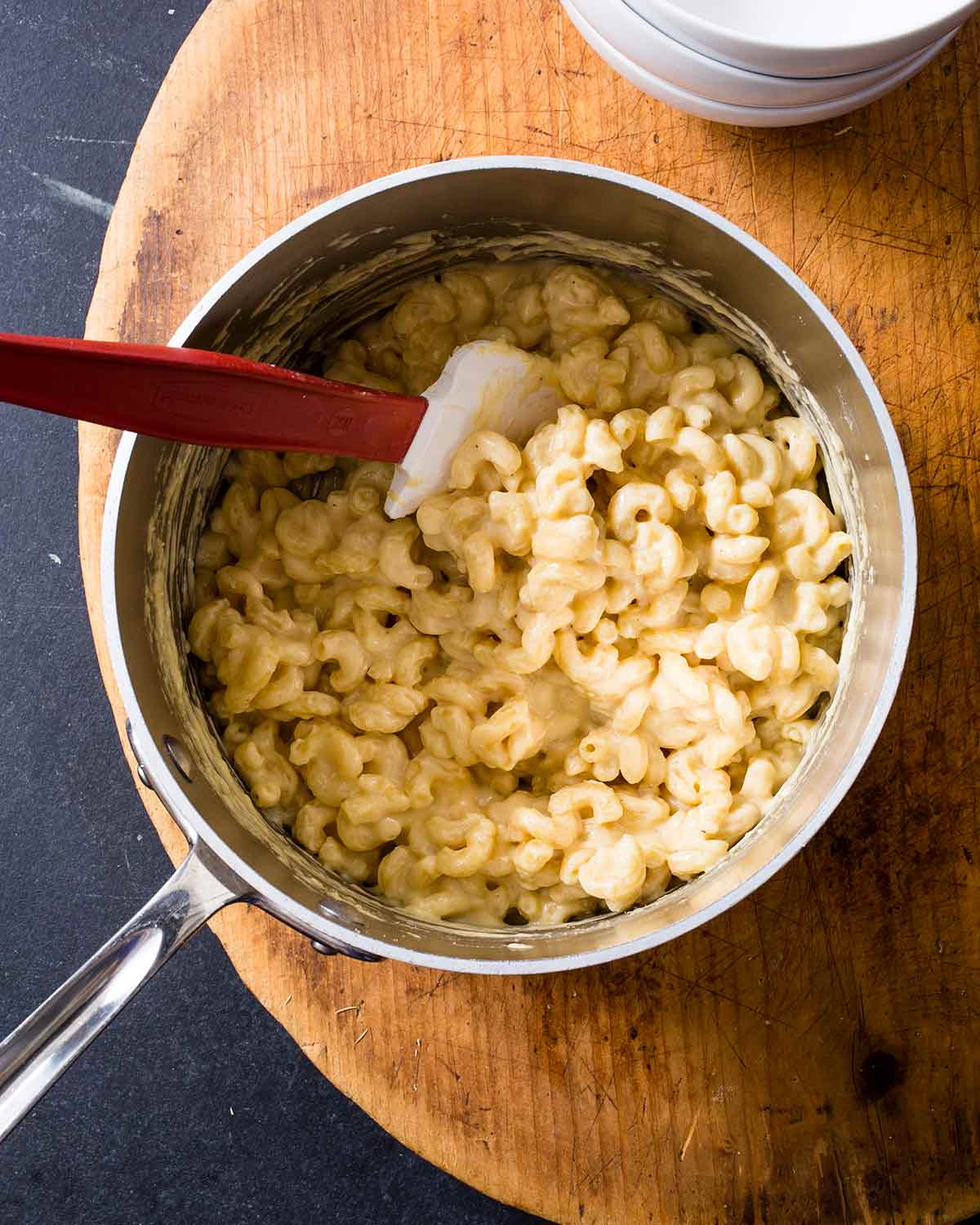 Adapted from America's Test Kitchen | The Complete America's Test Kitchen TV Show Cookbook 2001 – 2021 | America's Test Kitchen, 2020
Just about the only thing boxed macaroni and cheese has going for it is its fast prep—and the fact that kids will almost always gobble it up. We wanted a quick stovetop macaroni and cheese with an ultra-creamy texture and authentic cheese flavor—so good that it would satisfy everyone at the table.
We cooked the macaroni to just shy of al dente, then drained and combined it with butter and an egg custard mixture that included evaporated milk, eggs, hot sauce, and dry mustard. For the cheese we chose cheddar, American, or Monterey Jack—and plenty of it. We stirred the cheese into the macaroni mixture until thick and creamy and then topped the mixture with toasted homemade bread crumbs–the final touch to this easy-to-prepare family favorite.–America's Test Kitchen
Stovetop Mac and Cheese
Stovetop mac and cheese takes the ultimate comfort food and makes it even creamier and cheesier.  Evaporated milk, eggs, and sharp cheddar sauce is given a glow-up with dry mustard and hot sauce so adults love it, too. All that, crowned with buttery breadcrumbs. What more could you ask for?
Ingredients
For the bread crumb topping*
3

slices

high-quality white sandwich bread

torn into quarters

2

tablespoons (1 oz)

unsalted butter

Table salt
For the macaroni and cheese
2

large eggs

1

(12-ounce) can

evaporated milk

2

teaspoons

table salt

1/4

teaspoon

freshly ground black pepper

1

teaspoon

dry mustard

dissolved in 1 teaspoon water

1/4

teaspoon

store-bought or homemade hot sauce

8

ounces

elbow macaroni

about 2 cups

4

tablespoons (2 oz)

unsalted butter

12

ounces

sharp Cheddar

American, or Monterey Jack cheese, shredded (about 3 cups)
Directions
Make the bread crumb topping
In a food processor, pulse the bread until coarsely ground, 10 to 15 pulses.

In a large skillet over medium heat, melt the butter. Add the bread crumbs and cook, tossing to coat with the butter, until the crumbs just begin to color, about 7 minutes. Remove from heat. Season with salt to taste.
Make the macaroni and cheese
In a small bowl, mix the eggs, 1 cup of the evaporated milk, 1/2 teaspoon of the salt, the pepper, mustard mixture, and hot sauce.

Meanwhile, in a large heavy-bottomed saucepan or Dutch oven, bring 2 quarts of water to a boil. Add the remaining 1 1/2 teaspoons salt and the macaroni and cook, according to the package instructions, until almost tender but still a little firm to the bite. Drain and return to the pan over low heat. Add the butter and toss to melt.

Pour the egg mixture over the buttered noodles along with three-quarters of the cheese, and stir until thoroughly combined and the cheese starts to melt.

Gradually add the remaining 1/2 cup milk and the remaining cheese, stirring constantly, until the mixture is hot and creamy, 5 to 6 minutes.

Serve immediately and sprinkle with the toasted bread crumbs. This is best enjoyed immediately after making.
Notes
*What can I use instead of bread crumb topping on my mac & cheese?
If you're in a hurry or prefer to sprinkle the dish with crumbled crackers (saltines aren't bad), you can skip the bread-crumb step.
Show Nutrition
Serving:
1
portion
Calories:
927
kcal
(46%)
Carbohydrates:
63
g
(21%)
Protein:
40
g
(80%)
Fat:
57
g
(88%)
Saturated Fat:
35
g
(219%)
Trans Fat:
1
g
Cholesterol:
256
mg
(85%)
Sodium:
1942
mg
(84%)
Potassium:
562
mg
(16%)
Fiber:
3
g
(13%)
Sugar:
12
g
(13%)
Vitamin A:
1755
IU
(35%)
Vitamin C:
2
mg
(2%)
Calcium:
907
mg
(91%)
Iron:
3
mg
(17%)
If you make this recipe, snap a photo and hashtag it #LeitesCulinaria. We'd love to see your creations on Instagram, Facebook, and Twitter.
Recipe Testers' Reviews
I attempted to turn a blue box believer into a scratch mac supporter – I was fairly successful. My 9-year-old is a big fan of the blue box mac and cheese, and no disrespect, it's been filling kids' bellies for ages. But as someone who works in food, it just kills me to empty a cheese powder pouch into a pot and serve it to my kid.
I digress. So, I was elated that this stove top mac and cheese had her turning a corner and at least being open to an unboxed mac and cheese situation. What made this mac and cheese different from its classically baked counterparts was the creaminess. It was absolutely luscious and coated the entire inside of your mouth when you ate it, like your mouth was all of a sudden made of cheese after taking a bite. I'd like to credit the eggs for this feeling. My cheese of choice was sharp cheddar, and I was quite pleased with that choice. The sharpness of the cheese cut the creaminess to perfection.
Also, the breadcrumbs were absolutely necessary. At first, in my mind, I was complaining about dirtying an additional pan to toast the crumbs. But in the end, I'd wash a whole sink full of dishes if it meant that I could have that perfect bite with a buttery crunch amongst the cream. So, the verdict - the blue box lovin' 9-year-old said, and I'll quote, "It's pretty good." That's a win in my book. And I'd like to one up her and say that I thought it was damn good!
This recipe for stovetop mac and cheese gets a testers choice designation for its ease in preparation and creaminess. Also for its versatility in cheese options. While I love custards and rich foods, the custardy texture of this macaroni and cheese was a bit much. I served this dish with a spinach and arugula salad and pickled cauliflower. This helped offset the creamy richness of the cheese sauce and balanced the flavors.
I recommend cautious attention to the mixing of the custard into the buttered macaroni as the custard will curdle easily if overcooked. Mine came together in 5 minutes to just the perfect consistency on induction 4 setting. Given this potential issue, this recipe also does not lend itself as a leftover. I kept a bowl intentionally for the following day and warmed it up covered in the microwave. The sauce definitely lost its original sheen and creaminess. It's a one-time hot meal and not a microwaveable work lunch.
My cheese of choice was Pepper Jack as that's what I had at home. I used piri-piri sauce as the hot sauce called for in the recipe. The flavor was interesting and hot but not overly spicy.
As for the topping, I had every intention of making the bread crumb topping and knew it would work because I've used this process many times. However, I had a box of Parmesan cheese sticks that came flying out of the cabinet landing at my feet. Not only was this potentially a "sign" that I should use these, but also there was significant breakage and instant crumbs that just lent themselves to this application. I crushed these further and used them as a topping, 1 tablespoon per bowl in their already crispy state. I will definitely use this trick again in other applications.
Will I make this recipe again? Absolutely. There's always room in the mac & cheese repertoire for a recipe that just takes a bit longer than the boxed variety. Luscious, custardy mac & cheese in 30 minutes.
Originally published April 12, 2021
Recipe © 2020 America's Test Kitchen. Photo © 2020
America's Test Kitchen
. All rights reserved. All materials used with permission.