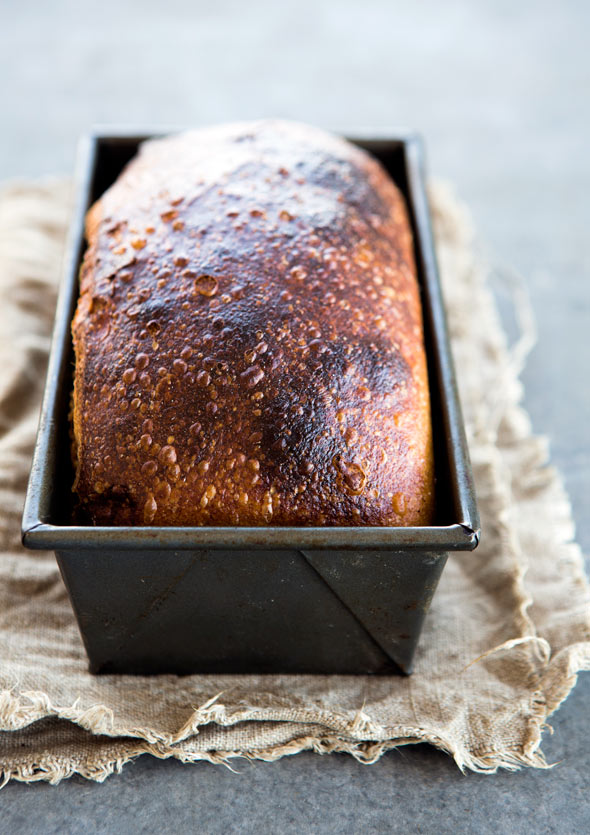 Straight talk can be sorta refreshing, which is exactly why we loooooooove this recipe for sandwich bread. Author Josey Baker makes a mean loaf of bread, but he can also write a mean recipe for bread, written specifically with novice bakers in mind. Here's a sample of what he has to say: "Let's get started on your first loaf of sandwich bread. Don't be a weenie; you have everything you need to do this. You don't need any fancy anything—just flour, water, yeast, and salt. Basically you mix 'em up, rub 'em around in the bowl, leave the dough for a long time, then shape it and stick it in a hot oven. What do you get? Your first loaf of delicious, home-baked bread, that's what."–Renee Schettler Rossi
LC Notes To A Novice Baker Note
Just to be clear, this homemade sandwich bread recipe makes a loaf of bread that takes no experience and even less effort. The easy-peasy, no-knead recipe is geared toward novice bakers. We know this because the author actually went out of his way to outline all manner of techniques and visual cues and other assurances for novice bread bakers. Witness just how instructive his writing is: "Good bread takes time, and there's just no way around it. You spend 10 minutes mixing up your bread dough on day one, and then leave the dough in the fridge for a few days before doing anything else. So plan ahead and invite someone over for dinner this weekend. Read through the entire lesson [Editor's Note: Er, he means, "recipe"] before you actually do anything. Trust me—it will make the whole thing easier and better. And yes, you do need bread flour. Bread flour is very similar to all-purpose flour. So what's the difference? The wheat used for bread flour has more protein than wheat used to make all-purpose flour, and dough made with bread flour is a little bit stronger. This is great for bread, because we want our bread to stand up tall and proud." There you have it.
Homemade Sandwich Bread
Quick Glance
20 M
11 H, 30 M

Makes 1 loaf
Special Equipment: Loaf pan
Print Recipe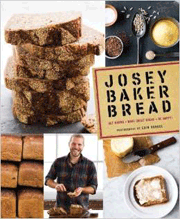 Ingredients
Email Grocery List
3 1/2 cups (525 grams) bread flour, plus more for shaping the dough

2 teaspoons (12 grams) sea salt, fine grind

2 1/4 teaspoons (7 grams) yeast (this is one of those little packets of yeast; "active dry" is fine)

1 2/3 cups (395 grams) lukewarm water, about 80°F (27°C), plus more as needed

Oil for the pan
Directions
1. Mix the the dry ingredients—the bread flour, salt, and yeast—in a large bowl. When you're measuring the flour, take your bag (or whatever your flour is in), dig into it with your measuring cup, and "fluff" up the flour a little bit before you scoop it. Then dip the measuring cup in and get enough flour so that it's piled high. Use the back of a knife to scrape off the mound of flour from the cup, leaving you with a smooth, level top. If you have a digital scale and want to weigh ingredients, go for it. Stir them with your hand so they're mixed evenly and you can't see any lumps of salt or yeast.

2. Pour in the water, roll up your sleeve, and mix it all up with your hand. (Okay, if you really don't care for the squishy feeling of dough clinging to your fingers, you can use a wooden spoon.) Mush the ingredients up real nice, grabbing the dough and squishing it through your fingers. You just want to get things mixed evenly, so all of the dough looks the same and there isn't any dry flour left. It should be the consistency of really wet Play-Doh. This'll take only 30 seconds or so. (If there is still some dry flour left in the bowl, add another 1 or 2 tablespoons water and mix it in. If the dough is more liquidy than a really wet Play-Doh, add 1 or 2 tablespoons flour.) You won't be able to pour the dough, but it will want to slouch down in the bowl when you aren't touching it. This dough is definitely a bit wetter than what most beginning bakers are comfortable with, and that is just the way it should be. Don't fret; you don't have to handle the dough very much anyway (you won't be kneading it on a countertop or anything), so the fact that it is so wet won't make things tricky for you. When it comes time to handle the dough again, it will be cold from the fridge and much easier to work with.

3. Let the magic happen. Cover the bowl with a lid or plastic wrap so moisture can't sneak out, and leave the dough alone at room temperature for about 3 hours. By this point, the dough should have blown up to about twice its size but will still be sorta sticky.

4. Now, put the dough in your fridge and leave it there for at least a day and up to a week. (If you're feeling ridiculously impatient, leave it in the fridge for 3 hours. That is the absolute minimum time it will take for your dough to cool, and this bread dough is much easier to work with when it's cold. Besides, the longer your dough stays in the fridge, the better the flavor will be, as you're giving the yeast time to create all sorts of delicious flavors in your dough.)

5. Generously oil the inside of your loaf pan as well as the top rim and the upper outer portion of the pan and then take your dough out of the fridge. It will be a little sticky, but don't worry—this is the way it should be. Just sprinkle a small handful (about 2 tablespoons) flour on your countertop and on top of the dough in the bowl. Tip the bowl over, and gently squish the dough out. Sprinkle another little bit (1 tablespoon or so) flour on top of the dough so it doesn't stick to your hands, and flatten the dough into a circle. Fold the left side of the dough into the center, then fold in the right side, and then gently fold or roll the dough into a log, and plop it into the loaf pan with the smooth side facing up.

6. Brush the top of the loaf with oil and also slick a sheet of heavy-duty aluminum foil with oil. Cover the loaf with the foil, oil side down, tenting the foil so that there's room for the dough to rise about 2 inches. Be certain to use a large enough sheet of foil that covers the edges of the pan.

7. Let the dough sit at room temperature for 2 to 4 hours. Put it somewhere out of the way so it won't be disturbed, like on top of your fridge or on a shelf in your kitchen. You're waiting for the dough to rise about 2 inches—it should peek above the sides of the pan but it shouldn't be flopping out over the sides of the pan. (If you can't bake the dough in 4 hours, instead let it sit out for just 2 hours, then put it back in the fridge for anywhere from 1 to 3 days—the exact timing doesn't matter here.)

8. Adjust one of your oven racks to the middle position. Heat your oven to 475°F (246°C), and let it preheat for at least 20 minutes. (If your dough is refrigerated, take it out of the fridge when you preheat the oven out so it can warm to room temperature while the oven preheats.) Take your loaf, complete with the aluminum foil covering, and put it in the oven for 20 minutes. Then open your oven, take off the aluminum foil, and get excited—your dough is turning into bread! Bake for another 10 to 20 minutes, and take a look. Be certain to check the loaf after 10 minutes. If the top is a nice golden brown or, if you prefer, dark brown, take it out.

9. Use a towel or pot holders to remove the pan from the oven and to tip the bread out of the pan. (if it sticks in the pan, use a spatula or butter knife to gently loosen it). Leave the bread on a cooling rack or lean it against something so air can flow around it while you let that sucker cool down. For real. You're just gonna burn your mouth if you eat the bread when it's too hot. It's best to let it cool for an hour, but I know…just wait at least 30 minutes.
Recipe Testers Reviews
Homemade Sandwich Bread Recipe © 2014 Josey Baker. Photo © 2014 Erin Kunkel. All rights reserved. All materials used with permission.
If you make this recipe, snap a photo and hashtag it #LeitesCulinaria. We'd love to see your creations on Instagram, Facebook, and Twitter.