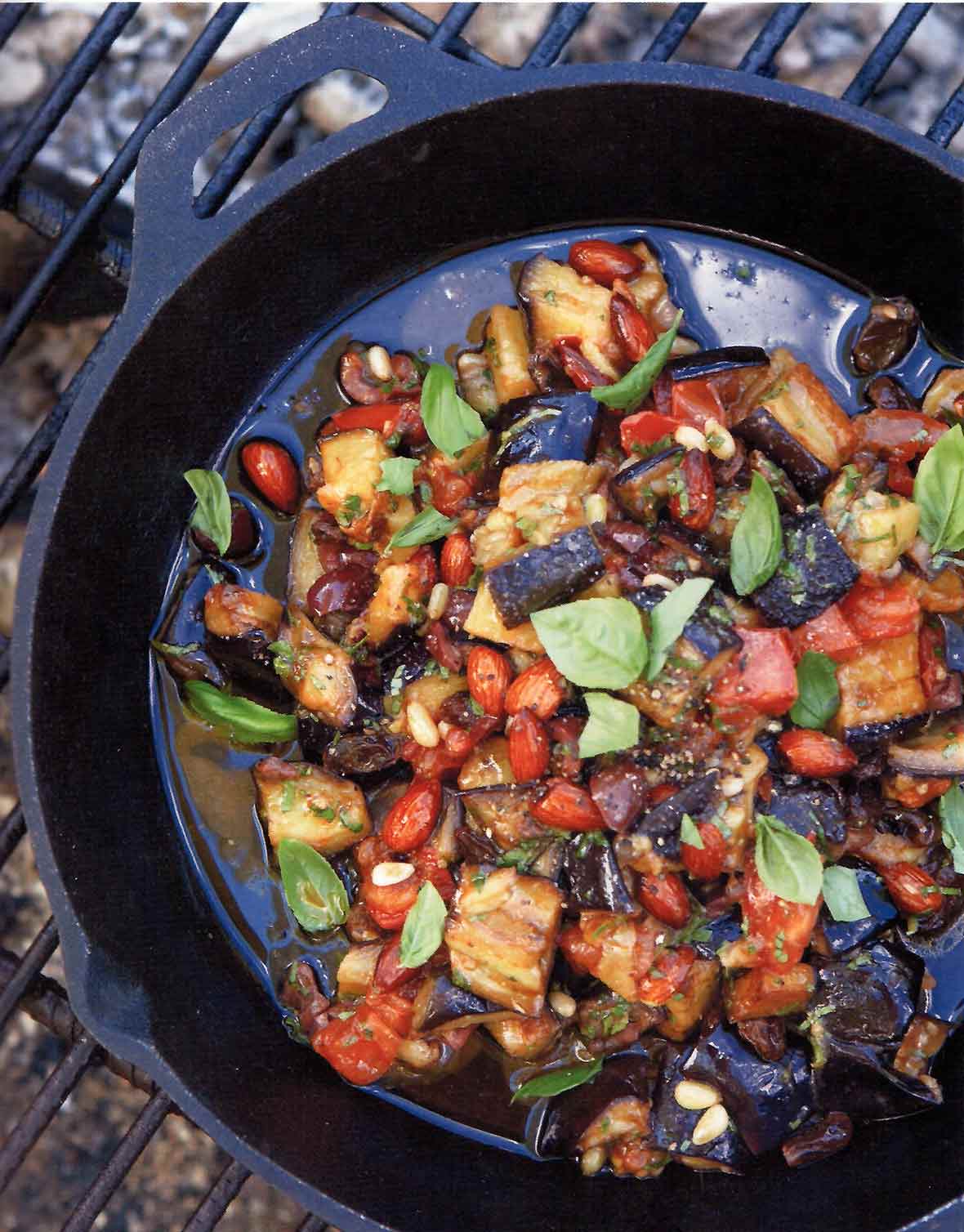 Ah, eggplant. That purple-black vegetable so many of us don't really know what to do with. For a long time, I turned it into eggplant parmigiana—that old Italian standby. Then I got into making eggplant lasagna, substituting breaded and fried eggplant slices for the lasagna noodle. That was until this really sexy eggplant caponata recipe crossed my desk. Can eggplant caponata be sexy? I say yes. First, the eggplant turns all silky when cooked, then it's tumbled with all sorts of vegetables like onions, tomatoes, fennel, and zucchini for hefty, pine nuts and almonds for crunch; and vinegar and capers for zing. Boo-yah! This rich, garlicky eggplant caponata recipe is delicious with fish, beef, lamb, and the ever-popular chicken.–Jeff Crump and Bettina Schormann
LC You Say Caponata, I Say Chutney Note
This recipe actually turns out something more akin to a rich, intensely flavored, chutney-like condiment rather than the more traditional caponata. No complaints here. It's a roll-up-your-sleeves, spend-some-time-in-the-kitchen type of recipe. And worth  every second.
Eggplant Caponata
Quick Glance
30 M
3 H

Serves 8
Print Recipe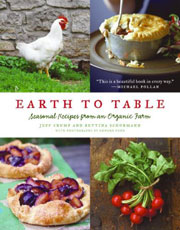 Ingredients
1 large eggplant (about 1 1/4 pounds total), cut into 1-inch cubes

1 tablespoon kosher salt

3/4 cup olive oil (not extra-virgin)

3 stalks celery, cut into 1/2-inch dice

1/4 cup bulb fennel, cut into 1/2-inch dice

1/2 zucchini, cut into 1/2-inch dice

1 clove garlic, minced

1/2 medium onon, cut into 1/2-inch dice

1 1/2 medium tomatoes, cut into 1/2-inch dice

1/2 cup green olives (your favorite variety will be perfect), pitted and coarsely chopped

1/4 cup drained capers

1/4 cup raisins

1/4 cup white wine vinegar

1 tablespoon granulated sugar

Salt and freshly ground black pepper

1/4 to 1/3 cup pine nuts, lightly toasted

1/3 cup whole raw almonds, lightly toasted

1/4 cup minced basil leaves
Directions
1. To make the eggplant caponata, In a bowl, toss the eggplant with salt. Transfer to to a colander and place it over the bowl. Let drain for I hour. Rinse well and pat it dry with paper towels.

2. Line a plate with several layers of paper towels. In a large, preferably nonstick, pot or skillet, heat 1/2 cup of the oil over medium heat until hot but not smoking. Add the eggplant and sauté until nicely golden brown on all sides and tender, about 10 minutes. Using a slotted spoon, transfer the eggplant to the plate lined with paper towels to drain.

3. Add the celery and the fennel to the pot or skillet and sauté for 1 minute. Add the zucchini and sauté for 3 minutes. Transfer the vegetables to the paper towels.

4. Add the remaining oil to the pot or skillet and, still over medium heat, sauté the garlic and onion until golden, about 5 minutes. Stir in the tomatoes, olives, capers, raisins, vinegar, and sugar and cook for 10 minutes.

5. Return the reserved eggplant, celery, fennel, and zucchini to the mixture and cook for 10 minutes, stirring or folding the vegetables occasionally and ever so gently so as not to break up the pieces and turn the mixture into mush. Season to taste with salt and pepper.

6. Carefully transfer the caponata to a wide, shallow dish and let it cool for 1 hour. Cover and refrigerate for at least 8 hours and up to many more. (You can, in fact, refrigerate the caponata for up to 1 week.)

7. About 1 hour before serving the caponata, remove it from the refrigerator and bring it to room temperature. Serve sprinkled with the pine nuts, almonds, and basil.
Eggplant Caponata Recipe © 2009 Jeff Crump and Bettina Schormann. Photo © 2009 Edward Pond. All rights reserved. All recipes and photos used with permission of the publisher.
If you make this recipe, snap a photo and hashtag it #LeitesCulinaria. We'd love to see your creations on Instagram, Facebook, and Twitter.