Stollen, a traditional yeast bread that's sweet and studded with fruit and marzipan and is far more elegant than the traditional dense loaves of fruitcake. And far lovelier to receive at the holidays.
Few things would be lovelier to receive as a gift than a loaf of this traditional Christmas bread. And by "few," we mean damn few things. Like diamonds. Tickets to Paris. That sorta thing. Perhaps you oughta consider wrapping this bread up with a bow. Could earn you some serious thanks.–Renee Schettler Rossi
Stollen
Quick Glance
1 H
5 H, 30 M

Makes 3 stollen
Print Recipe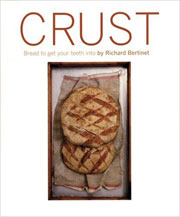 Ingredients
For the crème d'amande

2 sticks plus 1 tablespoon unsalted butter (8 1/2 oz)

2/3 cup granulated sugar

1 1/3 cups ground almonds

3 tablespoons all-purpose flour

2 large eggs

2 tablespoons rum

For the stollen

7 1/2 cups white bread flour, plus more for the work surface

2/3 ounce (about 4 level teaspoons) fresh yeast

2 1/2 cups milk, preferably whole,, at warm room temperature

14 tablespoons unsalted butter (7 oz), use the wrapper for greasing

1/4 cup granulated sugar

2 level teaspoons salt

8 ounces (shelled weight) eggs, roughly equivalent to 4 large

1 batch Crème d'Amande

1 1/4 cups natural (uncolored) marzipan, cut into small pieces

For the filling

1 1/3 cups golden raisins

3/4 cup glacé cherries

1 1/2 cups candied peel

1/2 cup toasted slivered almonds

4 tablespoons rum

1 teaspoon ground cinnamon

For the glaze

7 tablespoons salted or unsalted butter (3 1/2 oz)

2 capfuls rum

Confectioners' sugar, for dusting
Directions
To make the crème d'amande

1. Beat the butter and sugar by hand or mix in a food processor with a paddle, until pale and fluffy, 3 to 5 minutes. Add the ground almonds and mix again. Add the flour and continue to mix. Finally, add the eggs, 1 at a time, along with the rum, mixing well between each addition, until the cream is light in consistency, about 8 minutes. (The crème d'amande can be refrigerated in an airtight container for up to a week. Let it warm to room temperature before using it.)

To make the stollen

2. Place the flour in a large bowl and crumble in the yeast with your fingers. Slowly, a little at a time, mix in the milk and then add the butter, sugar, salt, and eggs, using your scraper to combine everything together. When the mixture starts to come together into a dough, use your scraper to turn it out onto an unfloured work surface. Gently knead the dough by sliding your fingers under the dough, then with your thumbs parallel to your index fingertips, lift it lightly, swing it upwards, slap it back down, away from you, onto your work surface. Stretch the dough forwards and sideways and tuck it in around the edges. Keep repeating this sequence, using your plastic scraper to help you lift the dough from the work surface, until the dough is fairly smooth.

3. Lightly flour your work surface, and then form the stollen dough into a ball. Put it back in the lightly floured bowl, cover with a clean towel, and let it rest at room temperature for 1 to 1 1/2 hours. It may not rise much. That's okay.

4. Again, lightly flour your work surface. Turn out the dough with the help of your scraper and use your fingertips to flatten it into a rough square shape approximately 12 inches on each side. Let it rest at room temperature while you make the filling.

To make the filling

5. In a small bowl, mix together all the ingredients for the filling.

To assemble the stollen

6. Spread your filling over the dough (you may not want to use all of it if you like a higher bread-to-filling ratio). Gently fold the dough over itself a few times to fully incorporate the filling. Form the dough into a ball and put it back into the lightly floured bowl to rest for another 30 minutes.

7. Lightly flour the work surface and turn out the dough. Cut the dough into 3 equal pieces. Put each piece of stollen dough, smooth side down, on your lightly floured surface and flatten out with your fingertips into a rectangle roughly 8 by 6 inches. Spread the top of each piece of dough generously with at least half and up to all of the Crème d'Amande, and then scatter with some or all of the pieces of the marzipan. (Again, depending on the bread-to-filling ratio you prefer and just how intense an almond experience you like, you can use less than the full amount of Crème d'Amande and marzipan, beginning with half, to create a stollen with more bread and less add-ins, if desired.) Working with 1 stollen at a time, fold 1 of the long sides into the center (over the cream and marzipan filling), then fold the other side over the top and press down all around the edges to seal. Butter 2 or 3 baking sheets. Place the filled stollens, seam side down, on your buttered baking sheets, spacing them quite a distance from one another as they will rise considerably. Cover with a clean kitchen towel and let rise until just under double in volume, 2 to 2 1/2 hours.

8. Preheat the oven to 350°F (170°C).

9. Bake the stollen for 30 to 35 minutes, until lightly golden.

Make the glaze

10. Just before the stollen come out of the oven, melt the butter in a small pan and stir in the rum. Remove from the heat.

Glaze the stollen

11. Take the stollen out of the oven and, while it's still hot, brush it quite heavily with the glaze. Immediately dust it thickly with confectioners sugar. Cool on a wire rack.
Stollen Recipe © 2007 Richard Bertinet. Photo © 2007 Jean Cazals. All rights reserved. All recipes and photos used with permission of the publisher.
If you make this recipe, snap a photo and hashtag it #LeitesCulinaria. We'd love to see your creations on Instagram, Facebook, and Twitter.