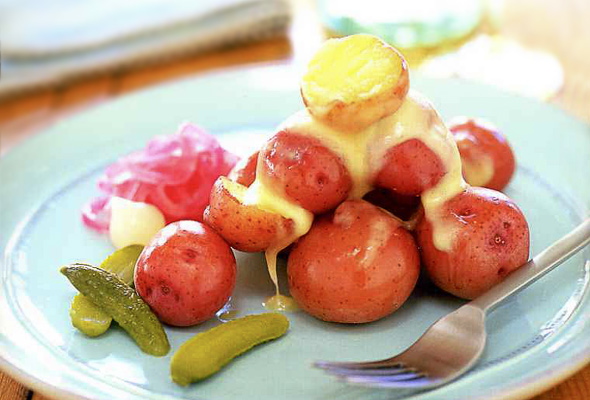 When I mention I'm writing a book on potatoes, nine people out of 10 ask, "Raclette?" What is it about raclette that is so enticing? I mean, it's a simple dish. Sizzling melty cheese, hot boiled potatoes, marinated or pickled onions (or both, as in this recipe). No cooking skills or kitchen acrobatics required. But perhaps that's it exactly. Raclette is all about the potatoes and the cheese and the temperature. You must keep the cheese hot and the potatoes pretty warm, too, or the cheese seizes up unappealingly. For perfection in the temperature and organizational department, there are special machines to melt the edges of the cheese, so that each little plate of raclette can be tempting from start to finish, and you can then progress to another plate of the deliciousness. Lacking a special machine, I line up little baking pans and warm a stack of little plates.–Marlena Spieler
LC Raclette Means What, Exactly? Note
Raclette, in case you're wondering, is the name of a cheese—a mountain cheese, to be exact. There's French raclette and there's Swiss raclette, and according to the author, the two are similar but by no means the same. She suggests you taste each and decide which is your favorite. That said, she did confess that she quite often makes raclette using whichever cheese she happens to have in the house. Works for us.
Raclette
Quick Glance
Quick Glance
30 M
1 H

Serves 4 to 6
Print Recipe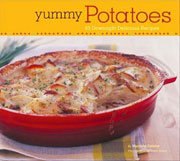 Ingredients
Email Grocery List
For the marinated onions
For the raclette
Directions
Make the marinated onions
Place the sliced red onions in a bowl and pour enough boiling water over them to cover. Let rest until the onions are softened in both texture and flavor, about 30 minutes.
Drain the onions, then add the sugar and vinegar and toss to combine. (You can cover and refrigerate the onions and refrigerate them for up to 5 days.)
Make the raclette
Cook the potatoes in gently boiling salted water until they're just tender but not overcooked. Remove from the heat. Drain the potatoes, return them to the pot, and cover to keep warm.
Divide the cheese into 3 equal portions and arrange in 3 ovenproof pans. Sprinkle the cheese with the wine.
Arrange the marinated onions in a bowl and place them on the table along with the cornichons and pickled onions.
Heat the broiler and warm several small plates (preferably 1 per person) in the oven.
When ready to serve, remove the hot plates from the oven and place them on the stovetop. Call your guests to the table. Place several hot potatoes on each hot plate. Place the first pan of cheese under the broiler, watching the cheese constantly so that it doesn't burn, until the cheese melts and sizzles. Immediately remove the pan from the broiler and divvy the cheese among the individual plates with the potatoes. Bring the plates (carefully, as they're still hot!) to the table so that the potatoes can be eaten hot.
When the first round of potatoes and cheese is finished, gather up the plates and repeat. Three rounds of potatoes and cheese should please even the most passionate of cheese-and-potato-holics.
Print Recipe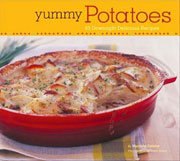 Raclette Recipe © 2007 Marlena Spieler. Photo © 2007 Sheri Giblin. All rights reserved. All materials used with permission.
If you make this recipe, snap a photo and hashtag it #LeitesCulinaria. We'd love to see your creations on Instagram, Facebook, and Twitter.