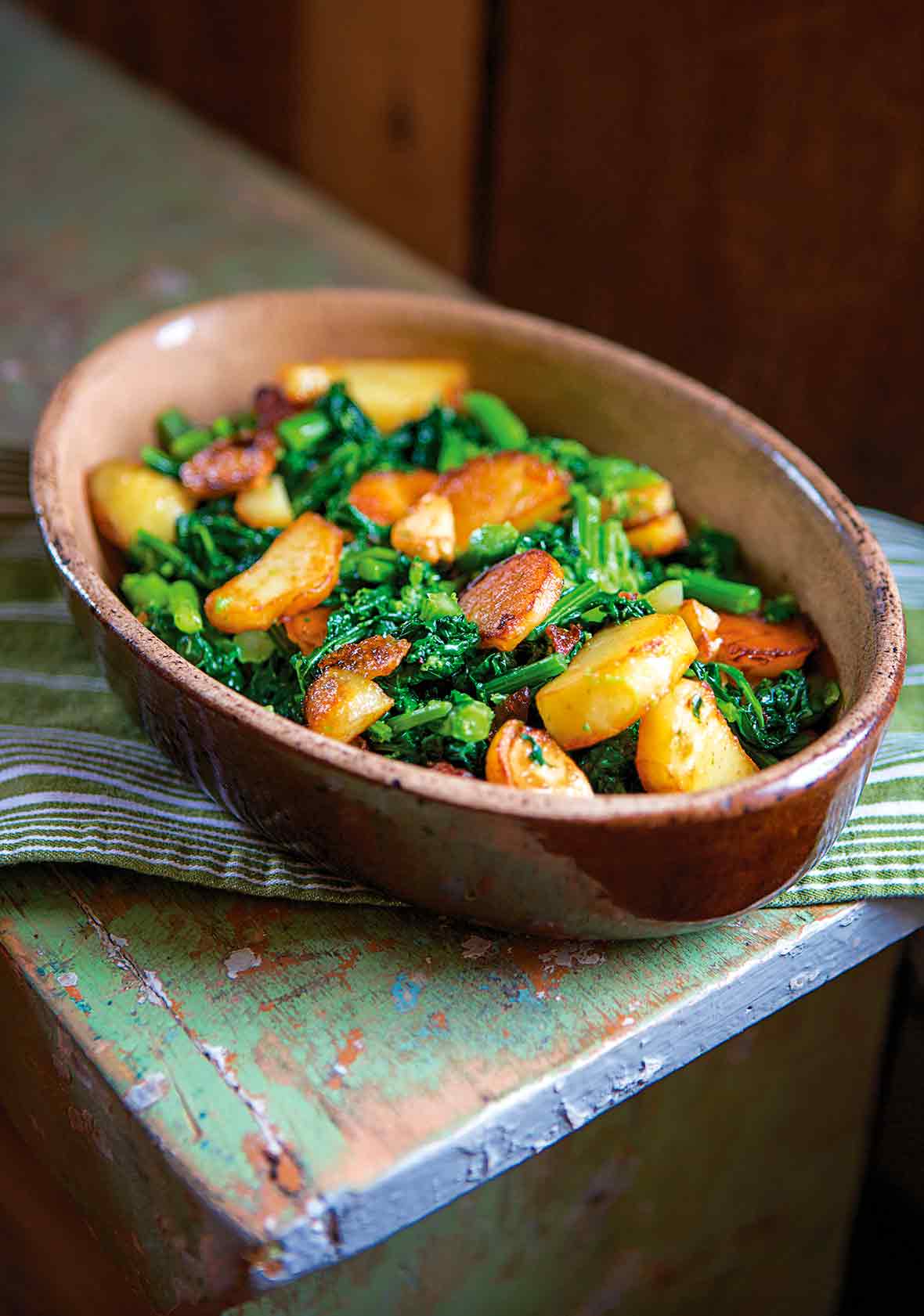 Broccoli rapini, which is often called "raab" in English, is a slightly peppery green that's often disparaged as too bitter. But cookbook author explains that the secret to cooking it is to boil the greens briefly before sautéing to rid them of their excessive bitterness and to tenderize the stalks. If the stalks are still crisp, she continues, they will remain bitter. So there you go. That's the secret.–Renee Schettler Rossi
What's The Difference Between Broccoli Rapini and Broccoli Raab?
Rapini. Raab. Rabe. Different names, same pungent, leafy green veggie. These easily confused names—each preceded by "broccoli"—are something of a misnomer given the robust plant is actually a brassica and, as such, more closely related to turnip and mustard greens than broccoli. [Editor's Note: The lovely Julia della Croce was kind enough to let us know that "rapini" is the diminutive for Cima di Rapa or Broccoli di Rapa, the correct Italian terms for the vegetable.] And no, it's not the same as sweet, mild-mannered, seemingly always-in-season broccolini, although we have a hunch you could substitute that for the rapini here to great effect. Whereas broccolini is in stores much of the year, rapini shows up at farmers' markets for a short spell in early fall and then again come spring, just after ramps but before local asparagus. It's diminutive yellow flowers are pretty hard to miss.
Sautéed Broccoli Rabe with Potatoes
Sautéed broccoli rabe with potatoes is perfect cold weather comfort food that's simple and healthy but tastes anything but simple and healthy. We especially love it alongside sausages.
Ingredients
2

Yukon Gold potatoes

,

unpeeled

1

bunch

broccoli rabe

1

tablespoon

sea salt

5

tablespoons

extra-virgin olive oil

6

large

garlic cloves

,

smashed and peeled
Instructions
Place the potatoes in a pot, add enough cold water to cover, and bring to a boil. Cook over medium heat until the potatoes are tender but not falling apart, about 20 minutes, depending on the size of the potatoes. Using a slotted spoon, remove the potatoes and let drain. Set aside until cool enough to handle.

Meanwhile, using a small, sharp knife or a vegetable peeler, peel the skin from the tough lower stalks of the rapini, which is to say, most of the bottom portion of the stalk. (If your rapini has super slender stalks, don't bother peeling them.) Cut the stems crosswise into 1 1/2- to 3-inch lengths. Return the potato cooking water to a boil, adding a little additional water. When boiling, add the rapini along with the salt, cover partially, and simmer until the stalks are tender but not mushy, maybe 2 to 5 minutes, depending on the thickness of the stalks. Drain the greens, reserving a little of the cooking liquid. Set aside.

Pry the skin from the potatoes (it should come off easily with your fingertips) and cut each potato lengthwise into quarters, then cut each quarter crossways into slices about 1/4 to 1/2 inch thick or so.

In a skillet or saucepan large enough to accommodate the potatoes and the greens, warm 3 tablespoons of the olive oil over medium heat. Add the garlic and sauté until nicely softened but not colored, 2 to 4 minutes. Transfer the garlic to a bowl.

Raise the heat under the skillet or saucepan to medium-high, add the potatoes, and sauté until they are golden and crisp all over, about 12 minutes. Transfer the potatoes to a serving bowl or platter. Warm the remaining 2 tablespoons olive oil over medium heat, then add the rapini and the garlic cloves. Sauté until the greens are nicely coated with the olive oil and heated through, about 3 minutes; if the greens appear a little dry, add a spoonful or so of the reserved cooking water. Add to the potatoes and toss. Adjust for seasoning and serve immediately.
Nutrition
Serving:
1
portion
Calories:
239
kcal
Carbohydrates:
18
g
Protein:
4
g
Fat:
18
g
Saturated Fat:
2
g
Polyunsaturated Fat:
2
g
Monounsaturated Fat:
13
g
Sodium:
1769
mg
Potassium:
487
mg
Fiber:
3
g
Sugar:
1
g
Vitamin A:
1484
IU
Vitamin C:
30
mg
Calcium:
81
mg
Iron:
2
mg
Nutrition information is automatically calculated, so should only be used as an approximation.
Recipe © 2010 Julia della Croce. Photo © 2010 Christopher Hirsheimer. All rights reserved.
---