Those of us who crave vanilla ice cream know that sometimes you don't need a lot of bling. Sometimes it's nice to just let your spoon sink into something that tastes pure as the driven snow. Okay, vanilla-enhanced snow. Indulgently rich, creamy, sigh-inducing, vanilla-enhanced snow. This vanilla bean ice cream recipe is for those times. Of course, if you wish to stir in whatever at the end–some crushed black raspberries still warm from the garden, a package of chopped peanut butter cups, a swirl of fig preserves, a handful of chopped nougat–we're not going to stop you. Not even going to try.–David Leite
Vanilla Bean Ice Cream FAQs
How can I make vanilla bean ice cream without eggs?
The egg custard is what gives this ice cream its rich flavor, but we know that not everyone can tolerate eggs. If you'd like to make a version that doesn't require eggs, check out this no-churn vanilla ice cream recipe.
How can I make homemade ice cream less icy?
Adding a splash of a neutral-flavored spirit, like vodka, to your ice cream base before churning will help to keep the ice cream smooth.
Vanilla Bean Ice Cream
This ice cream is made with a custard base which can be adapted and flavored with fruit purees, chocolate, or coffee. It keeps for up to 1 month in the freezer.
Equipment
Ice cream maker (optional)
Ingredients
1

vanilla bean

1 1/4

cups

whole milk

4

egg yolks

2/3

cup

superfine sugar,

(or just blitz granulated sugar in a blender until finely ground but not powdery)

1 1/4

cups

heavy cream
Instructions
Split the bean lengthwise and use the tip of a sharp knife to scrape out the seeds. Place the vanilla bean and seeds in a saucepan along with the milk. Place over medium heat until hot but not boiling. Remove from the heat and let infuse for 30 minutes.

Mix the egg yolks and sugar in a medium bowl. Remove and discard the vanilla bean from the infused milk. Gradually blend the infused milk into the yolk mixture, using a wooden spoon or a whisk, then set aside while you wash and dry the saucepan you used to infuse the milk.

Return the milk mixture to the clean saucepan and cook over medium-low heat, stirring constantly, until the custard has thickened sufficiently to coat the back of a wooden spoon. Do not allow the mixture to boil or it will curdle.

Strain the mixture into a bowl and let it cool slightly. Cover with plastic wrap, gently pressing the wrap directly against the surface of the custard to prevent a film from forming, then refrigerate until chilled through, maybe 4 to 6 hours if you're impatient or, preferably, 24 hours if you're the sort who can tolerate a little anticipation. (Here's the thing. The longer the custard stands in the refrigerator, the more flavor will develop.)

Stir the cream into the custard.

If using an ice cream maker, follow the manufacturer's directions. If using your own devices, transfer the mixture into a shallow freezer-proof container, such as a roasting pan, and freeze until ice crystals form at the edges, about 2 hours. Turn it into a bowl and beat with a hand-held electric mixer or a whisk. Pour the mixture back into the container and return to the freezer. Repeat every 2 hours until the ice cream is completely frozen.
Notes
Can I vary this vanilla bean ice cream?
Here's just a handful of the infinite number of variations you can conjure…
Honey Ice Cream: Stir in 2 tablespoons of honey when you add the cream.
Nutmeg Ice Cream: Stir in 1 teaspoon grated nutmeg when you add the cream. This is also very, very good with cinnamon.
Fruit Swirl Ice Cream: Stir in a couple of spoonfuls of fig jam or strawberry compote after taking it out of the ice cream maker.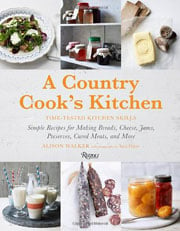 Nutrition
Serving:
0.5
cup
Calories:
325
kcal
Carbohydrates:
27
g
Protein:
5
g
Fat:
23
g
Saturated Fat:
13
g
Polyunsaturated Fat:
1
g
Monounsaturated Fat:
6
g
Cholesterol:
192
mg
Sodium:
39
mg
Potassium:
137
mg
Sugar:
26
g
Vitamin A:
984
IU
Vitamin C:
0.3
mg
Calcium:
111
mg
Iron:
0.4
mg
Nutrition information is automatically calculated, so should only be used as an approximation.
Recipe © 2012 Alison Walker. Photo © 2012 Tara Fisher. All rights reserved.
---