Spelt brings me back down to earth. I love the slightly nutty flavor of this whole grain and I substitute it for rice in this "risotto." Spelt has a slightly different texture and is quite a bit more filling than rice, so I normally serve this in small portions as a starter or as an accompaniment to meat or fish. Obviously, if you want to serve a larger portion as a main course on its own, just double the quantities.–Richard Bertinet
LC Shiny Happy Shallots Note
Sorta nice when a recipe gets interrupted—or rather, interspersed—with little cooking lessons. This risotto from Richard Bertinet is no exception. Actually, his entire collection of recipes, Cook: In a Class of Your Own, is no exception. Throughout its pages he shares tricks and techniques he's culled over the years. Witness such shallot-y insights as, "I tend to use shallot rather than onion because it is slightly sweeter, which works well with the sweetness of the squash. Also, you get a slight pinky-wine color in a shallot, which looks lovely." Nice, right? And as Bertinet continues, or rather, cautions in terms of sweating the delicate little alliums, "If you keep the shallots in the center of the pan, you run less risk of burning them than if you spread them out. Also, if you start with cold oil, it is harder to burn the shallots." See? Shiny happy shallots. Thanks, Bertinet, for throwing your cooking love around.
Whole Spelt Risotto with Butternut Squash
This whole spelt risotto with butternut squash recipe, which substitutes whole grain for arborio rice, isn't just healthful, it's satiating.
Ingredients
2

medium

beets

,

scrubbed

1

small

winter squash

,

preferably butternut

1

tablespoon

canola or olive oil

,

plus more for drizzling the vegetables

Sea salt and freshly ground black pepper

2

sprigs

rosemary

2

sprigs

thyme

1 3/4

cups

vegetable broth or chicken stock

2

large

shallots

,

finely diced

1 1/2

cups

spelt

,

(or substitute pearled barley)

1/2

cup

white wine

4

tablespoons

butter

,

cut into cubes, cold

2

ounces

Parmesan

,

grated

2

generous tablespoons

mascarpone
Instructions
Preheat the oven to 400°F (204°C).

Steam the beets with the skin on until your knife slides in but there is still a bit of resistance, roughly 20 to 30 minutes. Let the beets cool until you can handle them. Rinse the beets under cool running water and slip off the skins off with your fingertips. Cut each beet into quarters.

Halve the squash lengthwise. Place it cut-side down on a cutting board and run a vegetable peeler along it to remove the peel. Scrape the seeds and stringy things from the cavity and cut the squash into 1/2- inch chunks. Place the squash and the beet quarters into separate baking dishes and drizzle each with some of the canola or olive oil and season with salt and pepper. Toss to coat and then place a sprig of rosemary and thyme on top of each. Roast in the oven, stirring once, for 25 to 30 minutes, or until tender.

Pour the stock into a smallish saucepan and bring to a boil. Reduce the heat to a gentle simmer.

Heat the tablespoon of oil, shallots, and a pinch of salt in a wide pan over medium heat and cook very gently until soft but not colored, 4 to 5 minutes.

When the shallots are soft, add the spelt (or barley) and stir very well to coat each grain. As the pan becomes hot and dry, add the white wine, sprinkling it around the pan in a clockwise direction to help it reduce and evaporate more quickly. Keep stirring gently. You will hear the wine "singing" as some of it reduces in the pan. After about 2 minutes, the grains will look dry again.

Now is when you can start adding your hot stock, a ladleful at a time. After every ladleful, stir well, really scraping the bottom of the pan, until the stock has almost disappeared into the grain. Then add your next ladleful, keeping the spelt moist all the time—don't let it dry out between ladlefuls. After about 15 minutes of adding stock and stirring, start to taste—be careful, because the grains will be very hot. Spelt will feel slightly different in texture from rice, but it should be comfortably soft in the mouth yet still have a little bite to it.

When you feel that the spelt is almost there, take the pan off the heat. Using a wooden spoon, beat in the butter—you really need to get some energy into it—and then beat in the mascarpone and Parmesan. The risotto should be nice and creamy and quite loose. If it feels a bit too sticky, just beat in a little bit more hot stock. Taste and season, if necessary—remember that the risotto may already have enough salt if you're using store-bought stock, seeing as the Parmesan also lends it some saltiness.

Ladle the risotto into shallow bowls and spoon some of the roasted squash and beets over the top.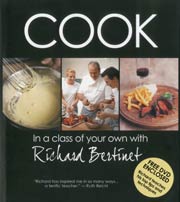 Nutrition
Serving:
1
serving
Calories:
972
kcal
Carbohydrates:
118
g
Protein:
33
g
Fat:
41
g
Saturated Fat:
21
g
Polyunsaturated Fat:
4
g
Monounsaturated Fat:
14
g
Trans Fat:
1
g
Cholesterol:
80
mg
Sodium:
1430
mg
Potassium:
1227
mg
Fiber:
20
g
Sugar:
25
g
Vitamin A:
1547
IU
Vitamin C:
12
mg
Calcium:
427
mg
Iron:
8
mg
Nutrition information is automatically calculated, so should only be used as an approximation.
Recipe © 2010 Richard Bertinet. Photo © 2010 Jonathan Gregson. All rights reserved.
---
Recipe Testers' Reviews
This is a wonderful way to get a creamy risotto that's distinctly different. Since I didn't have any spelt in the house I made the substitution of pearl barley. I had reservations about whether this would be as creamy as a regular risotto, but I was wrong. I found that the pearl barley did take a little more stock than the recipe indicated—about 3/4 cup more. My family raved about it. And to my surprise, it tasted even better the next day when the barley has softened a little more. I would heartily recommend this to anyone looking for something different, creamy, and comforting. I can't wait to make this again and pair it with other vegetables besides squash.
This is definitely a hearty version of risotto, but it also lets you feel a bit more healthy about such a decadent dish containing butter and cheese. I used barley in place of spelt and needed all 1 3/4 cups of stock. The barley needed 20 minutes of stirring to get to where I felt it was cooked. The presentation is better when the beets and butternut squash are piled on top of a mound of the risotto, but I also just mixed the leftovers together and ate it for lunch the next day and I certainly didn't complain. Trust me, you won't feel deprived using a whole grain instead of aborio rice in this dish.