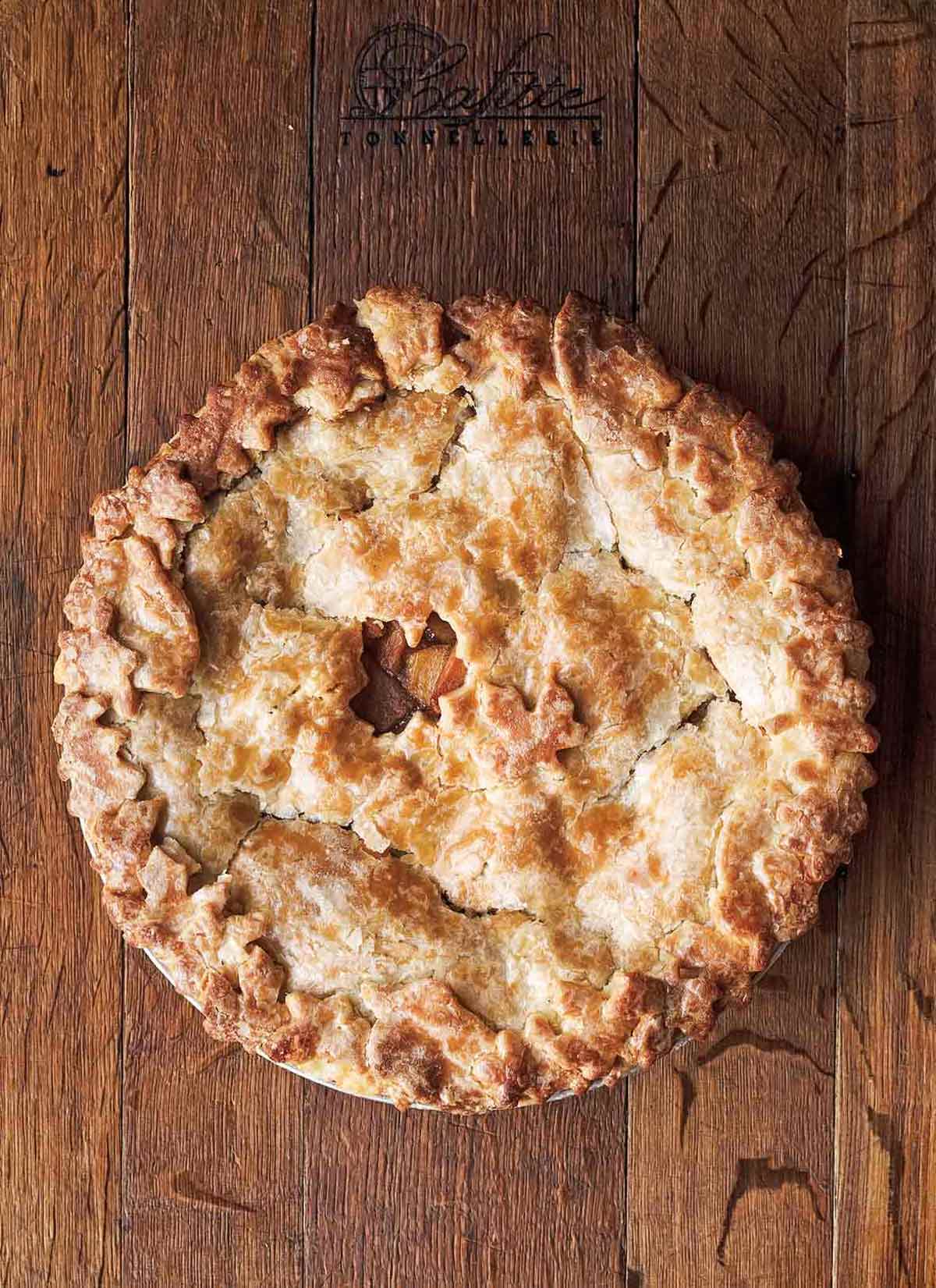 Lotsa folks are calling this hot buttered rum apple pie recipe from Tom Douglas the best apple pie they've ever tasted. And we understand exactly why. Flaky and tender crust. Perfectly cooked apples that are suffused with booze, butter, sugar, and spice. And a sweetness that's subtle rather than tooth-achingly sweet.–David Leite
Apple Pie FAQs
What type of apple should I use for this pie?
Opt for a sweet-tart, firm apple for this pie, such as Gravenstein, Braeburn, Cameo, Granny Smith, or Pink Lady.
I don't have any pectin. What can I substitute?
A bit of pectin sets the apple pie juices perfectly, but if you don't have pectin you can add a little more cornstarch instead.
☞ Love apple pie? Try these:
Hot Buttered Rum Apple Pie
Hot buttered rum apple pie from Tom Douglas–made from apples, spice, and a splash of rum–is perhaps the best apple pie we've ever experienced. It's a combo of your favorite warm cocktail and your favorite pie.
Ingredients
6 to 8

(about 3 3/4 lbs)

apples

,

such as Gravenstein, Fuji, Braeburn, Cameo, Granny Smith, or Pink Lady

1/3

cup plus 2 tablespoons

granulated sugar

1/4

cup

packed brown sugar

1/4

cup

dark rum

4

tablespoons (2 oz)

cold unsalted butter

,

cut into 1/4-inch (6 mm) dice

1

tablespoon plus 1 teaspoon

cornstarch

2

teaspoons

vanilla extract

1

teaspoon

dry pectin

,

or an extra 1/2 teaspoon cornstarch

1/2

teaspoon

ground cinnamon

1/4

teaspoon

freshly grated nutmeg

1/4

teaspoon

kosher salt
Flaky Pie Crust,

for a double-crust 9-inch pie

2

tablespoons

heavy cream
Instructions
Peel and core the apples and slice them 1/4- to 1/2-inch thick. You should have about 8 cups apple slices.

Place 2 large (at least 10-inch) sauté pans over medium-high heat and divide 1/3 cup granulated sugar evenly between them. Cook the sugar, without stirring, until it melts and then caramelizes and turns amber in color, tilting the pans a little to swirl and distribute the color, adjusting the heat as needed. (As soon as the sugar melts, it will quickly start caramelizing, so be ready with the apples as soon as the color of the sugar turns amber.)

Add the apples, dividing them between the 2 pans, and sauté until they are about half-cooked and the juices that are released boil away and reduce until no liquid remains, 8 to 10 minutes. Toss and stir the apples regularly while they are cooking so they cook evenly on both sides. When the apples are done, they should have some give yet not collapse when you press one between your fingers.

Transfer the apples to a bowl and allow them to cool completely to room temperature.

Meanwhile, preheat the oven to 350°F (176°C).

When the apples are cool, add the brown sugar, rum, butter, cornstarch, vanilla extract, pectin or extra cornstarch, spices, and salt and toss to combine.

☞ TESTER TIP: If your apples are exceptionally tart, you may want to add a little extra sugar at this point.

Dump the apple filling into the pastry-lined pie plate. Place the remaining pastry circle on top, roll the crust overhang up and over, and seal. Press or crimp the edge, then use a paring knife to cut a few vents in the top crust. Brush the top of the pie crust with the cream and sprinkle with the remaining 2 tablespoons sugar.

Place the pie on a rimmed baking sheet to catch any drips and bake for 30 minutes. Tent the pie with foil and continue to bake for 1 hour more. Remove the foil and bake for 20 to 30 minutes more, or until the pie is evenly golden brown. (The total baking time should be about 2 hours.)

Remove the pie from the oven and let it cool on a wire rack for at least 1 hour before slicing. The pie will still be warm after an hour. Or if you can wait, you can cool it to room temperature and then slice and serve it.
Nutrition
Serving:
1
slice
Calories:
596
kcal
Carbohydrates:
57
g
Protein:
7
g
Fat:
38
g
Saturated Fat:
21
g
Polyunsaturated Fat:
3
g
Monounsaturated Fat:
11
g
Trans Fat:
2
g
Cholesterol:
82
mg
Sodium:
956
mg
Potassium:
181
mg
Fiber:
5
g
Sugar:
18
g
Vitamin A:
950
IU
Vitamin C:
1
mg
Calcium:
35
mg
Iron:
2
mg
Nutrition information is automatically calculated, so should only be used as an approximation.
Recipe © 2012 Tom Douglas. Photo © 2012 Ed Anderson. All rights reserved.
---
Recipe Testers' Reviews
This hot buttered rum apple pie is hands-down the best apple pie I have ever eaten. The crust is phenomenal—a bit crunchy, just the right amount of sweetness, and perfectly flaky all at the same time. The filling is also delectable—if you don't like your pie overly sweet, this is a delicious choice for you.
The only suggestion from the diners around the table was the pie could use perhaps 1 to 2 more cups of apples for the filling.
Select a Tester
This was a very elevated adult apple pie. This is not your grandmother's apple pie for sure! I used Pink Lady apples, about 3.75 lbs. This yielded about 8 1/2 cups. When cooking the apples I felt that I needed to reduce the heat to more of a medium vs. the high heat as the sugar was almost burning in spots and not melting in others. With the medium heat in my ceramic coated pan I felt that it worked better for a more even heating.
My apples were more tart and I ended up putting in 2 extra tablespoons of sugar when making the caramel which coated the apples beautifully and then I didn't need to add any extra later in the recipe. It took about 9 minutes on medium heat to cook the apples properly. After they cooled I felt that I didn't need to add any additional sugar.
When topping the pie with sugar before baking I only needed 1 tablespoon in total. I used turbinado sugar and it gave great texture and crunch.
My oven runs a little hot so I only needed to really bake this for 1 hour and 20 minutes total. Any longer and it would have overbaked. The apple texture was great. Firm but soft, if that can be a thing, and not mushy at all. They really held their shape nicely.
I was able to get 8 servings out of the pie. Also each slice really held together nicely once the pie cooled. It had a lovely hot buttered rum taste to it while it was warm from the oven and I felt like the taste dissipated slightly as it cooled. This is a beautiful and elevated apple pie, one I will be making again in the future!
I've been making this hot buttered rum apple pie for as long as I've owned The Dahlia Bakery cookbook. There is, in my opinion, no finer apple pie. I used 6 large Honeycrisp apples sliced 3/4″ thick as noted.
The instruction to use two skillets is non-negotiable, you simply won't have enough space in one pan, no matter how large. Plus, the caramelization process is much easier to control in two pans versus one, and clean up isn't too difficult as long as nothing got burned on.
Also, don't take the sugar past amber, or it will get too dark while cooking the apples. It does take approximately 8 minutes to reach the slightly less than soft stage. DO NOT test with your fingers unless they're made of asbestos—this stuff is hot! I didn't need to add extra sugar.
My go-to pie crust is the all butter from Joy of Cooking, the apples will fill a 9-inch deep dish pie pan. At 350°F, the pie was done and golden brown in slightly less than an hour and a half. Don't skip the drip pan. No matter how well I think I've sealed the bottom and top crust, I nearly always have some bubbling over.
After cooling, the pie served eight, of course with ice cream. The apples were not mushy, just delicious.
I love apple pie. I love hot buttered rum. This recipe has everything going for it. Using fairly thick cut apples and sautéing them in the caramelized sugar before baking, gives the filling a really nice finished texture. The combination of the brown sugar, rum, and butter gives the pie a delicious, rich flavor that is just sweet enough.
Plan ahead for this because the total time is a little lengthy. However, most of it is baking time, so it isn't all hands on time. Due to the amount of apples used, it is necessary to sauté them in two pans. This is a little tricky, especially caramelizing the sugar. So be aware that it needs your strict attention during that part of the preparation. A wonderful dessert that is just a little "step above" the ordinary apple pie. This would be fabulous with good vanilla bean ice cream.
I don't often crave pie but I absolutely couldn't wait to make this particular flaky, buttery, apple beauty. It doesn't come together as quickly as a basic apple pie but, then again, it doesn't taste like a basic apple pie.
The pastry is crisp and flaky while the interior is caramelized and perfectly spiced but it's more than that. The long baking time results in a crust with an unusual (but still incredible) texture and a filling that cooks down to a nearly custard-like consistency.
I only have one large sauté pan so I had to do the apples in 2 separate batches, rather than doing both at once. I think this worked out fine but I'd caution you to clean out the pan between batches. Any residual sugar will continue to caramelize, well past burnished and straight into burned. I used extra cornstarch as I didn't have any powdered pectin on hand and I don't think it was detrimental.
As far as the type of apple used… your guess is as good as mine. I bought a bag of apples at the farmer's market that I thought was all Braeburn but upon inspection at home, they turned out to be "organic mixed". Nevertheless, the pie was delicious with a random assortment of apples. As mentioned by another tester, I used more apples than the recipe called for (12 medium apples) and it resulted in a good amount of filling.
This hot buttered rum apple pie is One Special Apple Pie.
Testers called it "spectacular" and "fantastic." And one tester was left simply sputtering speechless.
We used Pink Lady, Granny Smith, and Fuji apples, all very fresh from the farmers market. We had 10 cups total sliced apples. (We started with 3 3/4 lbs of apples.) The long slow baking works some magic as the spices and vanilla and rum all combine with the caramel and apples to become some other fabulous flavor-aroma, something that is sublime.
This filling is a big project, not the "let's-throw-together-an-apple-pie" from my childhood. Those were fine pies, but for us, the extra step of melting the sugar in two pans and pre-cooking the apples required our full attention and was a bit of a juggle.
We used one stainless steel pan and one cast iron. The sugar melted unevenly and at different rates in each pan, and took longer to fully melt than we expected, over 10 minutes. We may have been timid with the temperature, since this was new for us. Once the sugar melted, we sautéed the apples for a total of 10 minutes, and they just were beginning to "give" at that point. After the apples cooled and we mixed in the remaining ingredients, we did not add the additional sugar.
Our total baking time was less than 2 hours. At one hour, 50 minutes the crust was golden gorgeous, and the apple slices tender perfect.
Most often we like our fruit pie with a dollop of something, premium vanilla ice cream or freshly whipped cream. Not this beauty. We enjoyed this pie as is, and took our time, savoring every moment.
I'll preface this by saying I'm a county-fair-winning apple pie maker so testing this recipe was fun for me to compare it to my own favorite apple pie recipe. I LOVE hot buttered rum and the idea of adding that flavor to an apple pie intrigued me and didn't disappoint. The rum flavor comes through in the final product very well but not overwhelmingly so.
The pie crust recipe that accompanies this recipe is also a good one. Enough gluten structure to maintain a good crust and still tender and flaky. I personally prefer lard or lard/butter-based crusts but this one was good and slightly salty which offset the sweetness of the pie in an excellent way.
I used a combination of Ambrosia apples and Gala in this pie and they held up well. I usually use a combination of granny smith and Macintosh but as neither were available this time I went with what I could find. They were pleasantly tender but not mushy after the cooking in the pan.
A word of warning that the sugar goes from not melted to burned quickly so keep a close eye on it and as suggested make sure your apples are ready to go. The one problem I had with this recipe was running two pans at once. Next time, I'll do one pan of apples at a time so I don't burn the sugar or have to try and juggle hot pans. As it was, I burned one pan of sugar and ended up having to rinse and restart that pan (fortunately I hadn't added the apples yet!).
I used an artisan dark rum that has a wonderful flavor and was pleased that it kept that flavor even through the long baking time. I was skeptical about the TWO hour baking time but even though the apples were very brown (much more so than any other apple pies I've made) they didn't burn or taste overly cooked.
Overall, this was a very tasty pie. We didn't finish it right away and the apples solidified as the pie sat for a couple of days increasing the pleasant texture so don't worry about this pie sitting a little longer to cool as it seemed to be better the next day even. This is a pie I'd definitely make again even if it doesn't replace my "normal" pie.
This is no ordinary apple pie. The combination of hot, buttered rum and the cinnamony, not overly sweet apples will win you over every time. The crust is perfectly flaky and is easy to prepare. The use of cake or pastry flour makes a phenomenal difference in the texture and the light taste of the crust. I loved how easily it came together without any fuss or worry.