These root vegetable latkes elevate the traditional potato latke by including sweet potato, parsnips, carrots, turnips, or celery root in this spectacular holiday side dish.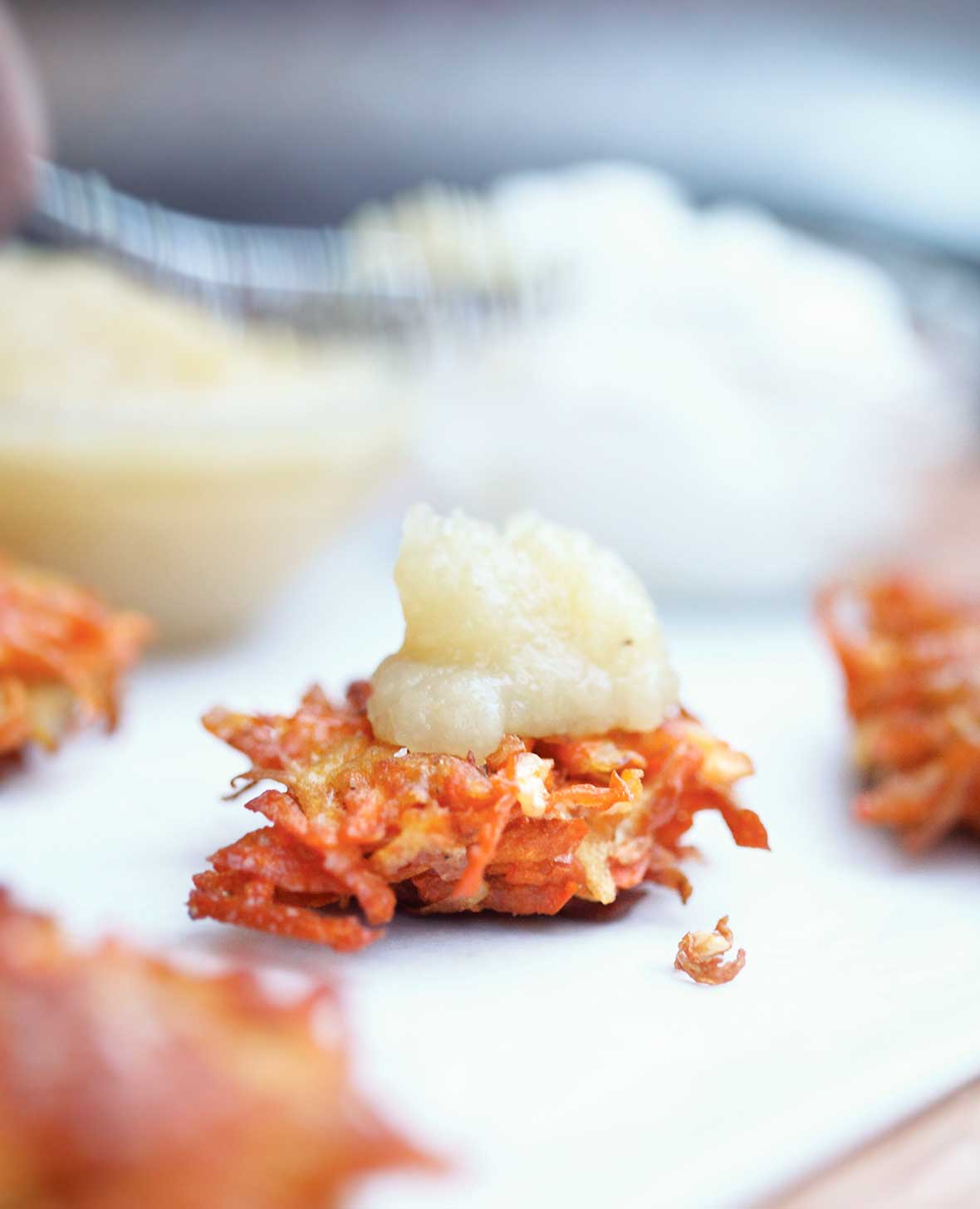 The wallflowers of the vegetable world, roots and tubers aren't popular like volleyball team captain tomato, and they aren't serious and sexy like class president asparagus. But just as Silicon Valley has shown us that geeks can be cool, so have farmers' markets turned roots and tubers into something special. They aren't always pretty—think of the ugly dangling roots of celeriac, which have to be trimmed before you find the gorgeous ivory vegetable underneath. And with the exception of beets and carrots, most come in muted colors, blanched from spending too much time underground. Their thick skins can be hard to penetrate, but they are full of nutrients and sweet carbohydrates—after all, the roots provide food for the rest of the plant—and they are grounded by complex, earthy nuances. You may be used to thinking of them as background players, but roots and tubers are dependable and true, like that loyal friend from drama club you never took to the prom.
Traditionally fried up during Hanukkah, latkes are simply pancakes made of shredded potatoes bound with eggs. This version uses any kind of root and tuber scraps you may have, such as odds and ends that remain after cutting up and trimming vegetables for a soup. Just throw the vegetable ends in the food processor with the grating attachment to shred them. These crisp mini latkes make a delicious appetizer with sour cream and applesauce anytime of the year.–Tara Duggan
LC Kid Friendly Way To Eat Your Root Vegetables Note
Moms, we think if you call these something clever, akin to fries, your kids are gonna down these like crazy. Care to nominate some munchkin-friendly monikers? Let us know in a comment below.
Root Vegetable Latkes
Quick Glance
45 M
55 M

Serves 4 to 6
Ingredients
Email Grocery List
3 cups peeled and grated raw root vegetables or tubers, such as potatoes, sweet potatoes, beets, carrots, parsnips, turnips, or celery root

1/4 onion, very thinly sliced or shredded in a food processor

2 large eggs

1 tablespoon cornstarch

1/2 teaspoon baking powder

1/2 teaspoon kosher salt, plus more as needed

1/4 teaspoon freshly ground pepper

Olive oil or vegetable oil, for frying

Sour cream, for serving (optional)

Applesauce, for serving (optional)
Directions
1. Preheat the oven to 200°F (93°C).

2. Place the grated vegetables and onion in a large bowl. Press the grated vegetables with paper towels to remove any excess moisture. Add the eggs, cornstarch, baking powder, salt, and pepper and stir well.

3. Place a large skillet over medium-low to medium heat and add enough oil to fill the skillet to a depth of 1/4 to 1/2 inch. When the oil is hot, use a soupspoon to scoop up about 2 tablespoonfuls latke mixture, then use another soupspoon to press down on the mixture to make an oval patty. Gently slide the patty into the oil. Continue making patties with the spoons and cooking them without crowding them, until the latkes are browned, crisp, and cooked through, about 5 minutes per side. Make sure the oil isn't too hot or the latkes will burn. Place on paper towels or a brown paper bag to drain.

4. If desired, place the finished latkes on a baking sheet and keep warm in the oven while you make the rest of the latkes. Season with salt and serve with the sour cream and applesauce, if desired. You'll probably have about 20 small latkes.
Recipe Testers Reviews
Root Vegetable Latkes Recipe © 2013 Tara Duggan. Photo © 2013 Clay McLachlan. All rights reserved. All materials used with permission.
If you make this recipe, snap a photo and hashtag it #LeitesCulinaria. We'd love to see your creations on Instagram, Facebook, and Twitter.