I feel like you should be able to crush all of your guilty pleasures at once. Pie and a milkshake? Absolutely. I like to take the ingredients of two sources and merge then together with delicious results. Comfort food never tasted so good.–Dan Whalen.
CAN I MAKE THIS MILKSHAKE WITH OTHER KINDS OF PIE?
You definitely don't need to go to the effort to make a pie just for the explicit purpose of whipping up this milkshake. This is a perfect way to use up that last lingering piece of pie from the weekend. But once you've tried this indulgence, you'll understand that maybe making an entire pie is worth it. Just wait until you taste sweet pie filling and crisp browned crust through a straw—you'll totally get the hype. The best part is that you don't have to limit yourself to just blueberry pie. Use your imagination. (Search our site for recipes for the below!)
Cherry Pie + Chocolate Fudge Ice Cream
Peach Pie + French Vanilla Ice Cream
Apple Pie + Sweet Cream Ice Cream
Icebox Pie + Strawberry Pie + Vanilla Ice Cream
Pumpkin Pie + Pumpkin Pie Ice Cream
Key Lime Pie with Graham Crust + Coconut Gelato
Blueberry Pie Milkshake
Is it really necessary to make a pie and then put it into the blender? Why not just blend the blueberries and some pie crust? Well, the cooked pie flavor adds so much to this milkshake. As you taste the bits of browned crust through the straw, you'll totally get it.
Instructions
In a blender, combine your slice of pie and ice cream and blend until the desired consistency.

That's it. Pour your pie milkshake masterpiece into a tall glass, grin big, stick a spoon or a straw in it, and slurp.
Nutrition
Serving:
1
milkshake
Calories:
647
kcal
Carbohydrates:
105
g
Protein:
7
g
Fat:
22
g
Saturated Fat:
13
g
Cholesterol:
87
mg
Sodium:
174
mg
Potassium:
545
mg
Fiber:
5
g
Sugar:
91
g
Vitamin A:
862
IU
Vitamin C:
2
mg
Calcium:
289
mg
Iron:
1
mg
Nutrition information is automatically calculated, so should only be used as an approximation.
Recipe © 2018 Dan Whalen. Photo © 2018 Brian Samuels. All rights reserved.
---
Recipe Testers' Reviews
Blueberry season is finally here! I can't tell you how excited I have been to pick fresh blueberries from my own backyard. I finally had enough to make something and I knew it had to be this milkshake.
I wanted to make the pie in the recipe, but I only had 3 cups of blueberries. After giving it some thought I decided I could cut the recipe in half and make a galette. I used the Perfect Pie Crust recipe making one crust. I can't believe how simple that recipe is and I will definitely use it again. I absolutely loved the flavor of the pie. The blueberries were the star and that crunchy, buttery crust made me so very happy.
With flavors like that I wanted to make homemade ice cream to send this lovely over the top. I searched the site and found this French Vanilla Ice Cream recipe and I got started on the base right away. It was perfect for this milkshake.
I enjoyed this milkshake slowly so I could savor every bit of it. I broke off a big chunk of the crust and used it as a spoon. I just love the idea of using pie to make a milkshake and I can't wait to experiment, but it will be pretty difficult to top this one.
I cut the recipe for the pie in half and made a galette.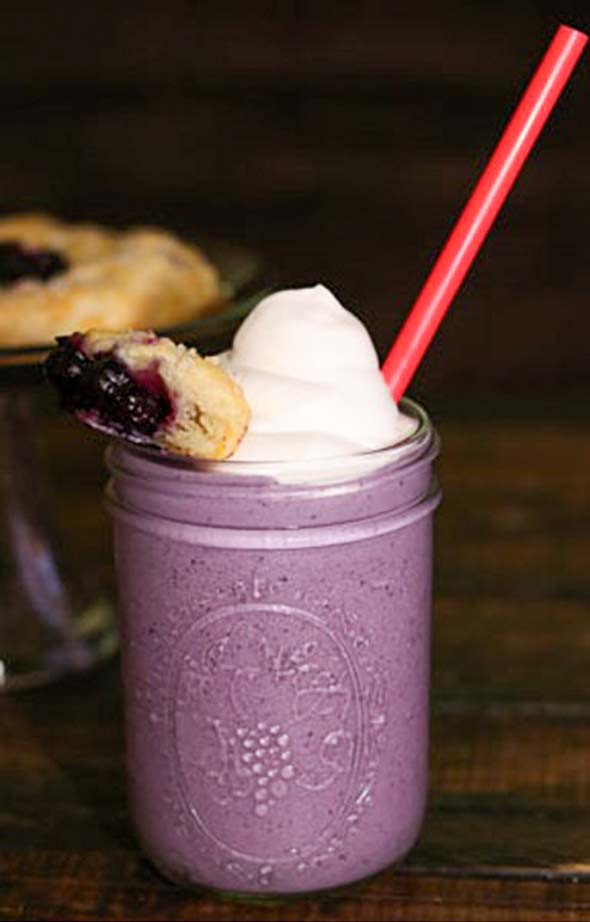 I went rogue and made a Key Lime Pie Coconut Milkshake using the Key Lime Pie recipe from Jimmy Buffet's Margaritaville restaurants and coconut ice cream. The bits of graham cracker crust with the tartness of the key limes and the tiny slivers of coconut were divine. Super rich and thick, I only made one shake to share with my husband as it was quite late in the evening and after I made it using one piece of pie and 3 scoops of ice cream, my general thought was that didn't make a full milkshake. However, halfway through the shake, we were quite satisfied with sharing this as it was super-rich.
I would definitely make this again and experiment with all types of pie and ice cream combos. Pecan pie and butter pecan ice cream? Too much? Chocolate pie and mint chocolate chip? So many combinations waiting to be tested…