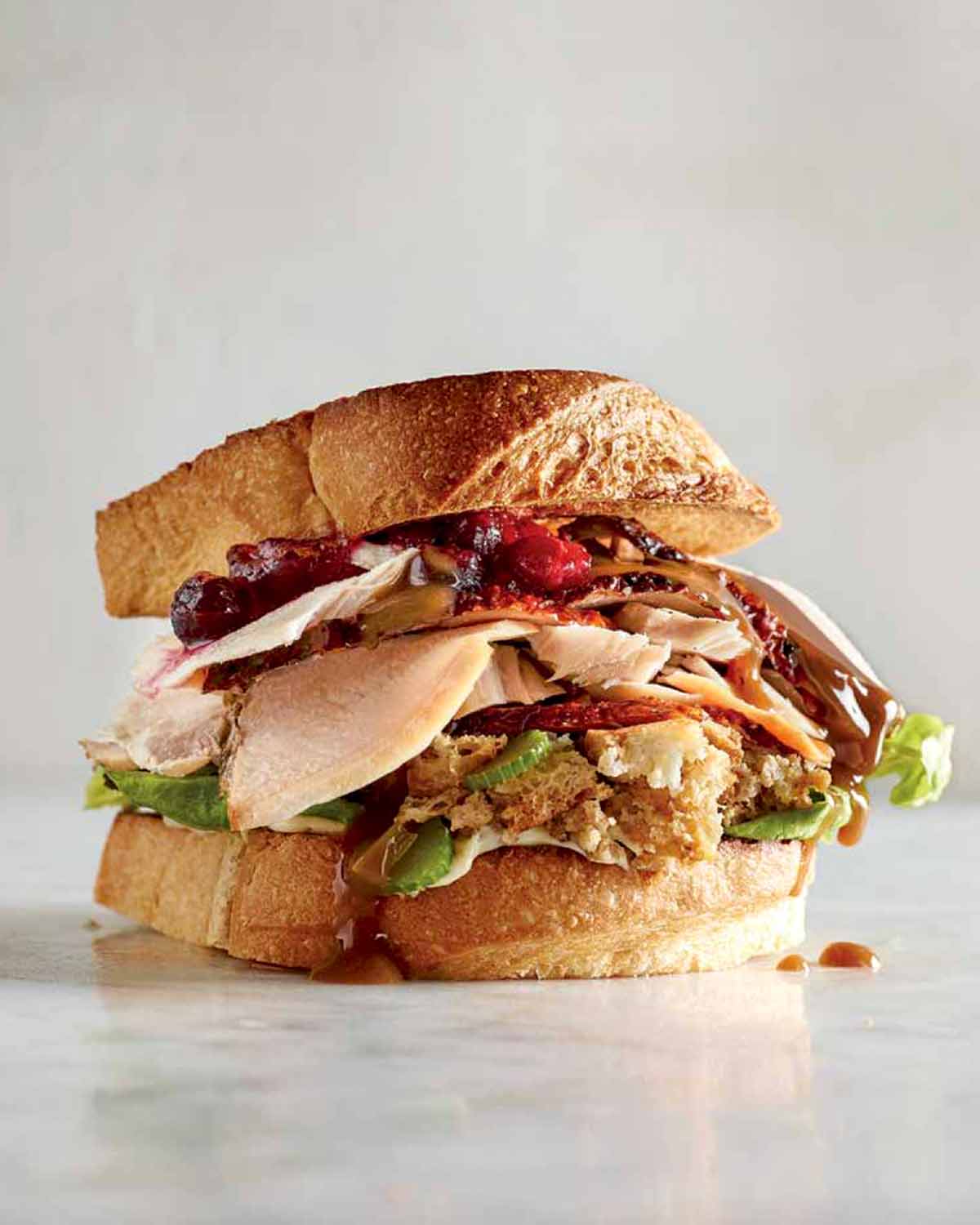 Thanksgiving leftovers. They're the very reason a lot of us cook Thanksgiving dinner. Well, that and tradition. (But really, it's the leftovers.)
Thing is, there tend to be A LOT of leftovers after the fourth Thursday in November. Especially if your gathering is small this year. And while familiarity can be comforting, sometimes a little novelty in terms of what to do with them can be a godsend. Because we know you're tired after all that cooking, we'll get straight to the what we like to do with all the usual suspects crowding your fridge.
But first, a little food safety…
How long are Thanksgiving leftovers safe in the fridge?
According to the food safety folks at the USDA, you'll need to make your leftovers disappear, either by devouring or by freezing, within three to four days. Which means you have until the Monday after Thanksgiving to put them to good use. Equally important is that you're mindful of refrigerating all Thanksgiving leftovers within two hours of cooking them on the day. Gives you a handy reason to excuse yourself from the table when talk turns to politics.
What can I do with leftover mashed potatoes?

Simply reheat them
But not in the microwave or in a saucepan. That's reckless and could cause the spuds to reheat unevenly and scorch in places. Ideally, you'd place them in a bowl placed over but not touching simmering water, stick a wooden spoon in the bowl, and place a lid atop the bowl. The spoon not only reminds you to occasionally stir the mashed potatoes as they warm, but keeps the lid slightly askew so they don't overheat. The potatoes will be stiff from the cold, so you'll need to add a little more cream or milk, a little at a time, as they warm. Stirring in a blob of butter toward the end makes them all the more irresistible. A few other imaginative stir-ins at the end can similarly make them enticing, whether sautéed mushrooms or sautéed pancetta, caramelized onions, chopped scallions, chives, dill, you name it.
Smother a shepherd's pie
A shepherd's pie is sort of like a casserole gone to finishing school. It's essentially stew, which can be made inexpensively from a cheap cut of meat and whatever root vegetables you have languishing in the fridge blanketed beneath a layer of leftover carbs. The intrigue factor is high for those who don't know what lies beneath the leftovers.
Play potato patty cake, patty cake
Not really. But you can make little puck-shaped mashed potato cakes that are satisfyingly crunchy on the outside, creamy on the inside and make magnificent use of mashed potatoes. We're partial to them at breakfast alongside bacon and eggs, though truthfully, they are an admirable side to just about anything. We've heard the same recipe for mashed potato cakes on our site slip in even less obtrusively at breakfast when warmed in a waffle maker that's been generously slicked with oil.
Create an omelet
Yep. Mashed potatoes as filling for a cheese omelet. Warm the mash first (see "Simply reheat your mashed potatoes" above) and proceed with your omelet-making. A sprinkle of herbs and a delicate green salad of frisée or mache and you may just feel like you're sitting Seine-side at a bistro in Paris. (Or not if you're in your baggiest sweats.)
Make tacos
Your life will never be the same again after experiencing the jolt of unexpected amazingness that is the mashed potato taco. Spoiler alert: a carb coma will follow.
Create a mashed potato casserole
The same things you adore in twice-baked potatoes can also be brought to leftover mashed potatoes. Simply plop them in a generously oiled baking dish, cover loosely with foil, and warm in the oven. About 20 minutes before you can't control your craving any longer, uncover, sprinkle with shredded cheese and crisp crumbled bacon, and slide it back in the oven until the cheese melts. Sprinkle with chives, if desired. Sour cream optional.
Consume straight from the fridge.
Cold. With a spoon. We have nothing more to say on the matter.
What can I do with leftover turkey?
Make a turkey sandwich
We know you know this. But allow us to remind you anyways. Because inspiration may come in various forms, whether the classic pile-everything-on-sturdy-white-bread sandwich approach. Or the classic hot brown with bacon and bubbly cheese sauce. Or a mashup of a grilled cheese and a club sandwich. Or a relatively lean riff on the Reuben patty melt using slabs of leftover turkey warmed in butter in place of the patties.
Toss a turkey taco salad
Again with the tacos. Simply swap out finely chopped leftover turkey for the ground turkey in this stealthy healthy taco salad that sorta makes up for any Thanksgiving overzealousness.
Lend some heft to carrot soup
Lend a little heft to this vibrantly colored and slightly sweet carrot soup with a little (or a lotta) shredded turkey placed atop.
Sizzle your turkey in butter
Yes, even that dried out white meat can be salvaged. Butter to the rescue. Simply slide a cast-iron skillet over medium heat, melt a generous blob of butter, and toss in the turkey. Crank the heat up a little if you like a golden brown crust on the turkey. Otherwise, just tend the turkey, turning as needed, until warmed through, letting the butter do what it does best. And if that seems too simple for you, lend it some oomph with a Marsala pan sauce.
Make pretty much anything you'd make with leftover roast chicken
You are aware that you can use leftover turkey in almost any manner you would leftover roast or rotisserie chicken, yes? Tetrazzini. Salad. Pot pie. Soup. (See following recipe.)
Slowly simmer some soup
Technically, this is a recipe for leftover roasted chicken soup. But it works just the same, if not better, with Thanksgiving leftovers. So don't ditch the carcass from the turkey after dinner (though you can break it into pieces to make for easier storage in the fridge if you don't get around to simmering this soup right away Thanksgiving night).
Turn it into turnovers
Stuffing isn't the only Thanksgiving leftover that can be niftily hidden beneath pastry—it also works for mashed potatoes, turkey, gravy, even cranberry sauce. But we like the satiating sturdiness of stuffing in these leftover turkey turnovers. Simply use that extra homemade or store-bought pie or puff pastry you happen to have on hand from Thanksgiving. (Like how we just took care of ALL your leftovers at once?!)
Make one-pan dinner muffins
Stuffing forms the firmament of these dinner-worthy Thanksgiving leftovers muffins. Just press the stuffing into the bottom and along the sides of buttered muffin tins–a great way for wee hands to help in the kitchen—and then fill with whatever other leftovers you have and slide in the oven. Dinner is done.
Revamp your breakfast hash
Yes. Stuffing hash. Melt some butter in a cast-iron skillet over medium heat. Crumble the cold leftover stuffing in the skillet. And then gently smash the stuffing with a spatula as the butter bubbles at the edges. Slice and serve straight from the skillet with a drippy sunnyside up egg or two perched on top, just as you would any hash.
Waffle your stuffing
Know what we said earlier about smashing mashed potatoes in the waffle maker? Same applies to leftover stuffing. You'll want to add an egg or two to help hold it together, figure one or two eggs for every four cups of stuffing, squishing it together with your hands. Then just slick that waffle maker with ample oil. We think you can take it from here.
What can I do with leftover gravy?
Glop it on your leftover mashed potatoes
Not a lot else to say here.
Lend some richness to soups and stews
Gravy is basically the essence of whatever meat you make with it. So use that to lend your turkey soup or stew some intrinsic oomph.
Take a cue from Tony Soprano
Remember how the mob boss referred to marinara as "gravy"? Actually, what Americans call gravy also works on noodles. (Think stroganoff.) Shred or slice some leftover turkey, warm it in a saucepan with said gravy, and lavish it on cooked noodles.
What can I do with leftover cranberry sauce?
Go healthy
Stir and swirl it into some yogurt and sprinkle with granola.
Go indulgent
Spoon it over ice cream or cheesecake.
Call your cranberry sauce an "accoutrement"
Place a dish of it alongside goat cheese along with some bread or crackers any and all times of day.
Sneak it into the kids' snacks
Swap in your leftover cranberry sauce for the fruit filling in fruit bars.
Demolish it at breakfast
Pancakes. Waffles. Toast. English muffins. They're each better when tarted up with a shmear of cranberry sauce.
Bake any unused berries
And if you happen to have a bag of extra roly poly berries that didn't make it into sauce, then drop everything and make this cranberry orange pecan bread without delay. It's one of our most popular recipes come November.