This Coca Cola brisket is unbelievably easy to make. Just toss it and the marinade in the oven or the slow cooker, forget about them for a while and come back later for a heartachingly tender braised brisket. You're welcome. 
This heartachingly tender Coca Cola brisket recipe, a Southern classic, draws on just four ingredients—including, natch, a can of Coca Cola. We can assure you that we're hearing from everyone that the braised brisket that results is way more than the sum of its parts. Although we've witnessed about as many different ways to tweak this as there are cooks who've made it. Some folks first coat the beef with a dry rub. Or swap ketchup or barbecue sauce for the chili sauce. Others toss a heap of sliced onions in the pan. Or strew chopped carrots, potatoes, or sweet potatoes around the brisket. Many first marinate the brisket overnight in a couple cans of Coke before draining and proceeding with a new can of Coke. Lots slather the final roast with barbecue sauce and return it to the oven, uncovered, for a few minutes. We could go on. That said, while you're welcome to make this recipe your own, many folks—including our recipe testers whose comments are found below—are quite fond of it simply as is. Originally published March 26, 2012.–Renee Schettler Rossi
*Kosher-For-Passover Coke
If you're being observant for Passover, you'll want to be mindful of seeking out kosher-for-Passover Coke. But we bet you already knew that.
Coca Cola Brisket
Quick Glance
15 M
3 H, 25 M

Serves 8 to 12
Special Equipment: Faith and a slow cooker
Print Recipe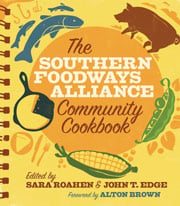 Ingredients
4 to 6 pounds beef brisket, visible fat untrimmed

One 12-ounce can Coca Cola*

1 envelope dried onion soup mix (yes, seriously)

1 cup bottled chili sauce, such as Heinz (may substitute ketchup or as

as reader Ryan suggests:

ketchup mixed with hot sauce)
Directions
1. To make the Coca Cola Brisket in your slow cooker, see the Slow Cooker Variation below.

To make the Coca Cola Brisket on the stovetop, preheat the oven to 325°F (160°C).

2. Pat the brisket dry with paper towels. Place the brisket in a nonreactive roasting pan or a glass baking dish just large enough to snugly fit the brisket.

3. Mix the Coke, chili sauce, and dried onion soup mix in a bowl and pour it over the brisket. Cover the baking dish or roasting pan tightly with aluminum foil. Roast the brisket until tender, about 30 minutes per pound (so figure 2 to 3 hours total, depending on the size of your brisket).

4. Transfer the brisket to a cutting board and let it rest for at least 10 minutes. Meanwhile, skim the fat from the surface of the pan juices and discard. Pour the defatted pan juices into a gravy boat or, if a thicker consistency is desired, pour the juices into a saucepan and simmer until reduced slightly.

5. Trim any visible fat from the brisket, then thinly slice it against the grain. Pile the slices of brisket on a platter and pass the warm pan juices on the side.
Slow Cooker Variation
This four-ingredient braised brisket recipe just got even simpler. Place the brisket in the slow cooker. Combine the remaining ingredients and pour over the brisket. Cook on low for 9 hours. Transfer the meat to a cutting board to rest. Skim any fat from the surface of the sauce. If a thicker sauce is desired, pour the sauce into a saucepan and simmer until reduced to the desired consistency. Slice or shred the brisket and serve with the sauce.

[Editor's Note: Bear in mind, no two slow cookers are exactly alike, just as no two cooks are exactly alike. This slow-cooker approach worked really, really well for us, although if you have a different slow-cooker cooking technique you want to try by all means, do so. And, natch, we'd love if you'd share it with us in a comment below.] Curious to hear more about working magic with your slow cooker? Peruse our entire selection of slow cooker recipes.
Coca Cola Brisket Recipe © 2010 Sara Roahen and John T. Edge. Photo © 2010 Renee Brock. All rights reserved. All recipes and photos used with permission of the publisher.
If you make this recipe, snap a photo and hashtag it #LeitesCulinaria. We'd love to see your creations on Instagram, Facebook, and Twitter.