Okay, so what does a girl from South India know about southern fried chicken? Well, in my defense, for years I've been dutifully following every path I know to find the best recipe for this beloved favorite dish. Even when I was a vegetarian, I would break off the coated chicken skin and eat the fatty bits. The key to moist, plump, juicy fried chicken is the marinating, either in salted water (brining) or in milk. I've combined the two methods. The combination of salt and milk results in sheer, succulent pleasure because the milk makes the meat even sweeter. The second secret is the addition of Rice Krispies (you can use corn flakes instead) and saltines, which creates an indispensable layered crunch.–Padma Lakshmi
LC Crazy Crispy Note
What a crazy, crispy, unconventional coating. Blissfully, irreverently, finger-lickin' crazy unconventional. Literally finger-lickin', as some of the coating slid off the chicken when we ate it, but that didn't deter us. The saltines lend the coating a slight sweetness and the gently crushed cereal—just about anything made from rice or corn, though please, no muesli—takes care of that. The overall effect is actually not altogether unlike KFC's original coating.
Crispy Fried Chicken
Quick Glance
30 M
30 M

Serves 4 to 6
Print Recipe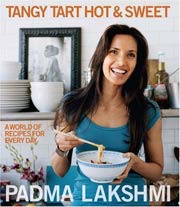 Ingredients
2 1/2 cups whole milk

5 teaspoons salt

One 3- to 4-pound chicken, cut into 8 pieces

1 cup flour

1/2 cup puffed rice or corn flakes cereal, smashed just a little

12 saltine crackers, crushed

1 teaspoon dried mango powder (amchoor) or lemon pepper (optional)

1 teaspoon cayenne pepper

2 large eggs

1 1/2 to 3 cups canola or olive oil

2 sticks (8 ounces) unsalted butter or, preferably, ghee (optional)
Directions
1. Mix the milk and 4 teaspoons of the salt in a large bowl. Pat the chicken dry. Add the chicken to the milk mixture, cover, and refrigerate for 8 to 10 hours.

2. In a shallow dish or on a plate, combine the flour, smashed cereal, saltines, remaining teaspoon of salt, mango powder if using, and cayenne. Beat the eggs in a shallow bowl. Remove the chicken from the fridge.

3. In a deep, heavy pan, heat the oil and butter on medium-low heat. If using oil and butter, use only 1 1/2 cups oil. If using only oil, use 3 cups.

4. Dredge each piece of chicken first in the flour mixture, then in the beaten egg, then in the flour mixture again, rolling to coat each time. Fry the chicken in batches on medium-low heat for 7 to 10 minutes on each side (7 minutes for wings, 10 minutes for breasts). Don't crowd the pan—cook just enough pieces at a time so that each is bathed in oil. Keep a careful eye on the flame, as the butter will turn brown before the chicken is properly cooked if the heat gets even a smidge too high. If you're having a difficult time tempering the flame, cook the chicken until it turns golden and crisp on the outside, then transfer it a rack on a baking sheet, slam it in the oven, crank the heat to 400°F (204°C), and come back for the chicken after 12 or so minutes. Best to slice a sharp knife into the deepest portion of one piece just to be sure.

5. Drain the chicken on paper towels. Resist the urge to consume it hot and instead wait for it to cool at least 5 minutes or so. The coating may turn slightly less crisp, but you'll be able to taste the slight sweetness from the saltines. Serve with lots of napkins on standby.
Recipe Testers Reviews

I didn't know what to expect from this recipe, and I'm not quite certain how to explain what I got, though I'd do it all again. The saltines sort of melded into the flour mixture from a texture standpoint, though from a taste perspective they lent it a really nice, subtle sweetness. It's sort of the fried chicken of my childhood—a little greasy, a little slippery, and a lot of flavor. The coating slid off a few pieces as we tried to eat it, probably from having the temperature of the oil a little too low. We still ate it. But I think next time I'd forego the richness that comes with the butter—not to mention the accompanying trickiness of keeping the heat just low enough.
Crispy Fried Chicken Recipe © 2007 Padma Lakshmi. Photo © 2007 Ditte Isager. All rights reserved. All materials used with permission.
If you make this recipe, snap a photo and hashtag it #LeitesCulinaria. We'd love to see your creations on Instagram, Facebook, and Twitter.