This simple spaghetti with garlic and chile flakes couldn't be more simple. Just spaghetti, garlic, oil, and red pepper flakes. Great for lunch, snack, or a fast weeknight dinner.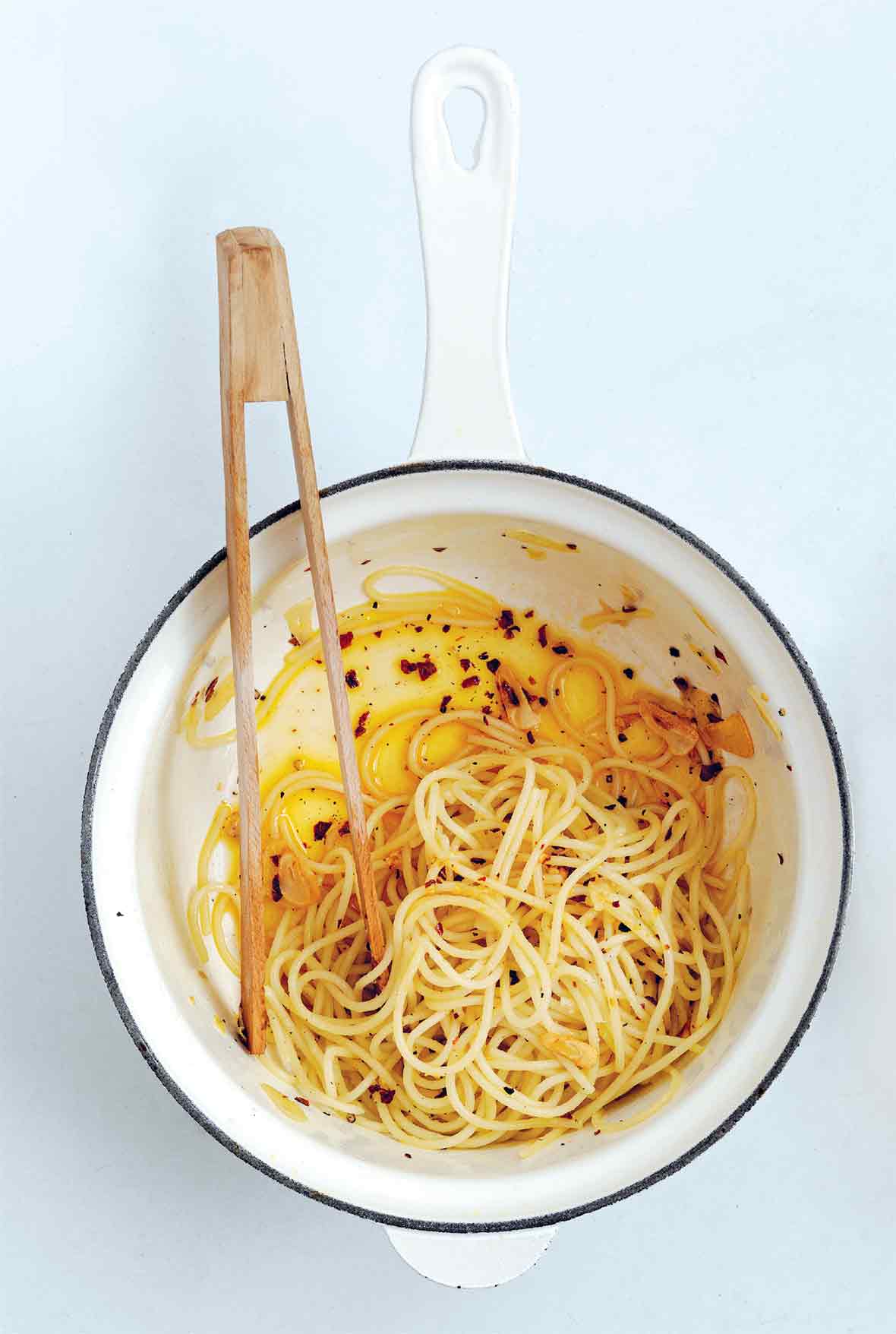 This simple spaghetti with garlic and chile flakes is perfect for when the pantry is bare and you're scrounging for a simple no-stress supper or a late-night nosh or even some morning sustenance when you plop a fried egg atop.So when it's half past when you'd wanted to eat and it seems like the fridge and pantry are bare, take a look at this recipe. And then think again. Originally published Feb. 16, 2012.–Renee Schettler Rossi
Simple Spaghetti Recipe
Quick Glance
15 M
15 M

Serves 2
Ingredients
6 to 8

ounces

spaghetti

3

large-ish

garlic cloves

4 or so

tablespoons

olive oil

A good pinch

dried chile flakes

(optional)

Salt and freshly ground black pepper
Directions
1. Take out a large pot and bring at least 8 cups water to a rolling boil. Add some salt, then plunge in the pasta. When the water comes back to a boil, cook according to the package directions.

2. While the pasta is cooking, peel the garlic and slice it as thinly as possible.

3. When your pasta is ready, drain it, reserving a little of the cooking liquid in a bowl.

4. Place the pot or a skillet on medium heat and pour in the oil. Add the garlic and chiles and cook briefly, until the garlic just starts to turn golden. Remove from the heat and add the drained pasta and maybe 2 to 4 tablespoons of the reserved cooking liquid, as much as needed to get your desired consistency. Season with salt and pepper to taste.
Hungry for more?
Chow down on these:
Simple Spaghetti Recipe © 2011 Keda Black. Photo © 2011 Deirdre Rooney. All rights reserved.
Hey, there. Just a reminder that all our content is copyright protected. Like a photo? Please don't use it without our written permission. Like a recipe? Kindly contact the publisher listed above for permission before you post it (that's what we did) and rewrite it in your own words. That's the law, kids. And don't forget to link back to this page, where you found it. Thanks!