This lobster roll, a summertime classic in Maine (aw hell, all of New England), is made with cool, creamy mayo and lemon swaddling sweet lobster in a toasted split-top roll.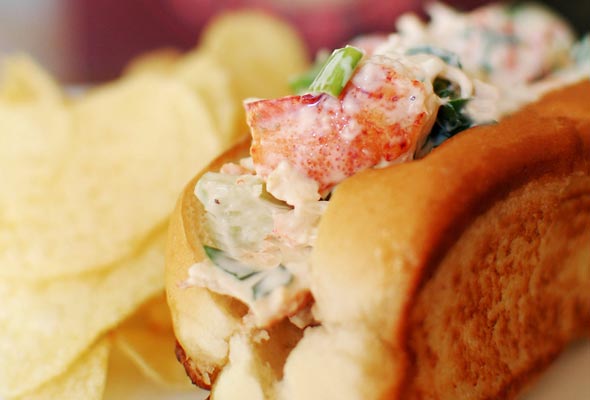 This is exactly what you'll find along the little highways and byways of coastal Maine–a toasted split-top bun cradling cool, creamy mayo swaddling sweet, sweet lobster. Much as we love cool, creamy mayo, we feel compelled to point out that there is actually more than one way to make a lobster roll, and that other lobster roll simplifies things to no adornment other than a drizzle of melted butter. But since most of Maine seems to prefer Mayo, perhaps you start there? Or rather, here. Originally published August 13, 2012.–Renee Schettler Rossi
How To Tell The Difference Between Male And Female Lobster
We're often asked how do you tell the difference between a male and a female lobster? And our standard response is, look between its legs, of course. You'll find two feelers, or swimmerets, located at the base of the tail. If they're hard, it's a male; if they're soft and flexible, you've got yourself a lady. Some think females are sweeter; others swear by the males. Guess you'll need to discern that for yourself.
Lobster Roll
Quick Glance
25 M
35 M

Serves 2
Print Recipe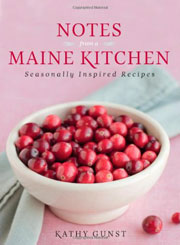 Ingredients
Two (1-pound) lobsters or 1 cup cooked lobster meat

1 1/2 to 2 tablespoons store-bought or homemade mayonnaise

1 1/2 teaspoons fresh lemon juice

1/2 teaspoon grated lemon zest, preferably organic

1 tablespoon minced chives

1 tablespoon very finely chopped scallion

Salt and freshly ground black pepper

1 tablespoon unsalted butter (1/2 oz)

Two (3-inch) chunks baguette (you can substitute 2 hot dog rolls if you must)
Directions
1. First, start dreaming of your lobster roll as you add enough water to a large pot to reach a depth of 2 to 3 inches. Bring it to a rolling boil over high heat. Place a colander or a wire cooling rack over a rimmed baking dish and set aside.

2. Remove the rubber bands from the lobster claws before you cook them or you'll end up imparting a rubbery taste to your chunks of crustacean. Although do be careful, as once you remove the rubber bands, the lobster may snap at your fingers. Carefully add the lobsters to the boiling water, shell side down, cover the pot, and cook until done, about 11 minutes.

3. Using tongs, remove the lobster from the boiling water and transfer to the colander or the rack to drain and cool to room temperature.

4. When the lobster is cool enough to handle, separate the lobster tail from the body. Using a fork, remove the tail meat. Using a cracker, the flat side of a chef's knife, or the bottom of a heavy skillet, crack the claws and legs and remove the meat. The red roe, or coral, found in female lobsters, is considered by many to be a delicacy and can be reserved for another use. Coarsely chop the lobster tail and claw meat. Reserve the shells for making stock or discard.

5. In a bowl, mix the mayonnaise (using a little more or less, depending on how creamy you like it), lemon juice and zest, chives, scallion, just a touch of salt, and pepper to taste. Fold in the lobster meat. Taste and adjust the seasoning accordingly. Cover and refrigerate. (You can make the salad ahead of time, but refrigerate it for no more than 3 to 4 hours.)

6. In a skillet over low heat, melt the butter. Cut the baguette pieces in half lengthwise and situate them so the cut side of the bread does a face plant in the puddle of melted butter. Toast the baguette until it just begins to turn golden brown. (Alternately, brown the hot dog rolls until they begin to turn golden brown, flipping them over so they get toasted and buttery on both sides.) Divide the lobster between the pieces of toasted baguette. Serve the lobster roll immediately.
Lobster Roll Variations
Stir 1 tablespoon drained capers into the mayo
Toss 2 tablespoons finely chopped celery in with the scallion
Rely on lime juice and zest instead of lemon
Line the baguette with tender leaves of butter lettuce
Slices of ripe tomato 2 strips of cooked country-style bacon
Thin slices of buttery avocado
Very thin slices of red onion

Recipe Testers Reviews
Lobster Roll Recipe © 2011 Kathy Gunst. Photo © 2011 Alexander Cowan. All rights reserved. All recipes and photos used with permission.
If you make this recipe, snap a photo and hashtag it #LeitesCulinaria. We'd love to see your creations on Instagram, Facebook, and Twitter.