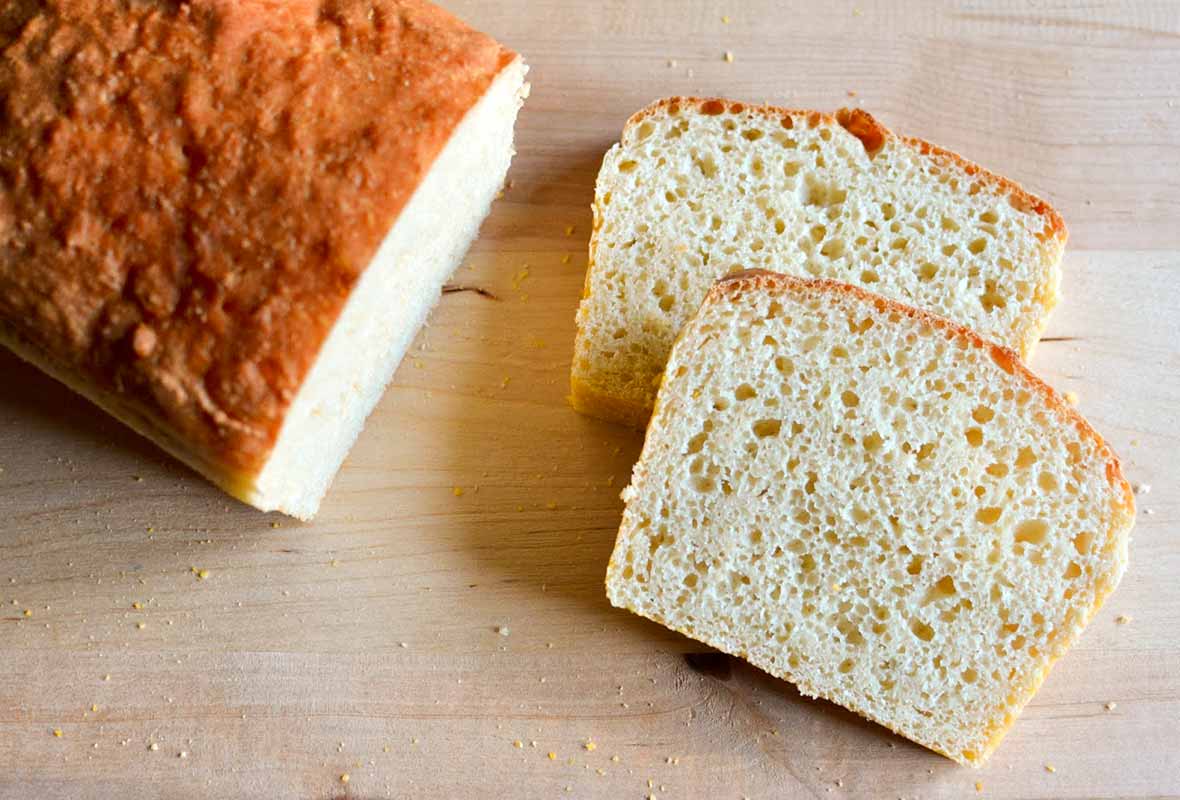 This English muffin bread recipe from the folks at Cook's Country and America's Test Kitchen is spectacularly easy and quick to stir, shape, and bake compared to traditional individual English muffins. Yet it retains that terrific and characteristic dense, chewy, English muffin-ness perfection, including the requisite nooks and crannies needed to trap pools of melting butter, which is just as God—and the English—intended.–Renee Schettler Rossi
*Can I Substitute Regular Flour For Bread Flour?
Kindly note that this English muffin bread recipe calls for bread flour and not all-purpose flour. And don't even think about swapping all-purpose flour for bread flour or your English muffin bread will be a flop to the magnitude of a Bridget Jones-worthy kitchen flop. Keep in mind that bread flour absorbs more water than all-purpose flour, which means it turns into a wet, sticky dough that resembles pancake batter. Don't freak. It's supposed to be a lot runnier and goopier than typical American bread dough. Just take a breath and hang with our recipe instructions. Things'll be fine.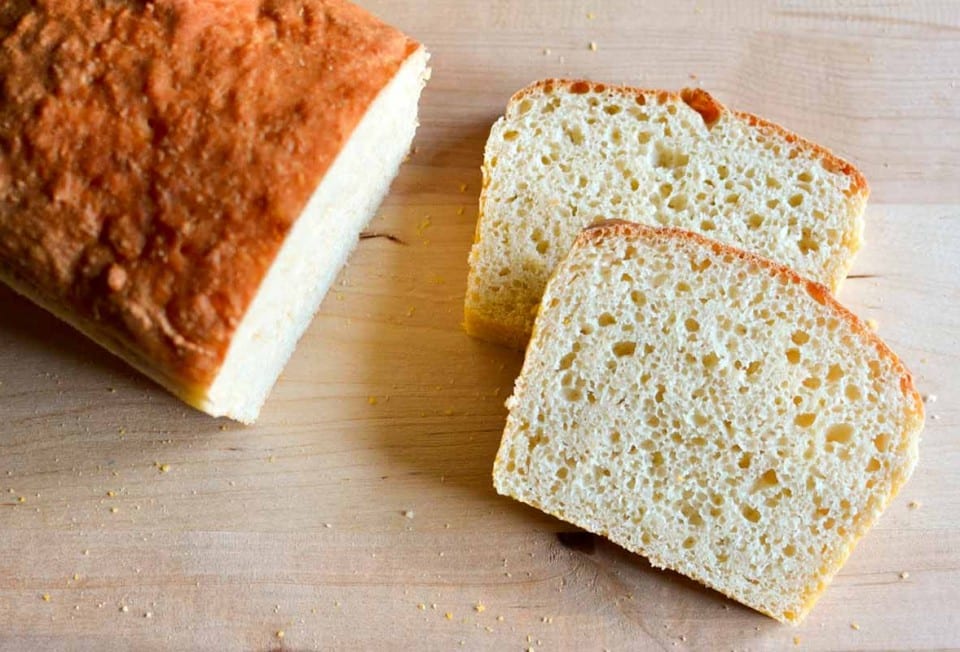 English Muffin Bread
This English muffin bread recipe from Cook's Country is incomparably easier to make than traditional English muffins yet bears all the requisite nooks and crannies that God–and the English–intended.
Equipment
Two 9-by-5-by-3-inch (23-by-13-by-8-cm) loaf pans, deep-fry or candy or instant-read thermometer
Ingredients
Butter

,

for the pans and plastic wrap

Cornmeal

,

for the pans

5

cups

bread flour*

4 1/2

teaspoons

instant or rapid-rise yeast

1

tablespoon

granulated sugar

2

teaspoons

salt

1

teaspoon

baking soda

3

cups

whole milk

,

heated to 120°F (49°C)
Instructions
Butter two 9-by-5-by-3-inch loaf pans and dust them with cornmeal.

In a large bowl, combine the flour, yeast, sugar, salt, and baking soda. Stir in the hot milk until combined, about 1 minute.

Cover the dough with a piece of generously buttered plastic wrap and let it rise in a warm place until the dough is bubbly and has doubled in volume, 30 to 45 minutes. The dough will be pretty sticky and airy and moist, almost more like a batter than a typical bread dough. Don't worry.

Using a buttered rubber spatula, gently stir the dough. Pour half the dough into 1 prepared loaf pan and use the spatula to hold back the rest of the dough, then scrape it into the second prepared loaf pan. Gently push the dough into the corners of the pans. (Each pan should be about 2/3 full.) If desired, dust the top of the loaves with cornmeal. Cover the pans with buttered plastic wrap and let the dough rise in a warm place until the loaves reach the top edges of the pans, about 30 minutes.

Preheat the oven to 375°F (190°C). Adjust an oven rack to the middle position.

Discard the plastic and transfer the pans to the oven. Bake until the bread is well browned and registers 200°F (93°C), about 30 minutes, gently rotating and switching the pans halfway through baking. (If you're using ceramic loaf pans instead of metal loaf pans, the timing may be more like 40 to 50 minutes.) The loaves may seem to deflate in the center, but don't panic, that's okay. This is a soft-batter bread, so the bread doesn't rise the same as a regular bread does, and the loaves will come out flat on top.

Turn the loaves onto a wire rack and let cool completely, about 1 hour. Slice, toast, and slather with butter.
Adapted From
The Complete Cook's Country TV Show Cookbook
Buy On Amazon
Nutrition
Serving:
1
slice
Calories:
91
kcal
Carbohydrates:
16
g
Protein:
4
g
Fat:
1
g
Saturated Fat:
1
g
Polyunsaturated Fat:
1
g
Monounsaturated Fat:
1
g
Cholesterol:
2
mg
Sodium:
191
mg
Potassium:
66
mg
Fiber:
1
g
Sugar:
2
g
Vitamin A:
37
IU
Vitamin C:
1
mg
Calcium:
29
mg
Iron:
1
mg
Nutrition information is automatically calculated, so should only be used as an approximation.
Recipe © 2012 Cook's Country. Photo © 2012 Playing with Flour. All rights reserved.
---