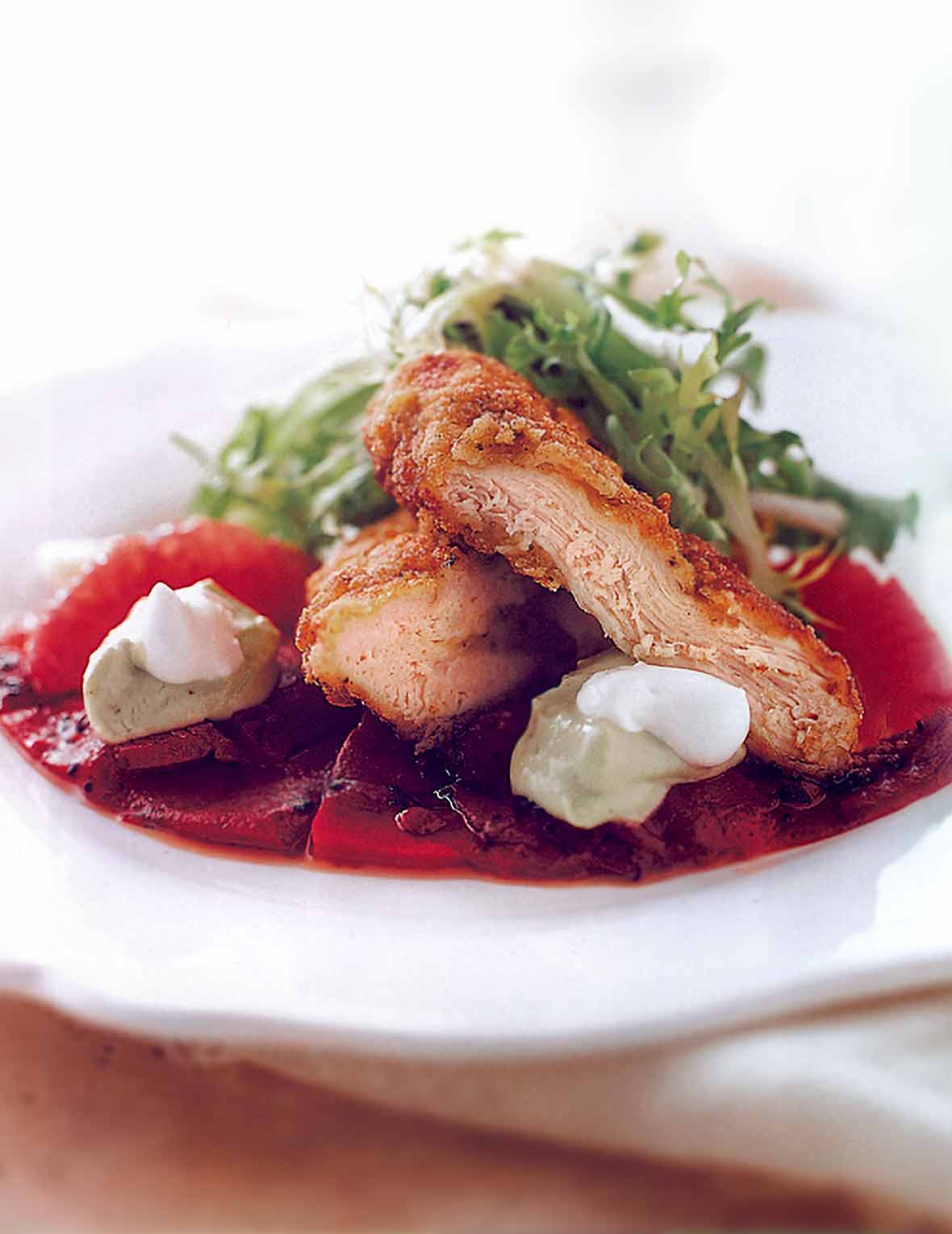 You are going to fall in love with this gorgeous little dish. Furthermore, I'm sure you'll want to use the Avocado Butter and the Grapefruit-Honey Vinaigrette in other dishes you make.–Norman Van Aken
LC Hand Holding Note
At first glance, this recipe may seem complicated, but don't be fooled. It's written so as to hold your hand every step of the way, from making the oh-so impressive garnishes, to coating and frying the chicken strips, to presenting the food like a pro. The last drop of advice from the authors concerns the best wine to accompany the masa-crusted chicken – a white wine from Crozes-Hermitage or a young Napa Valley Sauvignon Blanc will do the trick.
Masa-Crusted Chicken
Quick Glance
1 H
1 H

Serves 6
Ingredients
Email Grocery List
For the avocado butter (optional)

1 ripe avocado, seeded, peeled, arid roughly chopped

Juice of 2 limes

1/4 teaspoon cayenne pepper

1/2 cup sour cream

Kosher salt and freshly ground black pepper, to taste

For the grapefruit-honey vinaigrette

3 tablespoons roasted garlic oil or pure olive oil

1 tablespoon fresh pink grapefruit juice

1 1/2 teaspoons Spanish sherry vinegar

1 teaspoon honey

Kosher salt and freshly ground black pepper, to taste

For the escabeche spice rub

2 tablespoons cumin seeds

2 tablespoons black peppercorns

1 tablespoon sugar

1 tablespoon kosher salt

For the chicken

1 1/2 cups all-purpose flour

3 1/2 tablespoons Escabeche Spice Rub

2 extra-large eggs

1/4 cup sour cream, plus more to finish the dish

1/2 cup masa harina (available in grocery stores and in Latin American markets)

3 boneless, skinless chicken breasts, sliced lengthwise into 3 strips each

1 cup canola or peanut oil

4 cups mixed greens, washed and patted dry

2 1/2 ounces jarred piquillo peppers, cut into 1/2-inch-thick slices (or substitute jarred roasted red peppers, cut into 1/2-inch-thick slices)
Directions
Make the avocado butter, if using

1. In a food processor, purée the avocado with the lime juice, cayenne, sour cream, and salt and pepper until smooth. Cover and refrigerate.

Make the vinaigrette

2. Whisk together the garlic oil, grapefruit juice, vinegar, honey, and salt and pepper in a bowl. Set aside while you finish preparing the dish.

Make the spice rub

3. In a dry skillet, toast the cumin and peppercorns over medium heat until fragrant, 30 to 60 seconds. Cool the spices, then finely grind them in a spice mill or with a mortar and pestle. Pour into an airtight container, add the sugar and salt, and mix well.

Make the chicken

4. Bring out three bowls. Put 1 cup of the flour in one and season with 1 tablespoon of the spice rub. In the second, beat the eggs and sour cream until smooth. Season with 1 1/2 tablespoons of the spice rub. In the third bowl, combine the masa harina with the remaining half cup flour and 1 tablespoon spice rub.

5. Coat the chicken strips in the flour, shaking off any excess, then dip them into the egg-and sour-cream mixture. Finally, coat them in the masa harina mixture. In a large skillet, heat the oil to 325 degrees, and cook the chicken strips, in batches, turning once or twice, until golden brown. Drain them on paper towels.

6. To assemble the dish, toss the greens with just enough dressing to coat. Arrange the pepper slices around the greens on six salad plates. Cut each chicken strip crosswise in half and place them atop the peppers. Place the dressed salad greens in the center of the plates. Drop 1/2 tablespoon of avocado butter, followed by 1/2 teaspoon sour cream, on top of each piece of chicken. Drizzle a little of the remaining vinaigrette over each plate and serve.
Recipe Testers Reviews
This recipe makes a festive presentation. Throw in a side of Spanish rice or black beans, and you have a well-balanced meal. There's a lot going on in this dish—sweet, tart, and spicy. The tartness of the Avocado Butter provides a nice counterbalance to the sweetness of the Grapefruit-Honey Vinaigrette, and the cumin-pepper spice rub on the chicken garnered some compliments from my guests as well.
What a staggeringly sumptuous recipe. The unique combination of spicy crusted chicken on a bed of colorful mixed greens, lightly dressed with a sweet vinaigrette and topped with the rich avocado butter, makes you sit back, close your eyes, and savor every single bite. Could a meal be any more satisfying? I recommend this recipe for your next big evening, especially if you have invited guests.
Masa-Crusted Chicken Recipe © 2003 Norman Van Aken. Photo © 2003 Tim Turner. All rights reserved. All materials used with permission.
If you make this recipe, snap a photo and hashtag it #LeitesCulinaria. We'd love to see your creations on Instagram, Facebook, and Twitter.