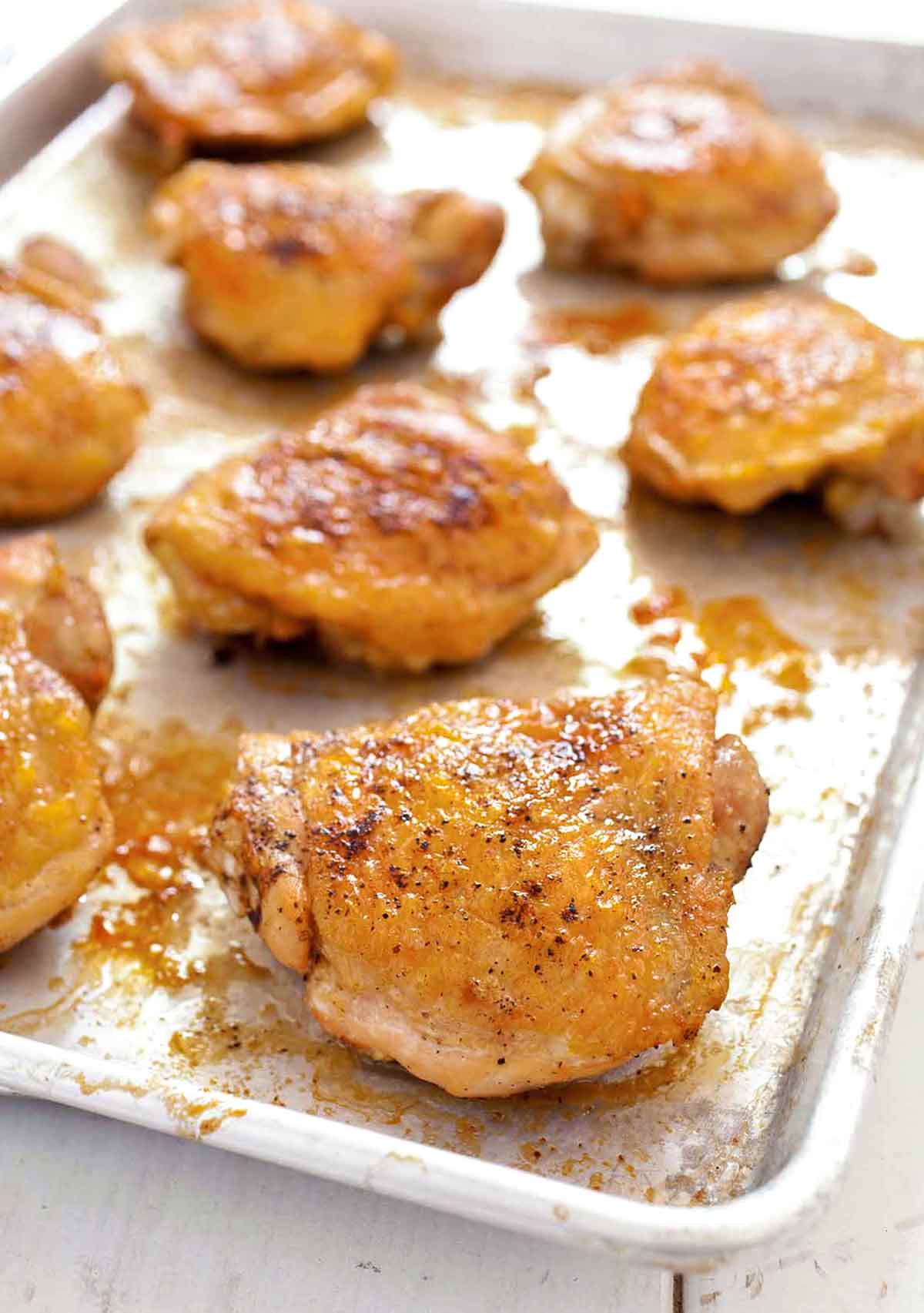 When we need a chicken dinner on the fly, chicken thighs are what we turn to most. They're more flavorful than lean breasts, meatier than drumsticks, and, thanks to their uniform size and thickness, less prone to overcooking, which eliminates any need for brining or salting. The only catch? The fat underneath the skin that helps keep the meat moist during cooking often leads to flabby skin. We wanted to come up with a quick recipe for thighs sheathed in crackling skin—without sacrificing the succulent, tender meat. –America's Test Kitchen
HOW CAN I TELL WHEN CHICKEN THIGHS ARE DONE WITHOUT A MEAT THERMOMETER?
This recipe for chicken thighs blasts them in a 450ºF oven, which might seem hot. But that's the price for the incredibly crisp skin that makes this dinner extraordinary. And it makes them cook pretty fast–like 25 minutes fast. Thes best indicator of chicken that's ready to devour is if the juices run clear when you pierce the meat. Cooked chicken should be firm to the touch with a bit of resistance and spring.
☞ Looking for more chicken thigh recipes? Try these:
Oven-Roasted Chicken Thighs
This oven roasted chicken thighs so ingenious is the technique. Bone-in, skin-on chicken thighs are baked until cooked through and then broiled to crisp the skin. The result? Juicy, flavorful chicken. Marvelously crisp skin.
Ingredients
Eight

(6- to 8-ounce)

bone-in, skin-on chicken thighs

Olive oil

1 1/4

teaspoons

fine sea salt

Freshly ground black pepper
Instructions
Crank the oven to 450°F (232°C) and adjust the oven racks to the middle and lowest positions. Place a rimmed baking sheet on the lower oven rack.

Pat the chicken thighs dry with paper towels. For best results, trim all visible fat from the thighs.

Using the tip of a paring knife or a metal skewer, poke the skin of each chicken thigh 10 to 12 times. Lightly rub the chicken thighs on all sides with a little oil and season with salt and pepper.

Place the chicken thighs, skin side down, on the preheated baking sheet. Return the sheet to the lower rack. Roast the chicken thighs until the skin begins to brown and the meat registers 160°F (71°C), 20 to 25 minutes, rotating the sheet once halfway through cooking.

Remove the baking sheet with the thighs from the oven and heat the broiler. Carefully tip the baking sheet so the rendered chicken fat pours into a small dish. Let it cool and then cover and refrigerate it for another use or toss it in the trash.

While the broiler heats, use a thin metal spatula loosen the chicken skin and flip the chicken thighs skin side up. Slide the baking sheet with the chicken thighs onto the upper rack until the skin is crisp and well browned and the meat registers 175°F (79°C), 3 to 5 minutes, rotating the sheet as needed for even browning.

Arrange the chicken on a platter or plates and let it rest for 5 minutes before tucking into the moistest, crispest chicken thighs ever.
Notes
*What to serve with these Oven Roasted Chicken Thighs
Now that you have the perfect technique for juicy meat and crisp skin, if you'd like to take things a little further in terms of chicken bling, we're thinking a dribble of barbecue sauce—whether North Carolina 'cue or Texas-style or spiked with bourbon. Maybe some chimichurri.
What about coating the thighs with a spice rub instead of just salt and pepper? Or shredding the meat and spooning some pico de gallo on top and passing some homemade tortillas on the side? Some Sriracha, perhaps? The options are, quite literally, almost endless. What you decide to do is your business…unless, of course, you care to let us know in a comment below.
Nutrition
Serving:
2
thighs
Calories:
704
kcal
Carbohydrates:
1
g
Protein:
52
g
Fat:
53
g
Saturated Fat:
14
g
Polyunsaturated Fat:
11
g
Monounsaturated Fat:
22
g
Trans Fat:
1
g
Cholesterol:
315
mg
Sodium:
974
mg
Potassium:
659
mg
Vitamin A:
251
IU
Calcium:
26
mg
Iron:
2
mg
Nutrition information is automatically calculated, so should only be used as an approximation.
Recipe © 2014 America's Test Kitchen. Photo © 2014 America's Test Kitchen. All rights reserved.
---