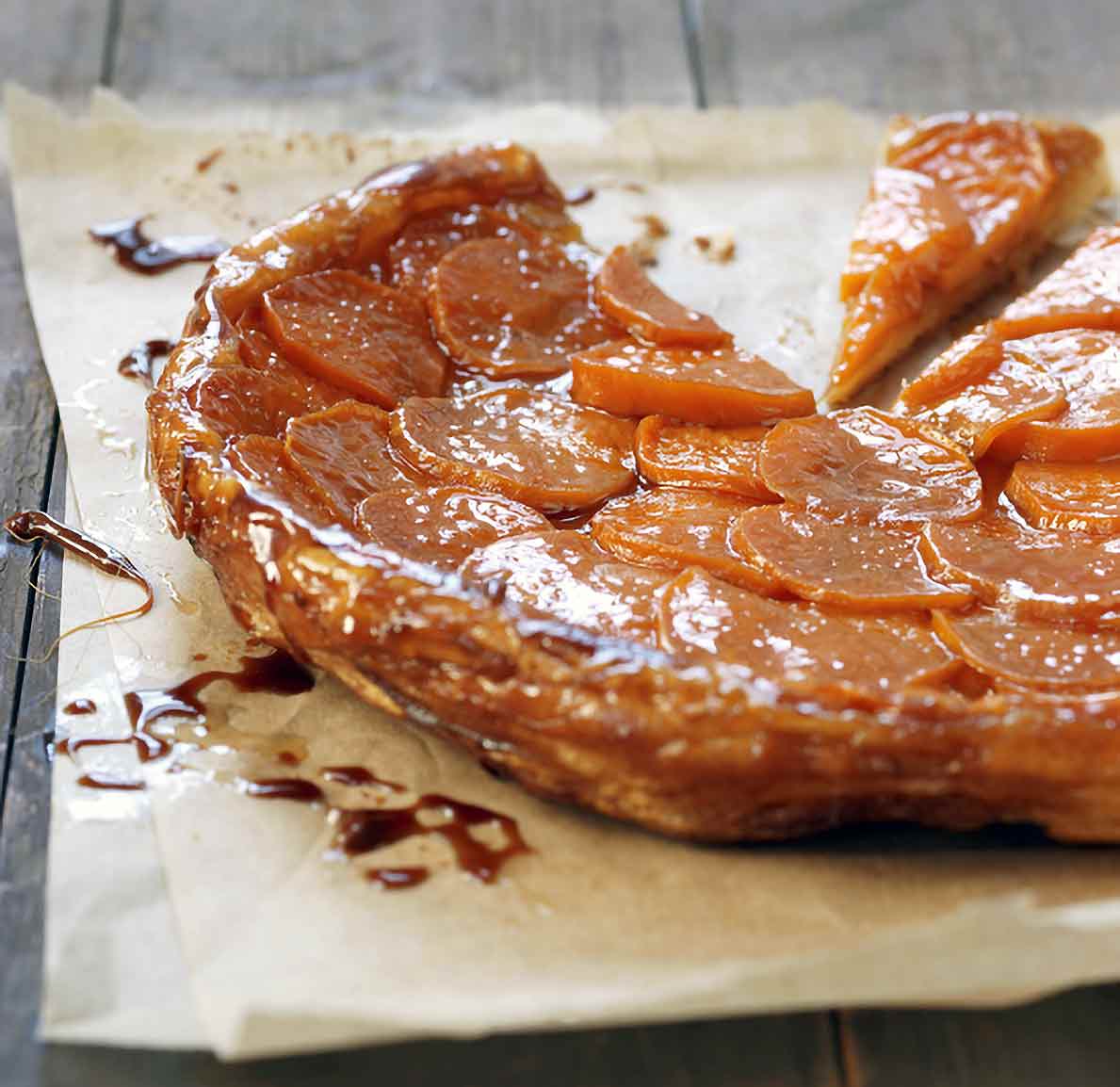 This sweet potato tart Tatin is an elegant but easy way to relive my love sticky-sweet sweet potatoes in a more adult package. First, I make a super traditional French-style caramel sauce and pour it into a good ol' cast iron pan, a staple in Cajun kitchens. Then I layer thin slices of potatoes on top (if you have a mandolin now's a great time to break that baby out of the box and use it to slice the sweet potatoes) and cover with the puff pastry. After a little sojourn into the oven, the whole sweet potato shebang comes out golden and gorgeous.–David Guas
LC New to New Orleans Note
This bastardized dessert–part apple tart tatin, part sweet potato pie–somehow manages to meld French and Southern and, not surprisingly, ends up with a Cajun accent.
Sweet Potato Tart Tatin
Quick Glance
Quick Glance
45 M
1 H, 30 M

Serves 6
Print Recipe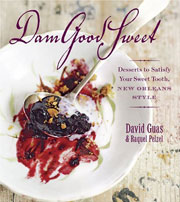 Ingredients
Email Grocery List
Directions
Heat the oven to 375°F (190°C). Line a baking sheet with parchment paper.
Place the puff pastry on your work surface and cut out a 10-inch circle. Set the circle on the prepared baking sheet. Prick the pastry all over with a fork and refrigerate. Discard the puff pastry scraps or sprinkle them with sugar, bake until puffed and golden, and nibble while you wait for the tart to be done.
Place 3/4 cup of sugar in a small saucepan and pour the cold water over the top. Gently stir with a spoon to make sure all of the sugar is wet. It should have the consistency of wet sand. Place a lid on the pan, slightly askew, and bring to a boil over medium-high heat. Simmer, keeping the pan mostly covered, until the syrup is clear and produces syrupy-looking, medium-size bubbles, 3 to 4 minutes.
Remove the lid and continue to cook until the sugar is a light butterscotch color and its temperature reaches 320°F (160°C) on a candy thermometer. Turn off the heat but leave the pan on the burner. The sugar will continue to cook even though the heat is off. As soon as the temperature reaches 350°F (190°C), whisk in the butter, 1 piece at a time, waiting until each piece is completely incorporated before adding the next. Stir in the vanilla and the salt, and pour the caramel into a 10-inch cast iron skillet.
Cover the caramel with the sliced potatoes, starting in the center and overlapping in a spiraling outward circle as you go. Top with the puff pastry circle.
Beat the egg and the milk together in a small bowl. Brush the egg mixture over the pastry, then sprinkle the tart with the remaining 1 tablespoon of sugar. Bake the tart until the edges are deep amber and the pastry is puffed and golden, 40 to 45 minutes.
Let the tart cool in the skillet for 10 minutes before inverting it onto a large plate (make sure the diameter of the plate is larger than 10 inches!). Slice into wedges and serve with or without ice cream.
Print Recipe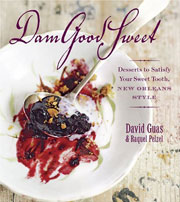 Sweet Potato Tart Tatin Recipe © 2009 David Guas. Photo © 2009 Ellen Silverman. All rights reserved. All materials used with permission.
If you make this recipe, snap a photo and hashtag it #LeitesCulinaria. We'd love to see your creations on Instagram, Facebook, and Twitter.