Like many, once I discovered chicken thighs, it was hard for me to revert to my old boneless, skinless breast ways. They actually taste like something, are basically impossible to cook up to be chalky and tough, and, if you go for the skin-on ones, you're rewarded with browned, crisp results.
It may seem odd to start the thighs in a cold skillet, but doing so actually helps the fat render out of the skin more efficiently, so it gets cracker-like crisp. Combined with warm, blistered Kalamata olives and lightly caramelized lemon, it's an easy, no-think chicken dinner you'll turn to repeatedly.–Sheela Prakash
Roast Chicken Thighs with Lemon
These roast chicken thighs with lemon rely on a simple technique that ensures shatteringly crisp skin and exceptionally juicy meat. Tart citrus and olives lend a subtle, simple flair.
Ingredients
4

(about 1 1/2 lbs)

bone-in

,

skin-on chicken thighs

Extra-virgin olive oil

Freshly ground black pepper

1/2

cup

Kalamata olives

,

pitted

1

lemon

,

halved crosswise

Coarsely chopped fresh parsley

,

for serving (optional)
Instructions
Preheat the oven to 400°F (200°C). Place a rack in the middle of the oven.

Pat the chicken thighs dry with paper towels. Drizzle the chicken with olive oil, rub to coat, and season with salt and pepper.

In a large cast iron or other heavy bottomed oven-safe skillet, place the chicken skin-side down. Scatter the olives around the thighs. Place the skillet over medium heat and cook, undisturbed, until the skin is well browned and crisp, 12 to 20 minutes.

While the chicken is cooking, slice half the lemon into thin rounds. Remove the seeds from the lemon slices.

Flip the chicken and scatter the lemon slices around it. Transfer the skillet to the oven. Roast until the chicken is cooked through and registers an internal temperature of 165°F (74°C), 8 to 15 minutes more.

Squeeze the remaining lemon half over the chicken, sprinkle with parsley, if desired, and serve.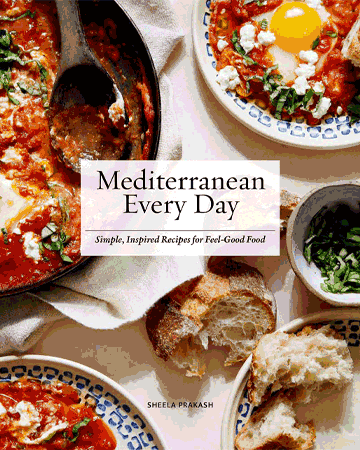 Nutrition
Serving:
1
portion
Calories:
761
kcal
Carbohydrates:
5
g
Protein:
53
g
Fat:
59
g
Saturated Fat:
15
g
Polyunsaturated Fat:
12
g
Monounsaturated Fat:
26
g
Trans Fat:
0.3
g
Cholesterol:
315
mg
Sodium:
774
mg
Potassium:
713
mg
Fiber:
2
g
Sugar:
1
g
Vitamin A:
390
IU
Vitamin C:
15
mg
Calcium:
51
mg
Iron:
2
mg
Nutrition information is automatically calculated, so should only be used as an approximation.
Recipe © 2020 Sheela Prakash. Photo © 2020 Kristin Teig Photography. All rights reserved.
---
Recipe Testers' Reviews
This roast chicken was surprisingly delicious considering how little work went into it as well as how few ingredients were needed. The shattering crispy skin. The lemon slices that started to caramelize. The blistered olives. OMG, YUM!
The technique for crisping the chicken skin was spot-on. After leaving the thighs undisturbed for 15 minutes in one of my best cast iron skillets, the skin was a beautiful mahogany brown. The only thing that I would do differently when I make this dish again, which I will be doing fairly soon, is that I will double or triple the amount of lemon. It was amazing! While I'm at it, I might as well throw in some extra olives.
I thought that we would get 2 meals out of this, being that every meal this time of year begins with a Caprese salad (come on, have you tasted heirlooms lately?), and I'd revisited an old favorite potato dish, hot crash potatoes. I also steamed fresh Romano beans. With all that food, I thought for sure, that we would have 2 of the thighs left for another meal. Well, all hope for that was dashed after tasting the first bite of this dish.
Select a Tester
This is a very easy recipe that certainly deserves merit. It requires so few ingredients yet this recipe yields an extremely flavorful plate of chicken. It smelled so delicious and I kept digging for more! One was certainly not enough. The only thing lacking is that I should have used more olive oil to coat the chicken so I get more of that tasty sauce at the end!
I managed to get 2 servings out of this recipe and I served this with polenta and mushroom ragout. I used boneless chicken thighs.
It's a very easy recipe. I followed the instructions perfectly and the final result was outstanding. The chicken was juicy and pack with flavor.
Everything about this incredibly quick, easy, and flavorful dish was fabulous!
I loved the idea of starting the chicken in a cold skillet. The chicken skin got beautifully brown and crisp. It also kept the spattering down by not dropping the thighs into a screaming hot pan.
The roasted lemon slices and Kalamata olives worked so well with these succulent chicken thighs. I served the chicken with roasted potatoes and French green beans on the side. I squeezed the lemon wedges over the chicken and potatoes, along with a sprinkling of fresh parsley.
Four chicken thighs should have generously fed 4 people, but it was so good we both ate 2 thighs each! We'll be making this chicken dish a lot!
This recipe was a joy to make. It came together quickly and cooked beautifully. Having all of my prep work done upfront resulted in a smooth and stress-free cooking process. I was even able to sneak in doing a few dishes while the chicken browned on the stovetop!
The chicken thighs came out of the oven just perfect. They were a beautiful golden brown color, crisp on top, and juicy when we bit into them. The salty olives and bright lemon stood up nicely to the fat and the parsley added a bit of freshness.
I served this with a salad of arugula and parsley topped with olive oil and feta. Couscous and rice would also make nice sides. My family raved about these chicken thighs and there were no leftovers. This recipe is a keeper!
This recipe was delicious. The cooked lemons were delicious. This was a simple enough dinner that required little attention once it was in the pan/in the oven and I will be adding it to the rotation.
If I make this again, I would slice the olives to incorporate the flavor more and add less lemon.
This is so good. Seriously, it's the recipe that I needed 6 months into a global pandemic that has me cooking 3 meals a day darn close to every day. I'm tired of my own cooking! My go-tos, my old favorites, my tried-and-trues. I know this isn't a new sob story…maybe it just took me longer to get here than others? Regardless, I didn't think a weeknight-appropriate, easy-to-put-together CHICKEN THIGH recipe was going to wow me. But. Here. We. Are.
This was such a breeze to put together. OO and salt and pepper go into a cold pan, scattered pitted Kalamata around them, I only had to remember to preheat the oven. Which I managed! Win!
I would consider this 4 servings. It is SO flavorful and rich that you really only need one thigh. I served this with roast sweet potatoes and a crunchy green salad. I do feel like, in retrospect, it would have been much better to serve it over rice or with nice bread to soak up the juices from the pan.
There's always room for another recipe for a quick chicken dinner, and this one is a keeper. It only takes 30 minutes and much of the process is hands-off—a dream, yes?
Starting the chicken in a cold skillet puts you at ease like surrendering an entire meal to a slow cooker. The rich flavor of chicken thighs shines brighter with a little help from salt, pepper, and lemon. The stovetop and oven timings were spot-on, and the chicken was perfectly cooked through underneath the golden skin. If I hadn't had leftover cannellini bean & roasted golden beet salad, I would have made Fennel, Orange, and Watercress Salad on LC to accompany for a side. It had paired beautifully with Tarragon Chicken, another easy chicken dinner also on LC.
A great easy, quick and tasty way to make chicken. Prep time would have been very quick except that I had bought olives with pits and choose to pit them before cooking. Otherwise very simple to prepare with a few pantry items. The chicken was moist, the skin was crispy and you end up with a nice sauce to spoon over the chicken.
It's also advisable to make more than just 4 thighs if possible as my son ate 2 for dinner and was looking for leftovers. We all liked this recipe, will be making again.
This recipe is a great opportunity to add a killer cooking hack to your arsenal: starting chicken thighs in a cold pan. The extra time lets the fat render out and you are left with an impossibly crisp skin, the kind that gives off those satisfying crackles and shatters when you prod it with your fork. Depending on your pan and your heat source this may take longer than 15 minutes, so don't rush it! Only flip them when they are ready and your patience will be rewarded.
The flavor is fresh and clean, but a little simple, as if begging for experimentation. I could see throwing a sprig of rosemary or oregano to sizzle in the rendered chicken fat to make this feel Mediterranean, mix za'atar in with the salt and pepper for a Middle-Eastern take, or swap in diced preserved lemon and ras el hanout for a Moroccan version. The juice that accumulates under the chicken is gold so plan on having some bread to sop it up, though the roasted broccoli florets we dunked worked pretty well, too.
There are many recipes for chicken thighs out there, but this one is a keeper. The fact that you're working with bone-in, skin-on thighs clearly imparts great flavor and allows you to create a nice, crispy crust on the chicken. The preparation is quite simple, yet the dish is packed with flavor from the roasted olives and lemon slices. For this dish, I would only use Kalamatas since their tanginess pairs very well with the richness of the chicken thigh and the tartness of the lemon slices.