Even though Southern food is most often equated with comfort food and soul food, we know that all regional cuisines have their forms of comfort food and that we all share the same feelings of comfort that come from making and sharing meals. The love and care that we put into cooking for our families and the time spent sharing meals together. This recipe makes that possible while also feeling good about making healthy choices.–Natasha Newton
HOW LONG WILL KETO CHEESE CRISPS LAST?
Some of our testers found that these keto cheese crisps could be stored in a Ziploc bag and were still good the next day (the ones that lasted that long). Natasha Newton, the author of the recipe, does say that they're best the day they're made but we think a second day is viable. However, because they're so ingeniously easy to make, there's no reason why you can't just make them as you need them.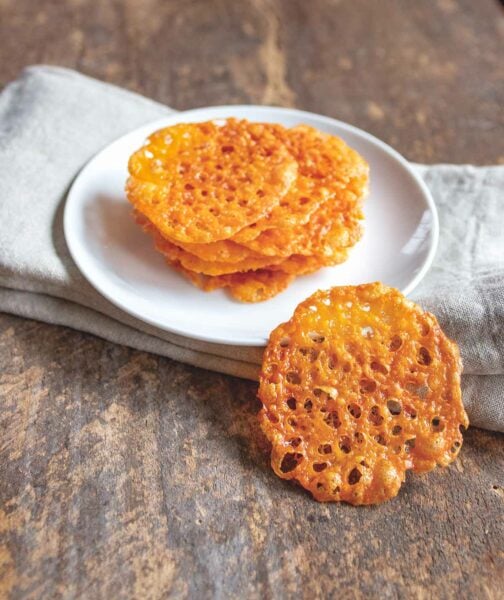 Easy Keto Cheese Crisps
Easy keto cheese crisps make a great substitute for carb-heavy crackers. Perfect for charcuterie boards or dipping into a low-carb dip, they're always a favorite snack. And they're so simple to make!
Ingredients
1

cup

shredded sharp cheddar cheese

2

teaspoons

seasonings of choice

,

such as Everything Bagel seasoning, cayenne, or garlic powder (optional)
Instructions
Drop tablespoons of cheese onto the lined baking sheet, spacing them at least 2 inches (5 cm) apart. Sprinkle with the seasoning of your choice, if using.

Bake until the crisps are golden brown and to your desired crispness, 9 to 14 minutes. Watch closely at the end of the baking time to avoid burning them.

Cool for 5 minutes on the baking sheet then transfer to a paper towel-lined plate. They'll get crispier as they cool. Crisps are best eaten the day they're made.
Nutrition
Serving:
1
serving
Calories:
241
kcal
Carbohydrates:
4
g
Protein:
15
g
Fat:
19
g
Saturated Fat:
12
g
Polyunsaturated Fat:
1
g
Monounsaturated Fat:
5
g
Cholesterol:
59
mg
Sodium:
352
mg
Potassium:
117
mg
Fiber:
2
g
Sugar:
1
g
Vitamin A:
650
IU
Vitamin C:
1
mg
Calcium:
486
mg
Iron:
2
mg
Nutrition information is automatically calculated, so should only be used as an approximation.
Recipe © 2021 Natasha Newton. All rights reserved.
---
Recipe Testers' Reviews
These easy keto cheese crisps are the perfect appetizer to make when someone drops by and you want to have something to snack on while having a glass of wine or other drink. I also see it as a great salad topper, a side for tomato soup, and a crispy snack. They are so quick to make, yummy, and versatile.
I used store-bought finely grated sharp cheddar cheese. I mixed the seasoning into the cheese instead of sprinkling on top. These crisps are good without any seasonings, also. I spread the cheese into a 2-inch diameter.
I served the crisps on the side of a salad. I also munched on them with a glass of Chardonnay (they would be good with any wine). They stayed crispy sealed in a Ziplock bag.
It's easy to forget how simple it is to make some tasty bites to go along with a glass of wine. I used an everything bagel seasoning to kind of cover all the options. We paired these easy cheese crisps with Bogle Phantom red blend wine, a good pairing choice too, IMHO!
These cheese crisps are a quick and delicious treat that goes well as a snack with a cold beer, or to add a little pizazz to a dish–think baked potatoes, chili, or mac and cheese. I had some just after cooking with a cold beer with lime, and then had some with dinner to top off a simple tomato chickpea stew with salad.
Quick and easy as a keto-based snack, these little cheese crisps fit the bill. A little shredded cheese, some seasonings and a very short amount of time and there you are. A Silpat liner or parchment paper are certainly a must as these will spread when baking.
I used a Tuscan herb blend, everything bagel seasoning, and did some with no seasoning. I also tried 2 other cheeses in addition to the cheddar, a sheep milk Manchego and a shredded Parmesan cheese. Hands down the clear favorite with my tasters was the cheddar with the everything bagel seasoning. My personal favorite was the Manchego with the bagel seasoning. Least favorite was the Parmesan. They found the sharpness of that cheese to be a little much and found them on the salty side. The Tuscan herb blend gave the cheeses a nice earthy taste, and the everything bagel seasoning was the most rounded flavor being a little garlicky and adding a little texture with the seeds.
Plain crisps were nice enough but everyone went with the seasoned ones first. I would also say that a few of these would be enough to have as a snack. We found these are a little too delicate to have with dips but went with a nice cold beer or a crisp wine very nicely indeed. I certainly look forward to trying this again with a variety of cheese and seasonings.
You know how sometimes you just want a savory snack but there's not much food in the house, but maybe, just maybe, there's a block of cheddar or a bag of shredded cheese in the refrigerator? This recipe for keto cheese crisps is for those times.
I almost hesitate to call this a recipe because it's so incredibly simple. Like, "put-shredded-cheese-on-sheet-pan-and-bake" simple. This simplicity makes it a great recipe for those days where you need a snack, but you're just so very tired. But this? You can do this, and your reward is salty and crunchy, and well, cheesy.
It's up to you how spicy (or not) you want your crisps. I used some cayenne and a little garlic powder and it was fine. Next time I might leave out the spice all together. These crisps would go great with a cold beer (I favor IPAs) on a hot day, but I think if you fiddled around with your cheese choices (maybe a Gruyère or Comté), you could pair them with some appropriate wines.
As my daughter said of this recipe, "I can't believe we haven't already made these!" These easy keto crisps are ridiculously simple, but the result is definitely greater than the sum of its (few) parts. If you choose to skip adding spices, this is a one-ingredient recipe you can rely on for entertaining or as an accompaniment to vegetable soup or a fruit plate. It's certainly a nice go-to for those who are skipping bread or crackers. These crisps were delicious with cold sparkling water with a splash of grapefruit.
I used a good sharp Irish Cheddar, and, after portioning the cheese on the parchment, sprinkled half of the batch with cumin seeds and the other half with red pepper flakes. After the crisps had cooled for five minutes and were still pliable but not burning hot, I blotted them with a paper towel. My sense was that they would keep better and stay crunchier (they were also slightly less messy). I can't offer any advice on storage because ours didn't last that long.
It's funny how a recipe with ONE ingredient can be so tricky! I made these easy keto cheese crisps three times. The first two times I used 4 different seasonings on the crisps (three for each seasoning type). I used Frank's Red Hot powder, ranch dressing mix, Creole, and Greek seasonings.
I baked the first batch for 10 minutes and they were too brown. The second batch baked for 9 minutes–better, but still too brown. I served these to friends and they enjoyed them, but the consensus was that they were too salty. They also lost some crispness in transport.
I decided to make one more batch using seasonings without salt. I put cayenne on 6 and granulated garlic on the other 6. I baked them for 6 minutes, blotted them on paper towels (something I didn't do the first two times), and voilá! They were perfect. These are a great snack, but I think they would be amazing with a bowl of tomato soup.
My keto cheese crisps did not take as long to bake as noted and they were not as perfectly round as in the accompanying photo, but that in no way stopped us from devouring every last one of them in very short order.
Because we thought we'd make them and then figure out what to serve them with, we did not use any seasonings on this initial batch. However, some seasoning thoughts that came to mind were garlic, Aleppo pepper, chili powder, Old Bay, cayenne powder, thyme, dill, chives, rosemary, and black pepper, and, of course, some of these could be used in combination.
We would not know if they were best on the day made because we had none left to use as a test on day two—it was all we could do to wait for them to cool. Besides serving them as a tasty snack solo, they would be great with many types of soup (from gazpacho to cream of tomato) and equally terrific on a cheese board, looking more like a cracker than another cheese selection.