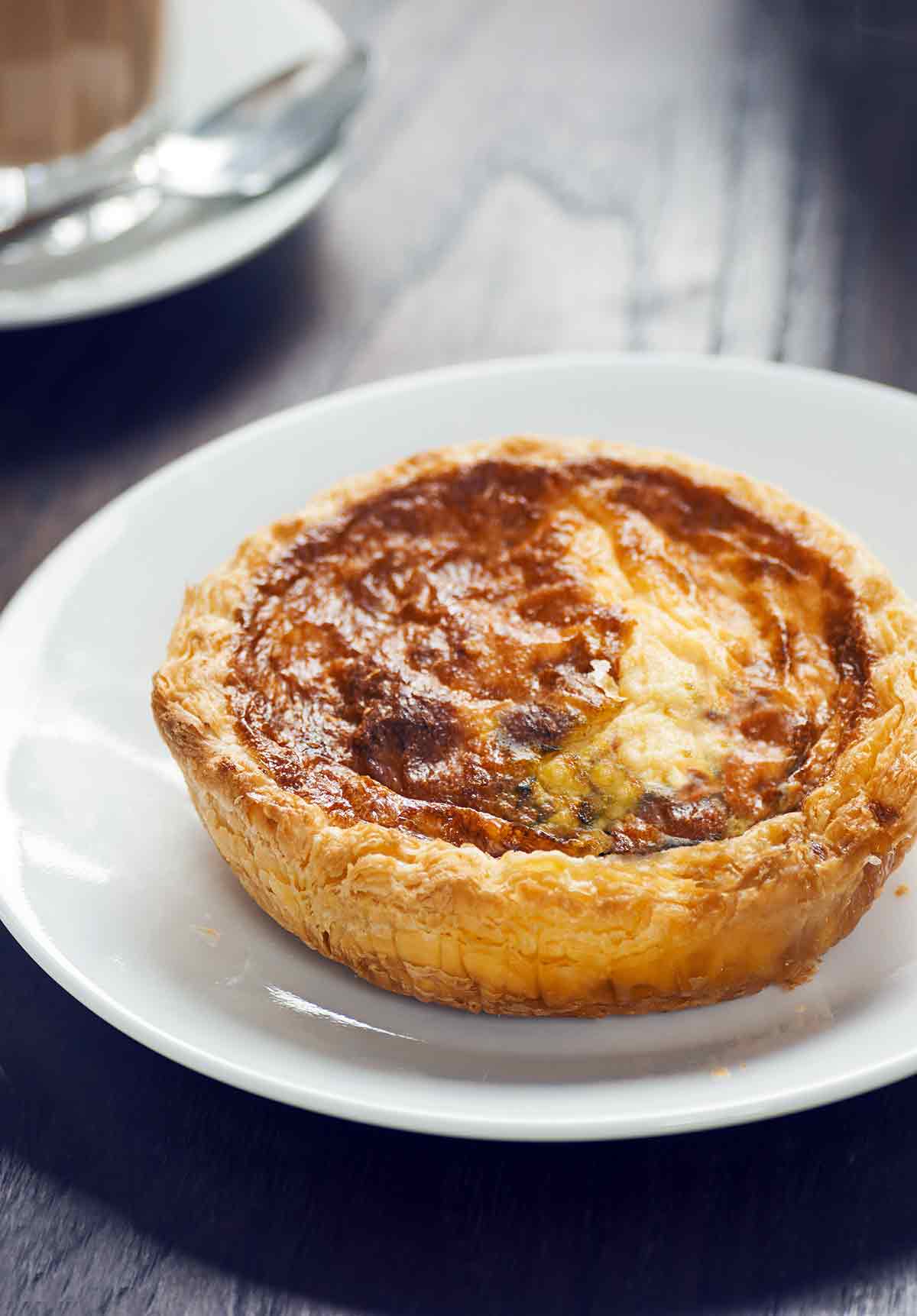 Quiche for one? That sounds ambitious, but the truth is, it's a cinch to make yourself a small quiche if you have an individual tart pan (about 4 inches in diameter) with a removable bottom and some tart dough in your freezer. And what a treat it is.–Judith Jones
LC Quiche Catch-All Note
Judith Jones has even more words of quiche wisdom to impart to solo cooks than what you'll find in her recipe. "A quiche is a great catchall for goodies lurking in the fridge," she says in her book The Pleasures of Cooking for One. You can vary the filling just by adding a tablespoon or so of grated cheese, she notes, whether "Gruyère, aged Cheddar, Gouda, a French mountain cheese, you name it." Or think veggies—leftover sautéed mushrooms, cooked asparagus, wilted spinach, caramelized onions, steamed zucchini, even boiled potatoes. As for something a little more substantial, cold cuts are lovely when chopped and tossed into quiche. So are those last three shrimp from the night before. Or the last of the chorizo. You see where we're going with this? Let your leftovers take you where they will…and then kindly let us know your destination in a comment below.
Mini Quiche
Quick Glance
15 M
1 H

Serves 1
Special Equipment: Individual tart pan (about 4 inches in diameter); pie weights (optional)
Print Recipe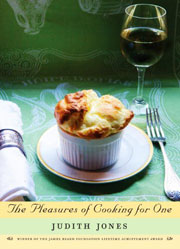 Ingredients
About 2 ounces pastry dough (if using frozen dough, toss it in the fridge the day before to thaw)

Flour, for the work surface

Butter, for the pastry dough

1 large egg

1/4 to 1/3 cup heavy cream

1/4 teaspoon salt

A sprinkling freshly grated nutmeg

About 1 1/2 slices prosciutto or ham, torn into small bits, or 2 slices bacon, cooked and crumbled
Directions
1. Preheat the oven to 425°F (218°C).

2. If the dough is very cold, let it warm up on the counter until it feels pliable. Roll the dough out on a lightly floured board to a circle approximately 9 inches in diameter, and fit it into the tart pan, pressing it firmly around the edges and trimming any crust that hangs over the edge. Prick the dough with the tines of a fork, then line the dough with foil buttered on its underside and fill the pan with dried beans, rice, or pie weights. Bake for 10 minutes. Reduce the oven temperature to 375°F (190°C), remove the foil and weights from the crust, and prick the bottom again. Bake, uncovered, another 2 minutes.

3. Meanwhile, as the tart crust is baking, crack the egg into a measuring cup and add enough cream to make a scant 1/2 cup. Add the salt and nutmeg and mix well. Scatter the prosciutto, ham, or bacon over the tart crust and pour in the egg and cream mixture, which should fill the tart shell right up to the top. (If you have a little too much filling, save it to add to scrambled eggs the next morning.)

4. Carefully place the tart pan on a rimmed baking sheet lined with a Silpat or foil and bake until the filling seems set in the center, about 25 minutes. Remove from the oven and let the quiche rest for about 5 minutes to set. (Yes, you can wait that long before you dive in.) Set the table, have a seat, shut down the computer, and help yourself.
Recipe Testers Reviews
Mini Quiche Recipe © 2009 Judith Jones. Photo © 2009 Viennetta14. All rights reserved. All materials used with permission.
If you make this recipe, snap a photo and hashtag it #LeitesCulinaria. We'd love to see your creations on Instagram, Facebook, and Twitter.