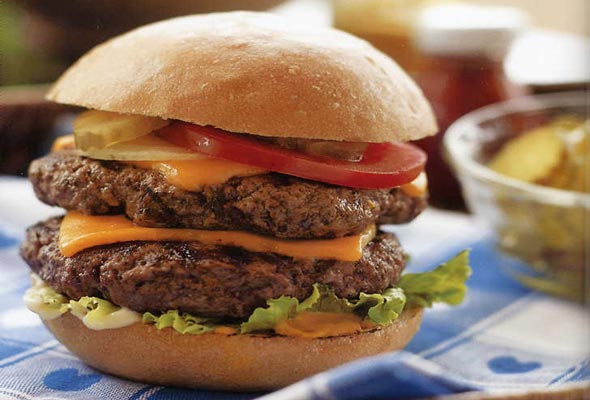 The famous Mansion on Turtle Creek in Dallas is often referred to as the birthplace of innovative Southwestern cuisine, thanks to the tireless efforts of chef Dean Fearing, whose signature dishes—like his lobster taco and tortilla soup—are admired and imitated far and wide. If you can't make it to the Mansion, you can at least feast on this distinctive, formidable double cheeseburger and find out how Chef Fearing earned the distinction of being named one of America's best new chefs by Food & Wine.–Rebecca Bent
LC Make Mine A Double Note
We gotta respect any burger recipe—or, for that matter, any burger chain—that understands a burger ought to be, by default, a double. As in, two patties. Not super skinny ones, either. Such it is with this recipe. And so it is with our editor-in-chief's preferred burger joint, Five Guys, with locations up and down the East Coast and, increasingly, throughout the midwest and southwest. It's a gloriously messy, sloppy, five-napkin burger (double, natch) if ever there was one, loaded with all manner of other fixins, and so worth every single calorie. Got a go-to burger joint of your own where you don't even have to say the words "Make mine a double"? Do divulge.
Double Cheeseburgers
Quick Glance
45 M
45 M

Serves 4
Print Recipe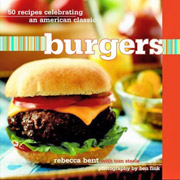 Ingredients
For the onion rings

5 cups peanut oil

3 cups all-purpose flour

1 1/2 teaspoons cayenne pepper

1 tablespoon sweet paprika

1 teaspoon kosher salt

Several grinds fresh black pepper

1 Spanish onion, peeled and sliced into very thin rings, preferably using a mandoline

1 red onion, peeled and sliced into very thin rings, preferably using a mandoline

For the burgers

1 to 2 tablespoons olive oil, for the grill or skillet

2 pounds ground beef chuck

1 teaspoon kosher salt

1/2 teaspoon freshly ground black pepper

8 slices American cheese

4 hamburger buns, halved

2 tablespoons unsalted butter, melted, for the buns

2 tablespoons store bought or homemade mayonnaise

2 tablespoons prepared yellow mustard

8 iceberg lettuce leaves, washed and patted dry

4 1/2-inch-thick slices ripe tomato

4 1/2-inch-thick slices yellow onion

16 dill pickle slices

Ketchup, for serving
Directions
Make the onion rings

1. Preheat the oven to 200°F (93°C). Heat the peanut oil in a deep-sided saucepan until it measures 350°F (175°C) on a candy or deep-fry thermometer.

2. In a shallow bowl, blend the flour, cayenne, paprika, salt, and black pepper. Separate the onion rings and dredge them in the flour mixture, shaking off any excess.

3. Carefully place the onion rings in the hot oil, a few at a time, making sure they don't stick together. Fry for 3 to 5 minutes, turning as necessary, until golden brown. Remove with a slotted spoon and drain briefly on paper towels. Place on a warm platter and keep warm in the oven until all the onions are fried. Serve immediately.

Make the burgers

4. Wipe down a grill or a well-seasoned flat griddle with the olive oil or heat the oil in a large nonstick saute pan over medium-high.

5. Gently form the ground beef into eight 4-ounce burgers, each about 1/2 inch thick. Season with the salt and pepper. Cook the burgers over medium-high, about 4 minutes per side on the grill for medium-rare, about 4 1/2 minutes per side in a skillet for medium-rare. (For rare burgers, cook about 3 1/2 minutes on each side; for medium, cook about 4 1/2 minutes on each side.) Place 1 slice cheese on each burger during the last minute of cooking so the cheese melts.

6. Meanwhile, toast the burger buns. Butter the cut sides of each bun generously and smear them with about 1/2 tablespoon each mayonnaise and mustard.

7. To serve, place 2 of the burgers, 1 on top of the other, on the bottom half of each bun. Top each stack of 2 burgers with 2 of the lettuce leaves, a slice each of tomato and onion, and 4 pickle slices. Top with the other half of the bun and serve at once with the onion rings and ketchup.
Recipe Testers Reviews

This produces a great, basic burger. I used medium ground beef and cooked them with a cast iron grill for 4 minutes on each side. I would caution that these patties need to be made fairly thin; I made them like I usually do and when stacked double, the burgers were really difficult (and exceptionally messy) to eat.
I did find the recipe for the onion rings a little confusing and wasn't as pleased with the results. I sliced my onions with a mandolin, first very thin and then regular thickness. I found that the coating barely stuck to the rings and so what I ended up with was essentially deep fried onions, especially the very thin slices. They were good but they definitely weren't what we expected as onion rings. I will say that they were really good piled on the burgers, rather than as a side. The red onion was 163 grams (sliced) and the Spanish onion was 189 grams. The thin rings cooked in under 3 minutes and the thicker ones took nearly 4.
Double Cheeseburgers Recipe © 2004 Rebecca Bent. Photo © 2004 Ben Fink. All rights reserved. All materials used with permission.
If you make this recipe, snap a photo and hashtag it #LeitesCulinaria. We'd love to see your creations on Instagram, Facebook, and Twitter.