This meatball pizza, made with tomato sauce, mozzarella, and tender beef and sausage meatballs piled atop pizza dough, takes homemade pizza to a whole new level.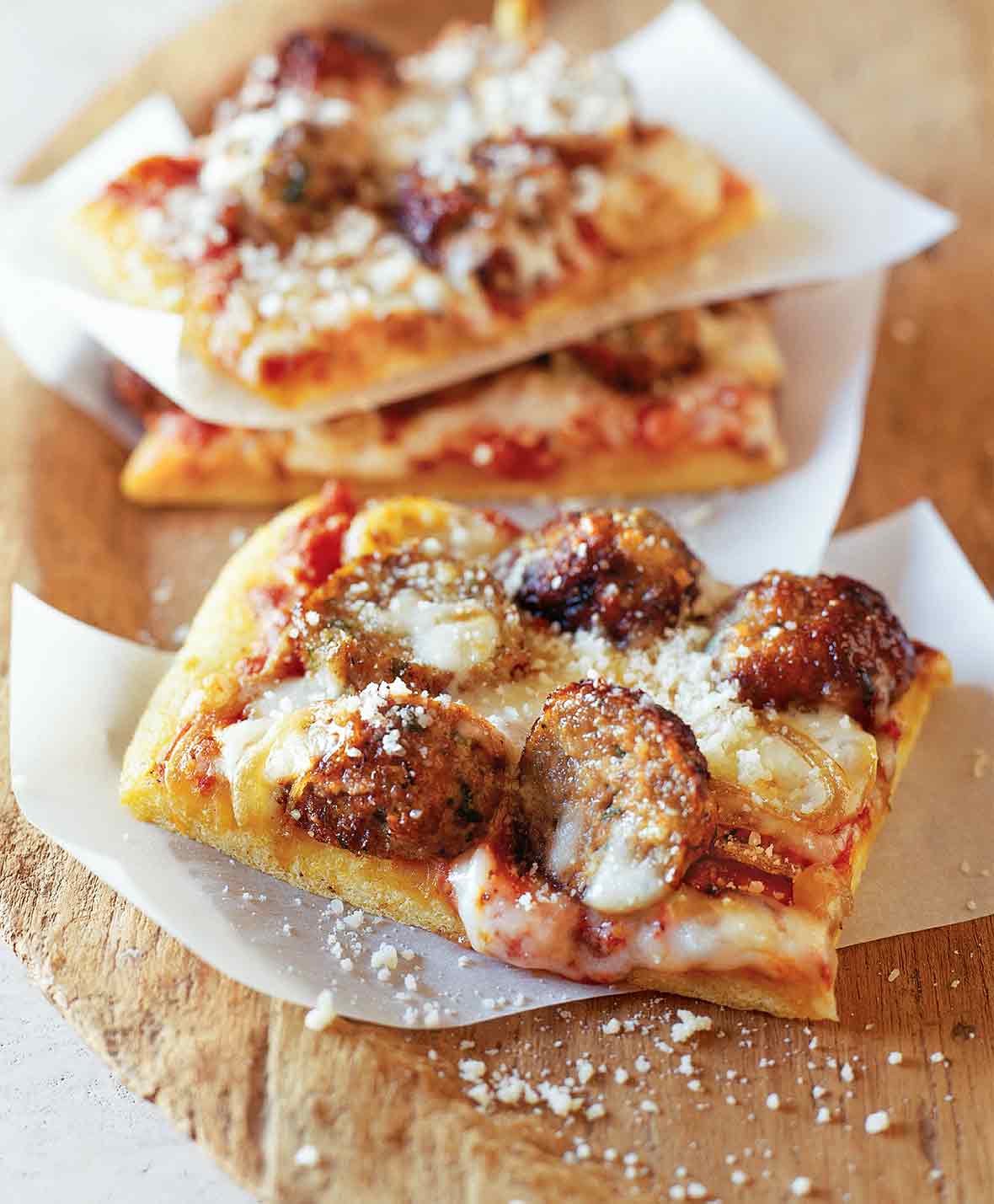 Pizza is Italian in origin, but this humble flatbread has captured the attention of the entire planet, and in every country where it's eaten it's tailored to the cultural palate. Take, for example, Mexico's ranchera pizza with beans and chorizo and India's seek kebab pizza with spiced ground meat. Beneath the pepperoni, cheese, and tomato sauce that we have come to know and love in this country is a blank canvas–or dough–that's primed for all sorts of culinary renditions. In contrast to the Italian approach, in the United States, just as in other parts of the world, many liberties have been taken with the creation of pizza.–Brigit Binns
LC No Pizza Stone? No Problem. Note
No pizza stone? No problem. When baking the meatballs, omit it. When baking your pizza, flip your largest cast-iron skillet upside down or, worst-case scenario, use a baking sheet. (Although surely you have some cast iron in your kitchen, yes? Have we taught you nothing?)
Meatball Pizza
Quick Glance
40 M
3 H, 30 M

Makes one 12-inch pizza; serves 2 to 4
Special Equipment: Pizza stone (or large cast-iron skillet turned upside down)
Print Recipe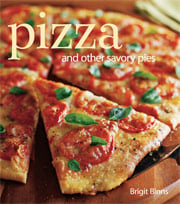 Ingredients
Email Grocery List
For the meatballs

1 large slice stale white bread, crust removed

1/3 cup warm water

4 ounces ground veal or beef, very cold

3 ounces sweet or hot Italian sausage, very cold, casing removed

1 small garlic clove, minced

1 tablespoons minced fresh flat-leaf parsley

1 large egg white, lightly beaten

2 ounces Parmigiano-Reggiano, finely grated

Salt and freshly ground black pepper

For the pizza

1 tablespoon olive oil, plus more for shaping and brushing

1 small yellow onion, diced

Salt

1 ball Semolina Pizza Dough, at room temperature
3/4 cup Simple Pizza Sauce

4 ounces whole-milk, low-moisture mozzarella cheese, shredded
Directions
Make the meatballs

1. Place the bread and warm water in a bowl. Let stand, turning the bread occasionally to thoroughly moisten it, for 10 minutes.

2. Line a rimmed baking sheet with parchment paper. Squeeze the bread gently to remove some–actually, most–of the water. Discard the water. Tear the bread into 1-inch chunks and toss them into a large bowl. Add the veal or beef, sausage, garlic, parsley, egg white, half of the Parmigiano-Reggiano, 1/4 teaspoon salt, and pepper to taste and mix thoroughly with moistened hands. Form the meat mixture into 10 balls. Place the meatballs on the baking sheet, cover with plastic wrap, and refrigerate for at least 2 hours or up to overnight.

3. Place a pizza stone on a rack in the lower third of the oven and preheat to 450°F (232°C). Let the pizza stone heat for 45 to 60 minutes.

4. Remove the plastic wrap from the meatballs and place the baking sheet directly on the pizza stone. Bake until golden brown, about 15 minutes. Let the meatballs cool slightly and then cut each one in half.

Make the pizza

5. Meanwhile, in a skillet over medium heat, warm the 1 tablespoon olive oil. Add the onion, season lightly with salt, and sauté until softened, about 8 minutes.

6. Place a large sheet of parchment paper on a pizza peel or baking sheet turned upside down and place the ball of dough in the center. Coat your fingers with olive oil and press the dough from the center outward into a 12-inch round with a slightly raised edge. (If the dough springs back when you try to shape it, cover it with a clean kitchen towel and let it rest for a few minutes, then try again.) Patience is the key here, as the thinner the dough is, the crisper the crust will be. Cover the finished dough round with a clean kitchen towel and let rise for 15 minutes.

7. Lightly brush the raised edge of the dough with olive oil. Spread the tomato sauce over the dough, leaving a 1⁄2-inch border uncovered. Scatter the onion over the sauce. Arrange the halved meatballs on top. Sprinkle with the mozzarella and season to taste with pepper. Carefully slide the pizza-topped parchment paper from the peel or baking sheet onto the hot pizza stone (or overturned cast-iron skillet). Bake until the crust is golden brown and the cheese is bubbling, 9 to 12 minutes.

8. Using the pizza peel or baking sheet, remove the pizza from the oven and transfer it to a cutting board. Let stand for 2 minutes, sprinkle with the remaining Parmigiano-Reggiano, and then slice and serve.



Recipe Testers Reviews
Meatball Pizza Recipe © 2008 Brigit Binns. Photo © 2008 David Matheson. All rights reserved. All materials used with permission.
If you make this recipe, snap a photo and hashtag it #LeitesCulinaria. We'd love to see your creations on Instagram, Facebook, and Twitter.