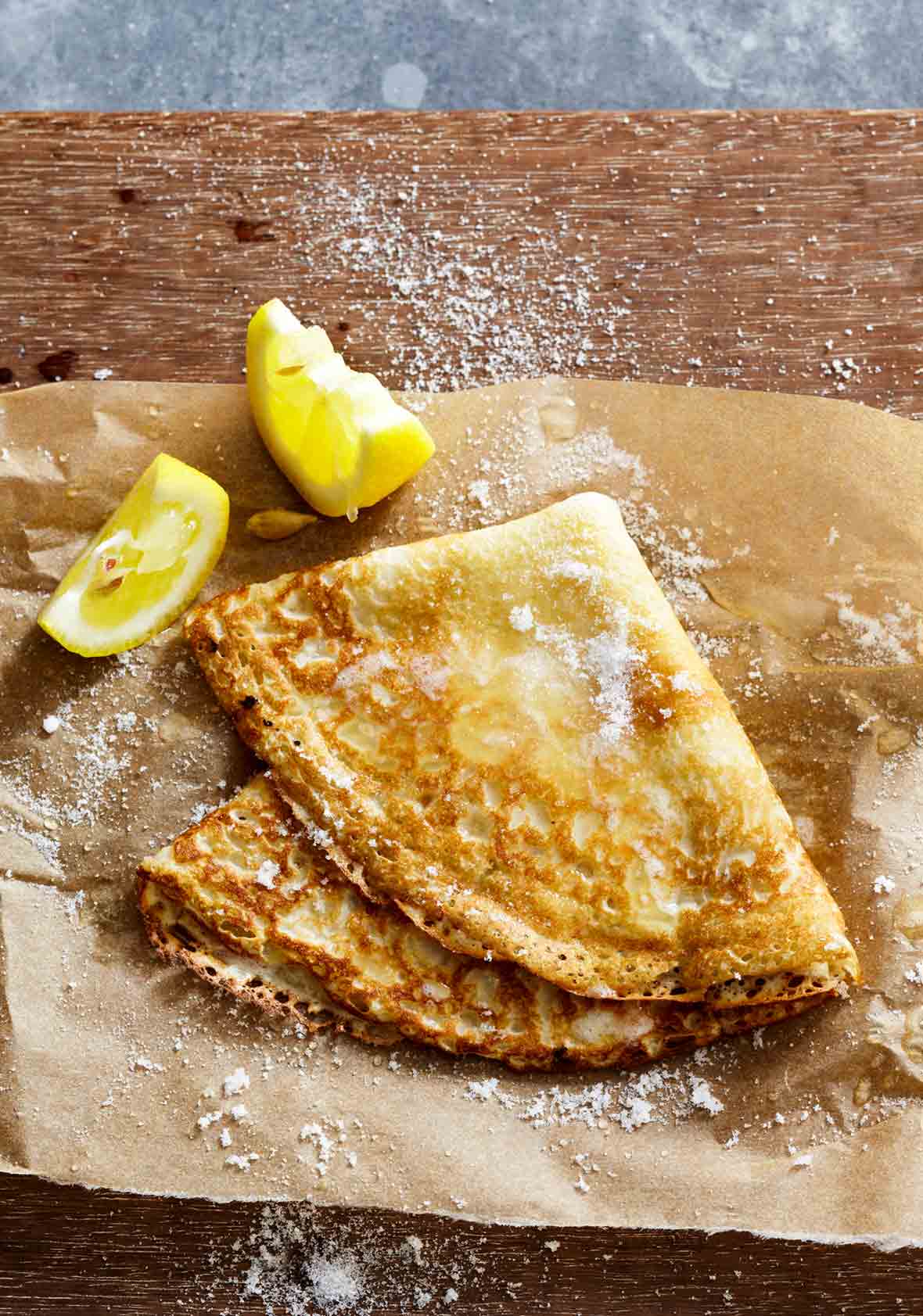 This deceptively named basic crepes recipe works for any crepe incarnation, savory and sweet, including blintz and turns out something that tastes anything but basic.–David Leite
Basic Crepes FAQs
Why do you rest crepe batter?
Resting the batter is a crucial part of making crepes. By resting the batter, you allow the flour to bloom, which means to absorb the liquid fully. It also gives the gluten a chance to relax, so no rubbery crepes.
How thin should my basic crepe batter be?
Your batter should be smooth with no lumps and have the consistency of heavy cream.
How can I make my crepes lighter?
For a lighter crepe batter, substitute a few tablespoons of club soda for a few tablespoons of the milk.
What's the point of a crepe pan and is it worth it?
A classic crepe pan is specially designed to turn out perfect-sized crepes. Also, its low flared sides make flipping crêpes a cinch. And the thin bottom heats quickly and evenly and when properly seasoned is the ideal nonstick surface. Don't feel like buying another pan? An 8-to-10-inch nonstick skillet with rounded or flared sides will work well. David owns one and loves it.
Can I make crepes ahead of time?
Yes, you can. After making the crepes, just stack them neatly. Slide the crepe stack into a large resealable plastic bag and toss them in the fridge. The crepes will keep like this for up to 3 days. Let the stack sit at room temperature until the crepes are pliable, about an hour, and then peel them apart and proceed with your recipe.
How do I freeze crepe?
To stash the crepes in the freezer, place pieces of waxed or parchment paper between the crepes so they don't stick to one another. Then wrap the stack in plastic wrap, slide it into a large resealable freezer bag, and keep them in the freezer for 2 to 3 months. Let the stack sit at room temperature until the crepes are pliable, about an hour, and then peel them apart and proceed with your recipe.
Basic Crepes
These buttery basic crepes are easy to make with just milk, eggs, flour, salt, and butter, and can be served sweet or savory. And with this recipe, you can forget what you've heard about crêpes being difficult or tricky.
Ingredients
1 3/4 to 2 1/4

cups

whole milk

4

large

eggs

1/2

teaspoon

kosher salt

1 1/2

cups

all-purpose flour

6

tablespoons

unsalted butter

,

melted, plus more for the pan
Instructions
Place 1 3/4 cups milk, eggs, and salt into a blender. Whiz for a few seconds to blend everything together. Remove the lid, add the flour, cover, and blend again until very smooth, about 20 seconds. Remove the lid, pour in the melted butter, cover, and whiz until combined, about 10 seconds more. (Alternately, you can simply whisk everything together.)

Pour the batter into a large glass measuring cup with a spout or a bowl that's large enough to easily fit a 1/4-cup measuring cup. Let the batter rest for at least 5 minutes and up to 24 hours. (If resting for more than 30 minutes, cover and stash the batter in the fridge.)

When you're ready to make crepes, test the batter's consistency; it should be as thick as heavy cream but not as thick as pancake batter. If it feels too thick, whisk in a little more milk at a time, using up to a 1/2 cup more.

Heat an 8-inch crepe pan or nonstick skillet over medium-high heat until it's hot enough to make a drop of water sizzle upon contact. Using a folded paper towel, spread about 1/2 teaspoon butter around the interior of the pan. You want the pan to be sufficiently hot so that the butter sizzles upon contact, but not so hot that it instantly burns and turns brown.

Pour about 1/4 cup crepe batter into the center of the pan and at the same time (or very shortly thereafter) lift the pan from the heat, tilting and turning it in all directions so the batter spreads evenly across the bottom of the pan into a thin circle.

☞ TESTER TIP: If there's a "tail" that's left behind in the pan, no worries, you can trim that later.

Cook the crepe until the edges begin to dry and lift from the sides of the pan and the bottom is nicely browned, about 1 minute. (To check for color, use a table knife, slim off-set spatula, or your fingers to lift up an edge of the crepe and peek underneath.)

When the first side is ready, use the knife, spatula, or your fingers to lift the crepe and quickly flip it over. Smooth out any folded edges or pleats and then cook until the center is firm and the second side is browned, about 20 seconds more. The first side is almost always much prettier and more evenly browned (we'll call it the presentation side), while the second side tends to be more spotty.

Slide the crepe from the pan onto a large plate or cooling rack. Repeat with the remaining batter, adjusting the heat and wiping the pan with more butter as you cook. You can stack the crepes on the plate as they're done.

☞ TESTER TIP: If you're new to crepe-making, prepare to mess up the first crêpe (or even more) as you get the hang of swirling the batter into the pan, having your pan at the right temperature, and the timing.

Serve the crepes individually, in short stacks or, if desired, fold the crepes in half to create half-moon shapes or fold again into quarters. If you're in a sweet mood, sprinkle them with powdered sugar or dollop with whipped cream. If you prefer savory crepes, fill them with ham and cheese, which is always a favorite.
Notes
Crêpes Variation
Brown Butter Crepes
For most recipes, I not only melt the butter, but I cook it until the water has boiled off and the milk solids are starting to turn golden and take on a toasty flavor. At this stage, it's called beurre noisette in French ("hazelnut butter") or brown butter in English. It's such a clever way to add a depth of flavor to the crepes.
Simply substitute brown butter for the butter, tablespoon for tablespoon, in the ingredient list above. To make brown butter, melt 7 tablespoons unsalted butter in a small saucepan or skillet over medium heat. Cook the butter, swirling the pan every few seconds, until all of the water from the butter has sizzled off and the milk solids at the bottom of the pan begin to turn a pale golden color, 2 to 4 minutes.
Continue cooking the butter until it turns golden brown and smells nutty and delicious, another few seconds. Immediately pour the brown butter into a bowl to stop the cooking. Let it cool to room temperature before using. When you add the butter to your basic crepes recipe, be sure to include the delicious toasty brown milk solids.
Lemon, Sugar, and Butter Crepes
Heat a small skillet over medium heat. Lay the crepe, presentation-side up, in the skillet and let it heat through for about 15 seconds. Flip it over, and using a rubber spatula or the bottom of a spoon, spread it with 1 teaspoon unsalted butter, at room temperature. Sprinkle the butter with 1/4 teaspoon granulated or confectioners' sugar (or more to taste), then fold the crepe into a half-moon shape and sprinkle again with sugar, and squeeze a little lemon juice over the top. Then fold once more into a triangle. Sprinkle with more sugar if desired. Slide the crepe onto a plate and eat it right away. (Or, if you're the lazy sort, just stack 2 or 3 crepes on a plate, each one buttered, sugared, and "lemon-ed.")
To boost the "dessertiness" of the crepes, add about 2 teaspoons sugar and 1 teaspoon vanilla extract to the batter.
Nutrition
Serving:
1
crepe
Calories:
125
kcal
Carbohydrates:
11
g
Protein:
4
g
Fat:
7
g
Saturated Fat:
4
g
Polyunsaturated Fat:
1
g
Monounsaturated Fat:
2
g
Trans Fat:
1
g
Cholesterol:
65
mg
Sodium:
111
mg
Potassium:
76
mg
Fiber:
1
g
Sugar:
2
g
Vitamin A:
265
IU
Calcium:
47
mg
Iron:
1
mg
Nutrition information is automatically calculated, so should only be used as an approximation.
Recipe © 2012 Martha Holmberg. Photo © 2012 James Baigrie. All rights reserved.
---