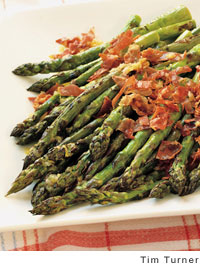 Spears of medium thickness do better on the grill than pencil-thin spears. They are less likely to fall through the cooking grate and they usually have fuller flavors.–Jamie Purviance
LC You Heard It Here First Note
Prosciutto-wrapped asparagus has long been a familiar finger food at cocktail parties and the like. Here we're giving you permission to defiantly un-daintify the duo. Just grill the asparagus and prosciutto separately—uncoupled, thank you very much, so there's on time wasted tidily rolling slippery strips of meat around asparagus spears—and douse them with a punchy lemon vinaigrette. Asparagus is now tailgate-ready. You're welcome.
Asparagus and Prosciutto with Lemon Vinaigrette
Quick Glance
25 M
25 M

Serves 4
Print Recipe
Ingredients
For the vinaigrette

2 tablespoons apple cider vinegar

1 tablespoon finely diced shallot

2 teaspoons finely grated lemon zest, preferably organic

1 teaspoon Dijon-style mustard

1/4 cup extra-virgin olive oil

1/4 teaspoon kosher salt

1/4 teaspoon freshly ground black pepper

1 1/2 pounds asparagus

1/2 teaspoon kosher salt

4 thin slices prosciutto (about 2 ounces total)
Directions
1. Prepare your grill for direct cooking over medium heat.

2. In a small bowl whisk the vinegar, shallot, lemon zest, and mustard. Whisking constantly, slowly drizzle in the oil and continue to whisk until it's emulsified. Season with the salt and pepper.

3. Remove and discard the tough end of each asparagus spear by grasping the spear—holding it with one end in each hand—and bending it gently until it snaps at its natural point of tenderness, usually about 2/3 of the way down the spear. If desired, use a vegetable peeler to peel off the outer skin from the bottom half of each spear if they're particularly thick, woody spears. Spread the asparagus on a large plate, drizzle with a few tablespoons vinaigrette, and season evenly with the salt.

4. Grill the asparagus and the prosciutto over direct medium heat, with the lid closed as much as possible, until the asparagus is tender and the prosciutto is crisp, turning once or twice. The asparagus will take 6 to 8 minutes and the prosciutto will take 1 to 2 minutes.

5. Arrange the asparagus on a platter, spoon on some more vinaigrette, and crumble the crispy prosciutto on top.
Recipe Testers Reviews

This amazing asparagus and prosciutto recipe is almost finished before you start! I believe I've found a new favorite recipe for asparagus. The charred yet still crisp-tender asparagus spears get a great flavor boost from the mild citrus dressing and the salty richness of the grilled prosciutto. I'd never considered grilling prosciutto before, but that's changed.
Asparagus and Prosciutto with Lemon Vinaigrette Recipe © 2009 Jamie Purviance. Photo © 2009 Tim Turner. All rights reserved. All materials used with permission.
If you make this recipe, snap a photo and hashtag it #LeitesCulinaria. We'd love to see your creations on Instagram, Facebook, and Twitter.