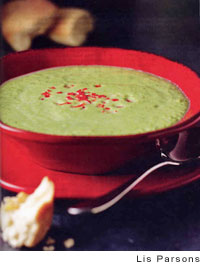 At this time of year, it's good to have a thick warming soup at your fingertips and this is plenty seasonal into the bargain. This is what makes it easy: I make it from frozen broccoli; I use frozen organic broccoli, if that makes you feel any better. Actually, there's no reason to feel bad on any count. This is better when made with frozen, as well as more convenient, especially if being used as an impromptu standby. The broccoli is frozen fresh, whereas the drooping heads at the bottom of my fridge inevitably end up brassy-tasting.–Nigella Lawson
Broccoli and Stilton Soup Recipe
Quick Glance
25 M
25 M

Serves 4 as a supper
Ingredients
3

tablespoons

garlic-infused oil

6

scallions

, finely chopped

2 1/4

pounds

frozen broccoli

2

teaspoons

dried thyme

5

cups

hot vegetable stock (or stock from concentrate or bouillon cube)

1 1/2

cups

crumbled or chopped Stilton cheese

Freshly ground pepper

1

long red chile pepper

, deseeded and finely chopped, optional
Directions
1. Put the garlic oil in a large pan over medium heat and add the sliced scallions, cooking for a couple of minutes.

2. Add the frozen broccoli and thyme and stir on the heat for a minute or so.

3. Add the hot vegetable stock and the crumbled Stilton and bring to a bubble, then clamp the lid on and cook for 5 minutes.

4. Liquidize in a blender (or, failing that, a food processor), in batches, then pour back in the pan and heat if it has cooled too much while liquidizing; add pepper to taste.

5. Scatter a Christmas confetti of red chile dice on each serving, if you feel like it.
Hungry for more?
Chow down on these:
Broccoli and Stilton Soup Recipe © 2007 Nigella Lawson. Photo © 2007 Lis Parsons. All rights reserved.
Hey, there. Just a reminder that all our content is copyright protected. Like a photo? Please don't use it without our written permission. Like a recipe? Kindly contact the publisher listed above for permission before you post it (that's what we did) and rewrite it in your own words. That's the law, kids. And don't forget to link back to this page, where you found it. Thanks!