This stir-fried cauliflower, or bong cai xao, is proof that a handful of ingredients—cauliflower, fish sauce, pepper, garlic, and cilantro—and a few minutes of your time can make for a stellar side dish.
What else can I do with this recipe?
Cook the cauliflower until it's tender but still in possession of a little crunch. You could add a splash of sesame oil just before that last toss for a delicious variation. Or try cooking broccoli florets the same way. This is usually served hot, but we also like it at room temperature or, if you have any left over, cold.
Stir-Fried Cauliflower | Bong Cai Xao
Quick Glance

(1)

10 M
15 M
Serves

4
Print Recipe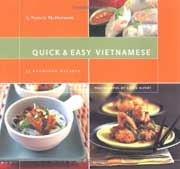 Ingredients
Directions
Heat the oil in a wok or large skillet over medium-high heat. To test if the pan is ready, add a pinch of garlic; if it sizzles at once, the oil is ready.
Add the remaining garlic to the pan and toss to coat with the oil. Add the cauliflower and stir-fry for 1 minute, being certain to expose all sides of the bumpy florets to the hot skillet. Carefully and quickly add the fish sauce, water, sugar, pepper, and scallions and cook, tossing often, until the cauliflower is tender but still pleasantly crunchy, about 2 minutes. Stir in the cilantro or mint, toss one last time, and remove from the heat.
Arrange the cauliflower on a platter or shallow serving bowl and serve hot, warm, room temperature, or cold. Originally published March 04, 2013.
Print Recipe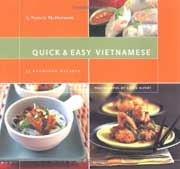 Recipe Testers' Reviews
Nancie's stir-fried cauliflower recipe is the answer to the cauliflower rut I've been in for years. It's fast to come together and full of flavor from the fish sauce, scallions, and herbs (I had mint on hand).
I cut the florets into small pieces, which aids in getting them crisp-tender in a short amount of cooking time. I'm serving it with chicken, leeks, and scallions off the grill tonight.
Poor, neglected cauliflower. All it needs is a chance to shine! This stir-fried cauliflower recipe is really a fabulous way to give it the spotlight it deserves. I really liked how the cauliflower became almost caramelized with the garlic, fish sauce, water, and sugar. It held its shape very well and remained crunchy.
Instead of just breaking off florets, though, next time I'll slice it into fairly thin pieces so each piece has more contact with the heat and can caramelize even more. The mint really added a lively, fresh note at the very end. At first I thought perhaps the fish sauce would overwhelm the other flavors, but it didn't.
The author suggests adding a splash of sesame oil, which I did. In fact, toasted sesame seeds sprinkled over this dish at the very end would be lovely. The recipe says it serves 4; well, I polished off at least 2 servings quite happily in one sitting.
Stir-Fried Cauliflower |
Bong Cai Xao
Recipe © 2011 Nancie McDermott. Photo © 2011
Caren Alpert
. All rights reserved. All materials used with permission.