Moutabal, a roasted eggplant, yogurt, and tahini dip takes those pita chips, crudites, and plain old crackers to a scrumptious new level. Lemony, garlicky, and smoky, it's full of flavors we love and it definitely tastes like more.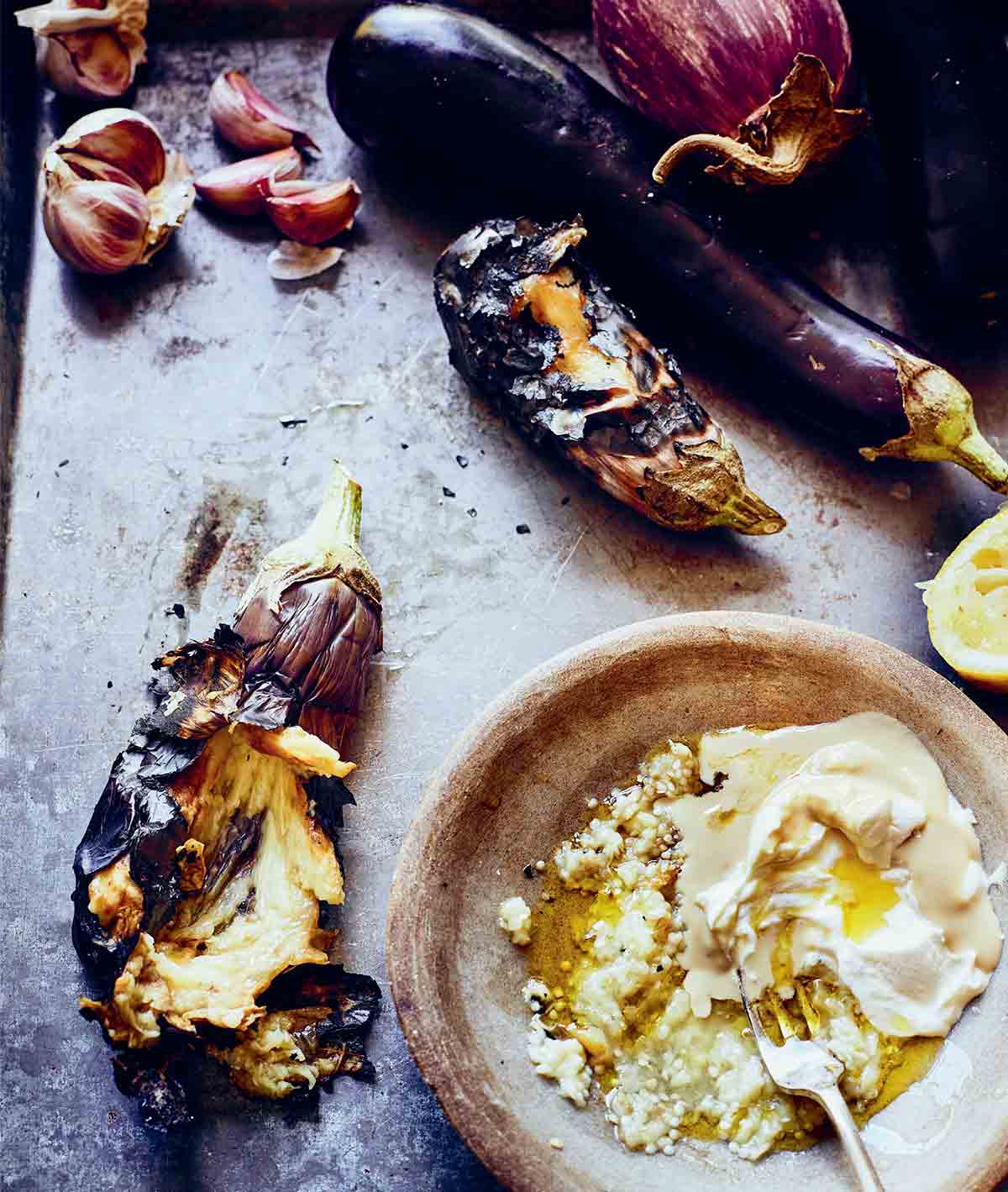 Adapted from Anas Atassi | Sumac | Interlink Books, 2021
My grandmother had an outdoor kitchen in her garden, set up at a safe distance to keep smells out of the house. We called this kitchen the "eggplant oven." This is where the eggplants were either roasted over an open fire or fried, though any smelly kitchen task, actually, was moved outside to the eggplant oven. So take heed! You'll have to put up with some strong smells before eventually enjoying the sultry, smoky taste of this dip.–Anas Atassi
Moutabal ~ Roasted Eggplant, Yogurt, and Tahini Dip
Moutabal is usually served cold, as part of a mezze spread, though I harbor a secret preference for the more pronounced flavors of moutabal served warm.
Ingredients
1

(1-pound)

eggplant

2

tablespoons

tahini

3

tablespoons

full-fat Greek yogurt

2

garlic cloves

pressed

Juice of 1 lemon (2 to 4 tablespoons)

preferably organic

Salt
To serve
1 to 2

tablespoons

extra-virgin olive oil

1

handful of pomegranate seeds

Pita chips

crackers, or crudité, for serving
Directions
If using an open flame, gas burner, or grill,use a fork to poke a few holes in the eggplant. Roast the eggplant over the flame, using tongs to turn occasionally, until the skin is charred and the flesh is soft, 15 to 20 minutes. Let the eggplant cool until easy to handle, about 20 minutes.If using the oven method, preheat the oven to 450°F (232°C). Use a fork to poke a few holes in the eggplant. Roast the eggplant until slightly charred and the flesh is tender, 40 to 55 minutes. Let the eggplant cool until easy to handle, about 20 minutes.

When the eggplant is cool enough to handle, scrape out the flesh, discarding the skin, and transfer it to a bowl or food processor. Using a fork or the food processor, mash or puree it until mostly smooth.

Add the tahini, yogurt, garlic, and lemon juice to the mashed eggplant and blend well. Season with salt to taste.

Spoon the dip into a bowl and drizzle with some extra ­virgin olive oil. Garnish with pomegranate seeds. Serve with pita, crackers, or crudité.
Notes
*What is tahini?
If you've had hummus, you've had tahini. But unless you're making

 

hummus, or other Middle Eastern foods from scratch, you might not know what it really is. Tahini is a rich, thickly unctuous, nutty-tasting spread made from ground sesame seeds mixed with oil (usually a mixture of olive and sesame).
Most tahini is made from toasted seeds, giving it a deeper and richer flavor but "raw" is also available. The sesame seeds can be hulled or unhulled—unhulled sesame seeds are a little bitter but they do have a higher nutritional value.
Show Nutrition
Serving:
1
portion
Calories:
121
kcal
(6%)
Carbohydrates:
11
g
(4%)
Protein:
4
g
(8%)
Fat:
8
g
(12%)
Saturated Fat:
1
g
(6%)
Cholesterol:
1
mg
Sodium:
10
mg
Potassium:
341
mg
(10%)
Fiber:
4
g
(17%)
Sugar:
6
g
(7%)
Vitamin A:
32
IU
(1%)
Vitamin C:
5
mg
(6%)
Calcium:
37
mg
(4%)
Iron:
1
mg
(6%)
If you make this recipe, snap a photo and hashtag it #LeitesCulinaria. We'd love to see your creations on Instagram, Facebook, and Twitter.
Recipe Testers' Reviews
This is a delicious dip, that really leans into the traditional "less is more" minimalism, only requiring a few ingredients treated well for a good result. The smoky undertones blend seamlessly into the nutty tahini, with a zing of garlic and lemon to brighten things up. Even eggplant haters have liked it. Especially nice is it's easy to roast more than one eggplant at once, so you can make a bigger batch. However, I think some constraints need to be introduced to help guarantee success for the reader—and I've now made this dish 3 different times to nail down the variables.
First, the eggplant used should be the teardrop-shaped Italian variety, which averages 210-245 grams each. While it's possible with a globe eggplant, these are usually twice the weight, have a ton of seeds, and don't turn as silky when roasted. The extra weight means longer roasting time and the given quantities of mix-ins feel underpowered. Second, the juice of one lemon is so variable, I've found that 2 Tbsp per Italian eggplant brings enough brightness without upstaging the eggplant. My first attempt using a whole lemon as directed brought 4 Tbsp, which was way too much.
Then there's the garlic issue. If you are making this the day of and plan to eat it all that day, go ahead and put the garlic straight in. However, if you plan to eat it during the week, the garlic continues to bloom (like it does in hummus) and by day three it is so strong it burns your mouth and is probably best reserved for hunting vampires. In Michael Solomonov's, "Zahev," he soaks his crushed garlic in lemon juice for 10 minutes before straining the lemon juice to add to tahini sauce or hummus, which prevents the garlic from blooming in the fridge and throwing the flavors out of whack. I tried that here and it worked just as well. If someone wants to make this ahead, I recommend soaking the garlic in lemon juice for 10 minutes. Then, strain the lemon juice into the dip and discard the garlic pulp. It will be just as good on day 3 as it is on day 1.
This is a tasty, easy dip to make for an afternoon snack with pita chips or as a party appetizer. I've made this moutabal three times over the past few weeks. I simply roast the eggplant in the oven until blackened, let cool for 25 minutes, and blend in the remaining ingredients with a fork. Add a few pinches of salt and you have a wonderful dip. Any leftover will taste great the next day. You can adjust as you like; my lemon was generous with juice so I added an extra little bit of tahini and it was totally balanced. This is a keeper in the oh-so-easy recipe file.
Originally published May 16, 2021
Recipe © 2021 Anas Atassi. Photo © 2021
Jeroen van der Spek
. All rights reserved. All materials used with permission.