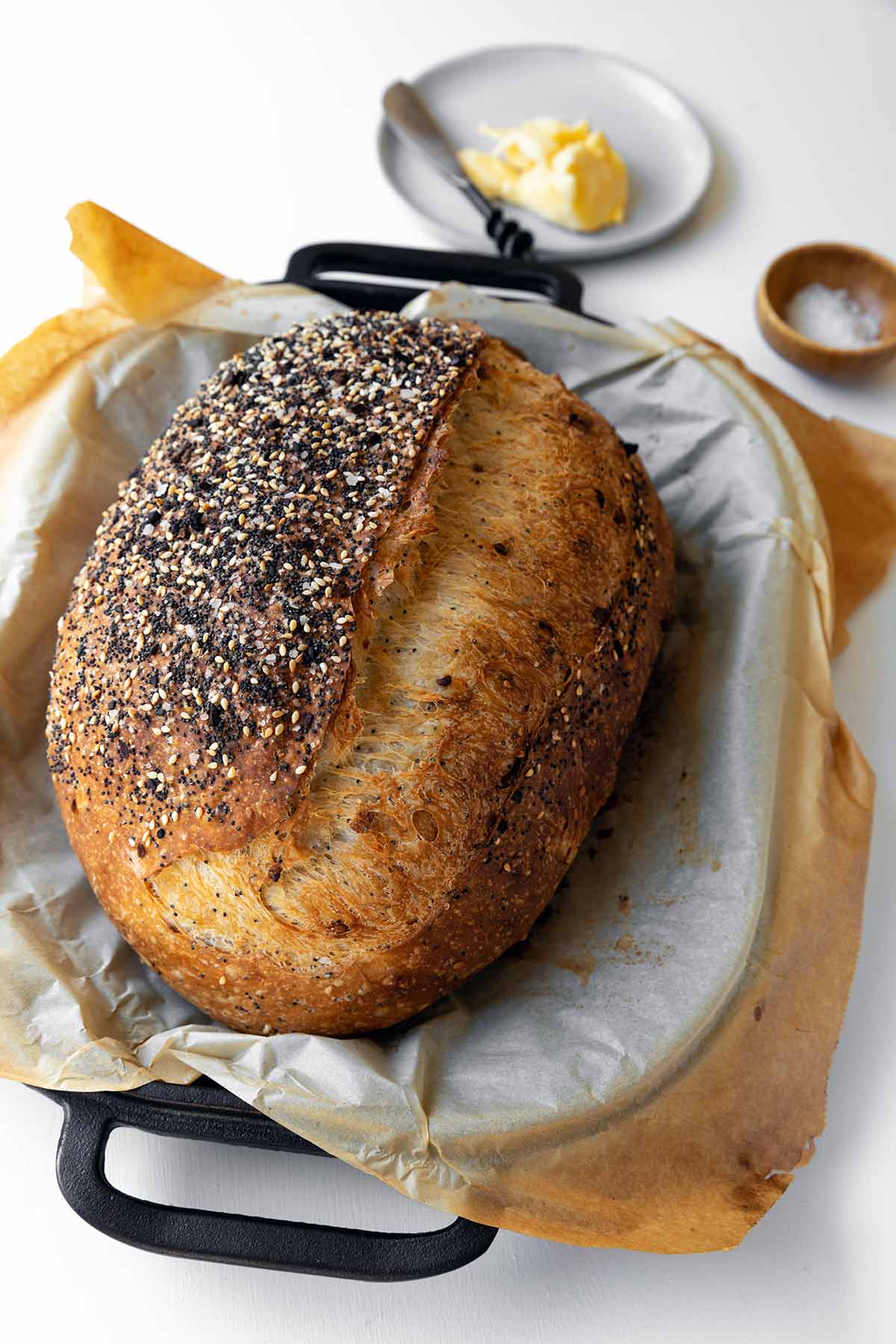 I love everything bagels. In fact, my breakfast every Thursday morning before I saw my shrink, Lady Edith, was an everything bagel with scallion cream cheese, capers, red onion, and smoked salmon. I was in bagel heaven. Yet, one thing always irked me though: the bottom half of my bagel was bereft of any seasoning–no poppy seeds, granulated garlic, dried onion, or regular and black sesame seeds. How silly, I thought.
I knew I could make my own bagels, but I thought it would be much easier to bake a loaf of bread with the Everything Bagel seasoning in the loaf and on top.
Now, you might be thinking, "This isn't a true no-knead loaf." And indeed, it's not just a mix-and-forget-it bread, no. I've integrated the stretch-and-fold technique I first discovered while reading the Tartine cookbook. It's a simple move (see step 4) that adds real integrity and strength to the dough. And it takes all of 60 seconds over 2 hours. That's right. Sixty seconds is the only difference between this and the no-knead bread Jim Lahey made famous. By the way, there are two unsung heroes–both women–in the history of no-knead bread: Suzanne Dunaway and Doris Grant. Why is it always women who never get the credit they deserve? Food for thought.
What role does butter play in this bread recipe?
To be honest, I added butter to this Everything Bagel bread because it's what my aunts do when making Portuguese bread. It's a tradition for me. As to what butter does for bread dough, it gives it a bit of richness and flavor.
I developed this recipe using American butter. American butter contains 80% fat while European butter starts at 82% fat. And as we all know, fat equals flavor. If you can get your hands on any European butter–wonderful. Some of my favorites are Kerrygold, Échiré, and Plugrá. There are some American butters that are similar to European butters, such as Organic Valley European-Style Cultured Butter. If not, don't sweat it. Either way, the bread will be richer and more supple than your ordinary loaf.
What can I top this No-Knead Everything Bagel Bread with?
I say go to town. To riff on everything bagels, try:
Butter and sea salt
Cream cheese and all its variations
Smoked salmon
Lox
Red onion
Capers
Fried egg, bacon, and cheese
Mascarpone and avocado
Cream cheese and cucumber
Pastrami and Swiss cheese
Poached egg and avocado
Ham and cheese
No-Knead Everything Bagel Bread
Think of this loaf as a giant everything bagel. But unlike everyone's favorite bagel, this bread has poppy seeds, sesame seeds, dried minced garlic, and dried minced onion on top as well as inside. It's bursting with flavor, so get the cream cheese ready.
Ingredients
3

cups

bread flour

,

plus more for the bowl and work surface

1/2

teaspoon

instant yeast

1

teaspoon

kosher salt

, (NOTE: Some Everything Bagel seasonings contain salt. Taste yours. If it's salty omit this salt.)

1/4

cup

Everything Bagel seasoning*,

plus more for topping

1 1/2

cups

warm water (98°F to 104°F | 37°C to 40°C)

2

tablespoons (1 oz)

unsalted butter

,

softened
Instructions
Mix the dough
In a large bowl, whisk together the flour, yeast, salt, if using (see NOTE above; if using our homemade version you will not need salt), and Everything Bagel seasoning.

Add the water and mix to form a sticky dough. Plop in the softened butter and mix to incorporate. The easiest way is to squish the dough between your fingers.

Cover the bowl with plastic wrap and set it aside to rest in a warm spot for 30 minutes.
Stretch and Fold
Wet your fingers with water. Grab one side of the dough and stretch and fold it up over onto itself. Rotate the bowl 90 degrees. Repeat three more times until each side of the dough has been stretched and folded. This is your first folding set. Re-cover with plastic wrap. Rest the dough 30 minutes.

Repeat 4 more sets of the stretch-and-fold technique, letting the dough rest for 30 minutes after each set, for a total of 2 hours.

After the last stretch-and-fold, let the dough rest, covered, until it's pillowy, about 1 hour.
Shape the dough
Turn the dough out onto a lightly floured work surface. Gently stretch it out a bit being mindful not to deflate it. Fold the bottom third up and onto the center. Repeat on the left, right, and top.
Tighten the dough
Flip the dough over, so it's seam-side down. Cup your hands around the loaf and gently drag it from the upper left to the lower right of the work surface while rotating the loaf. Do this several times to assure a tight skin.
Refrigerate the dough
Generously flour a kitchen towel (not terrycloth which will cause the dough to stick) and line the bowl with it. Gently flip the dough into the bowl so it's smooth-side down and seam-side up. Fold the towel over the loaf. You can also use a large banneton, if you wish. Cover with plastic wrap and refrigerate for at least 12 hours.
Preheat the oven and Dutch oven
Place a Dutch oven, or any large pot with a tight-fitting lid, in the oven and crank the heat to 450°F (232°C).
Slash the loaf
Cut a large piece of parchment paper to use as a sling for the bread.

When the oven is up to temperature, carefully remove the pot and set aside the lid.

Turn the bread out from the bowl or banneton, onto the parchment paper. Brush or spritz the top of the loaf with water and sprinkle with 2 to 3 tablespoons of Everything Bagel seasoning. Use a sharp knife or razor blade to slash the top. (For a round boule, slash a square pattern; for a long loaf, slash once along the length of the loaf.)
Bake the bread
Using the parchment sling, carefully lift the loaf then lower it into the Dutch oven, drop in an ice cube, cover, and slide the pot into the oven. Bake for 20 minutes.

Reduce the oven temperature to 400°F (204°C) and continue to bake, uncovered, until the bread reaches an internal temperature of 200°F (93°C) on an instant-read thermometer poked through the top, 20 to 25 minutes more. If the Everything Bagel seasoning is darkening too quickly, lightly cover the loaf with foil.
Cool the bread
Remove the pot from the oven. Grab onto the parchment and lift the bread out of the pot. Transfer the bread to a rack to cool completely. Don't you dare think of slicing the loaf until it's totally cooled. (I'll let you get away with slightly warm.) A hot loaf will be unpleasantly gummy.
Notes
*Why is everything bagel seasoning so popular?
Everything bagels have been a staple since the 1980s and are known for their distinctive flavor, being covered in a mixture of salt, black and white sesame seeds, onions, and garlic. The affordable spice mixture has also taken off on its own, prepackaged and added to nearly anything you could imagine—cheese spread, avocado toast, pizza crust, even your bloody Mary. It's a perfect mixture of salty, savory, and garlicky, and can be used on nearly anything.
The revolutionary cast iron bread pan designed by bakers, for bakers. We crafted our pan to help you bake better bread every day! Bake bâtards, boules, demi-baguettes, and other loaves of almost any size. Made in the USA.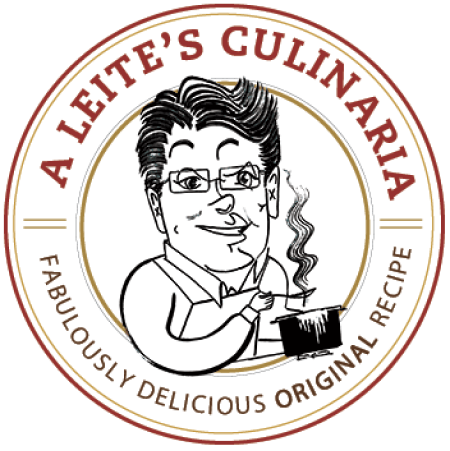 Nutrition
Serving:
1
slice
Calories:
132
kcal
Carbohydrates:
23
g
Protein:
4
g
Fat:
3
g
Saturated Fat:
1
g
Polyunsaturated Fat:
1
g
Monounsaturated Fat:
1
g
Trans Fat:
1
g
Cholesterol:
5
mg
Sodium:
496
mg
Potassium:
37
mg
Fiber:
1
g
Sugar:
1
g
Vitamin A:
62
IU
Vitamin C:
1
mg
Calcium:
6
mg
Iron:
1
mg
Nutrition information is automatically calculated, so should only be used as an approximation.
Recipe © 2021 David Leite. Photos © 2021 David Leite. All rights reserved.
---