Spotted dog is a loaf of Irish bread studded with raisins (hence the spotted reference) and enriched with egg. Serve it warm with marvelous Irish butter.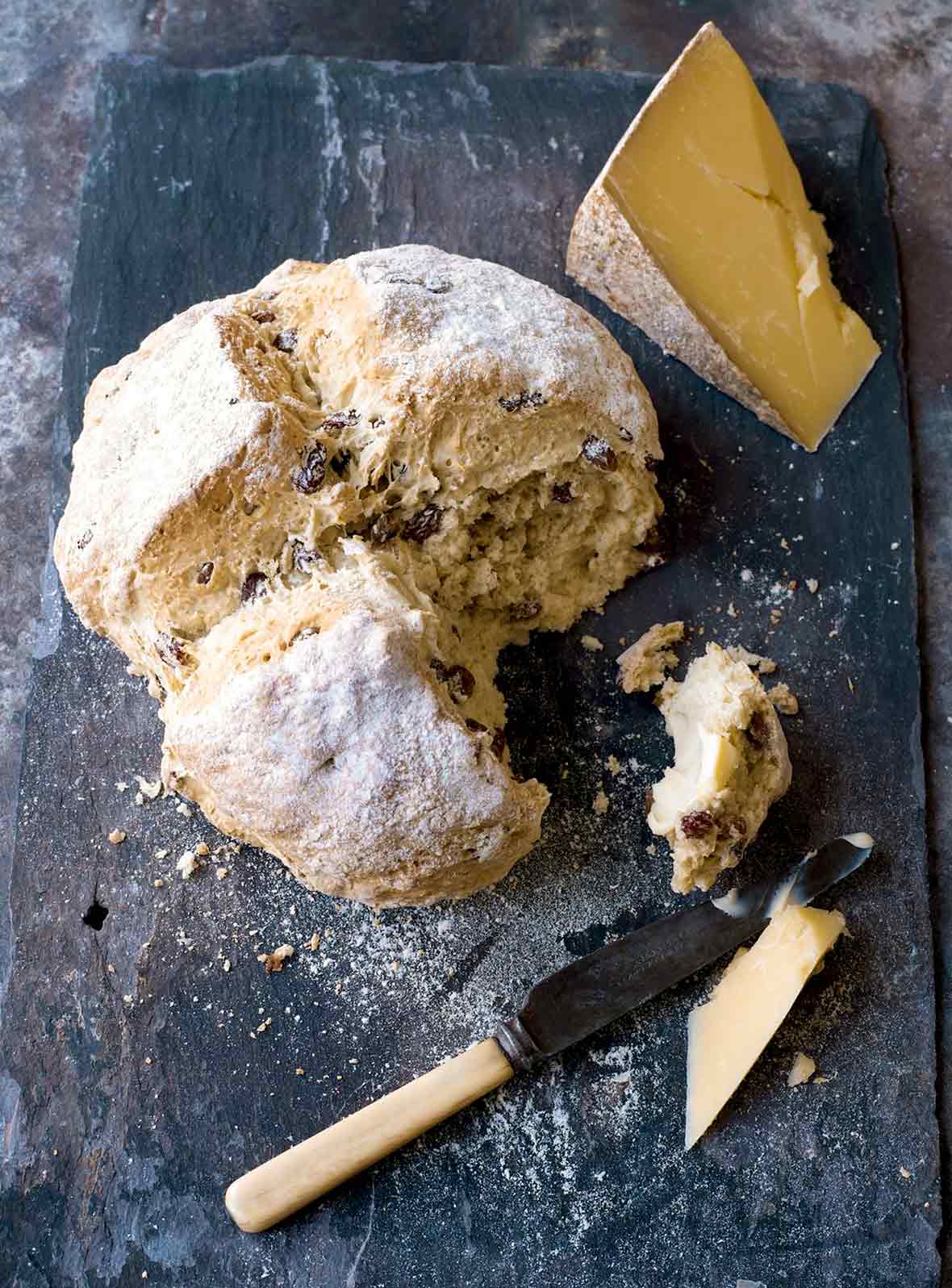 During my childhood, many people in the country were poor, and their daily staple would have been wholemeal bread. White flour was more expensive than brown, so white soda bread was considered to be more luxurious—a treat for special occasions. At times of the year when work was harder, such as at harvest or threshing, or maybe on a Sunday when visitors were expected, the woman of the house would add a bit of sugar and a fistful of dried fruit and an egg to the white bread to make it a bit more special. Nowadays, this doesn't seem such a big deal, but back then any money that the woman of the house got from selling her eggs was considered to be her "pin money," used for little luxuries such as hatpins. Putting an egg into the bread was one egg less that she could sell, so it actually represented much more than it would for us today.
This bread was called Spotted Dog, and when it was still warm, she'd wrap it in a tea towel and bring it out to the fields with hot sweetened tea in whiskey bottles wrapped in newspaper or cloth to insulate them. The farm workers would put down their tools and sit with their backs to the haystacks. She'd cut the bread into thick slices and slather on yellow country butter. My memories of sitting down with them are still vivid.–Darina Allen
LC Naming Conventions Note
In case you're curious about the name of this variant of soda bread, it takes its name from the raisins that spot its appearance.
Spotted Dog
Quick Glance

(2)

15 M
55 M

Makes 1 loaf
Print Recipe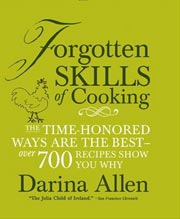 Ingredients
Email Grocery List
Directions
Preheat the oven to 425°F (220°C).
In a large bowl, sift together the flour and baking soda. Add the salt, sugar, and sultanas, and mix the ingredients by lifting the flour and fruit up into your hands and then letting them fall back into the bowl through your fingers. This adds more air, and therefore more lightness, to the finished loaf.
Now make a well in the center of the flour mixture. Break the egg into a measuring cup and gently stir it. Add enough buttermilk to reach the 1 3/4 cup line (the egg should count as part of the liquid measurement) and combine. Pour most of this buttermilk mixture into the flour. Using one hand, with your fingers open and stiff, combine the ingredients, moving your hand in a full circle and drawing in the flour mixture from the sides of the bowl, adding more of the buttermilk mixture if necessary. Mix it as quickly and gently as possible, thus keeping it light and airy. The dough should be softish, but not too wet and sticky. The trick, as with all soda breads, is not to overmix the dough. When the dough all comes together, turn it out onto a well-floured work surface.
Wash and dry your hands. With floured fingers, roll the dough lightly for a few seconds—just enough to tidy it up. Then pat the dough into a round about 2 1/2 inches high. Transfer it to a baking sheet dusted lightly with flour. Use a sharp knife to cut a deep cross in the center, letting the cuts go over the sides of the bread.
Transfer the baking sheet to the oven and immediately reduce the temperature to 400°F (200°C). Bake for 35 to 40 minutes. If you're in doubt about the bread being cooked, tap the bottom. It will sound hollow when it's done. (This bread is cooked at a lower temperature than soda bread because the egg would brown too fast at a higher heat.)
Serve the freshly baked bread warm, cut into thick slices, and smeared with butter and jam. Spotted Dog is also really good eaten with Cheddar cheese. (Soda breads are best eaten on the day they are made, but are still good for a day or so more. They also make great toast.)
Print Recipe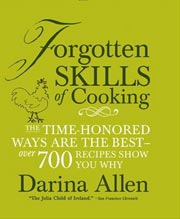 A Note About Buttermilk
In Ireland, shop-bought buttermilk tends to be very thin and low in fat, so Mummy often added a little sour cream or a scraping of butter from a butter wrapper to enrich the bread. This results in a more crumbly texture. Often, buttermilk is thicker and much more like the consistency of yogurt. If using this kind of buttermilk, you'll need to use more of it than specified in these recipes. If the dough is too dry, the bread will be heavy and close-textured. If you don't have buttermilk on hand, add 2 tablespoons fresh lemon juice to 2 cups of milk in order to provide the right balance of acidity to rising agent, which is of vital importance.

Variations

Spotted Puppies

We sometimes make "Spotted Puppies," which are made from the same Spotted Dog bread dough, but shaped into 6 rolls and baked for 20 minutes.

American Emigrant's Soda Bread

Caraway seeds and sultanas were added to soda bread in Ireland long ago, but the tradition went by the wayside. Not so in America, where soda bread often has caraway seeds and sultanas in it. Usually when I go to the US I take Irish recipes there, but I was delighted to bring this one back to Ireland! Simply add 2 teaspoons of caraway seeds to the Spotted Dog recipe and proceed as above.
Recipe Testers Reviews

Full disclosure: I can take or leave soda bread. I was never a fan but dutifully ate what was put in front of me—mostly because I never turn down bread and have the midsection to prove it. But the tables have turned! This Spotted Dog recipe is fantastic. It's easy to put together—how fun is it to sift the flour and golden raisins by hand—and much too easy to eat. The Spotted Dog itself isn't a sweet bread, so the golden raisins bring some sweetness to the party. It's best the day it's made, but it's still delicious toasted and buttered the next day. I can't wait to try it with caraway seeds.
Spotted Dog Recipe © 2009 Darina Allen. Photo © 2009 Peter Cassidy. All rights reserved. All materials used with permission.
If you make this recipe, snap a photo and hashtag it #LeitesCulinaria. We'd love to see your creations on Instagram, Facebook, and Twitter.