These grilled vegetable and goat cheese sandwiches have everything going for them. Toasted ciabatta bread, tender grilled vegetables, creamy goat cheese, and a tangy balsamic vinaigrette.
LC Putting Guests to Work Note
Sure, you can set out all the fixings for these grilled vegetable stacks and let guests to do their own thing, just as Emeril instructs. Although if you're heading out for a picnic—or simply have lazy friends—consider instead making a single stunning sandwich using an entire loaf of ciabatta. Split the ciabatta in half, as you would a sandwich roll or bun, and remove a little of the inside crumb to make way for all the other stuff. (Wait! Don't throw out the bread crumbs! Save them for coating cutlets or sprinkling over baked vegetables.) Then layer on the grilled veggies and the vinaigrette, wrap the whole shebang in waxed or parchment paper, and let it rest in the fridge for as long or as little time as you have to spare. If desired, weight the sandwich with a heavy skillet to smoosh all the flavors together. Wait until just before sharing to carve it into as many wedges as needed.
Grilled Vegetable and Goat Cheese Sandwiches
Quick Glance
Quick Glance
45 M
1 H
Makes

6

to 8
Print Recipe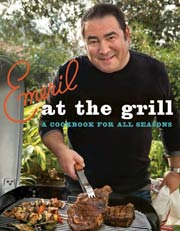 Ingredients
Directions
Preheat a grill to medium-high or turn on the broiler.
Place the eggplant slices on a wire rack or in a large colander. Sprinkle lightly with salt on both sides. Set aside until the eggplant begins to release beads of moisture, maybe 15 to 20 minutes.
Meanwhile, brush all sides of the peppers with some of the olive oil. Grill or broil the peppers, turning them occasionally, until they're blistered and lightly charred on all sides. Place them in a bowl, cover tightly with plastic wrap, and set aside to steam while you heat the remaining vegetables.
Insert toothpicks horizontally through the onion slices to hold them together. Pat the eggplant slices dry with paper towels. Brush both sides of the eggplant, zucchini, yellow squash, and red onion slices with the remaining olive oil and place them on a large baking sheet or platter. Season with kosher salt and black pepper to taste. Grill the vegetables, in batches if necessary, until they're lightly charred on the edges and nicely marked on both sides, 10 to 15 minutes. Transfer the grilled vegetables to a platter and set it aside.
Slide the skins off the bell peppers and discard the cores and seeds. The peppers should separate into nice wide strips. (If necessary, rinse the peppers in a little water to remove any excess charred skin.) Add the peppers to the platter with the other vegetables.
In a small bowl, combine the goat cheese, garlic, extra-virgin olive oil, and basil, and stir until well combined. Season to taste with kosher salt and black pepper.
Lightly toast the ciabatta just to warm it through, either on the grill, under the broiler, or in a toaster.
Assemble each sandwich by drizzling some of the vinaigrette over one side of a slice of ciabatta and generously spreading some of the goat cheese mixture over one side of a second slice. Arrange an assortment of grilled vegetables over the vinaigrette-coated slice, and then drizzle with more vinaigrette if desired. Top the mound of grilled vegetables with the second slice of bread, goat-cheese-side down and press gently. Cut in half. Repeat with the remaining bread, vinaigrette, cheese mixture, and veggies. Serve the sandwiches immediately. (Any unused grilled vegetables can be stored in an airtight container in the refrigerator for up to 4 days. Use them in sandwiches or salads.)
Print Recipe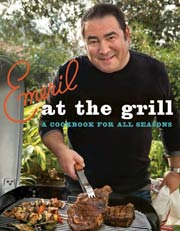 Recipe Testers Reviews
Grilled Vegetable and Goat Cheese Sandwiches Recipe © 2009 Emeril Lagasse. Photo © 2009
Steve Freeman
. All rights reserved. All materials used with permission.
If you make this recipe, snap a photo and hashtag it #LeitesCulinaria. We'd love to see your creations on Instagram, Facebook, and Twitter.