Potatoes with Mexican chorizo is a traditional recipe that's awesome any time of day—especially with eggs. Our rendition of the classic is easy as well as awesome.
Papas con chorizo, or potatoes with Mexican chorizo, is a perfectly lovely answer to what to have any time of day. If having it for breakfast, the authors suggest scrambling it with eggs and rolling it up in a warm flour tortilla. If papas con chorizo is what they crave for dinner, they make gorditas. (Gorditas are similar to corn tortillas but thicker, crispier, chewier, and, we think, happier. They're essentially corn pockets made with corn flour—which is similar to but different than masa—and they're insanely satiating. Watch author Veronica Gonzalez-Smith make them in the video below and you'll understand just how ridiculously easy they are to make.) But you can have them any which way you please.  Originally published April 29, 2013.–Renee Schettler Rossi
*How To Find The Right Queso
Arguably the most difficult thing about this potatoes with Mexican chorizo recipe is sourcing the queso quesadilla cheese. What's queso quesadilla cheese, you ask? It's redundant, for one thing, seeing as "queso" means "cheese" in Spanish. It's also rich, creamy, mild cheese that melts ridiculously easily and is swell in any Mexican recipe, particularly when you crave something melty and ooey and gooey, as in the cheese's namesake quesadilla—or this I-can't-believe-it's-so-simple, can't-stop-cramming-it-in-my-mouth potatoes with Mexican chorizo.
Potatoes with Mexican Chorizo
Quick Glance

(1)

25 M
50 M

Serves 8
Print Recipe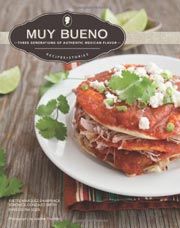 Ingredients
Email Grocery List
Directions
Preheat the oven to 350°F (180°C).
Pour about 8 cups water into a large pot, add 1 1/2 tablespoons salt, and bring to a boil. Add the potatoes and cook over medium-high heat until almost but not quite tender, 8 to 15 minutes. (Be careful not to overcook the potatoes or they'll turn to mush.) Drain the potatoes in a
colander
but do not rinse them.
While the potatoes are cooking, crumble the chorizo into a
cast-iron skillet
.
If cooking the chorizo in the oven,
cover with foil and place in the preheated oven until no trace of pink remains, 15 to 20 minutes. Check after 10 minutes to make sure the chorizo isn't burning. You'll notice that the chorizo will release quite a lot of oil, but you want to keep this to help flavor the potatoes.
If cooking the chorizo on the stovetop,
simply place over medium or medium-high heat and cook, uncovered, until no trace of pink remains and the exterior is slightly crisp. You'll notice that the chorizo will release quite a lot of oil, but you want to keep this to help flavor the potatoes.
Add the drained potatoes to the cooked chorizo along with salt to taste and gently stir to combine. Mind you, don't stir too much or the potatoes will turn to mush. Top with the shredded cheese, return the skillet to the oven, and bake, uncovered, just until the cheese melts, 5 to 7 minutes. Serve immediately.
Print Recipe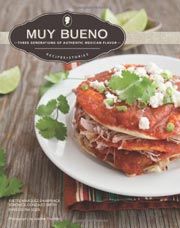 Recipe Testers Reviews
Potatoes with Mexican Chorizo Recipe © 2012 Yvette Marquez-Sharpnack, Veronica Gonzalez-Smith, and Evangelina Soza. Photo © 2012 Jeanine Thurston. All rights reserved. All materials used with permission.
If you make this recipe, snap a photo and hashtag it #LeitesCulinaria. We'd love to see your creations on Instagram, Facebook, and Twitter.