The real deal. That's what folks are saying about this Cajun chicken and sausage gumbo. As with most things made in a large pot, if you make it and serve it straightaway, it'll be swell, but if you can wait a day or so, you'll find that a little resting time allows it to "meander from tasty to operatically magnificent," as author Nancie McDermott says so elegantly.–David Leite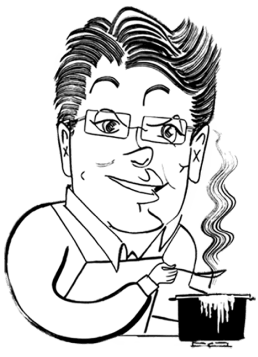 Why Our Testers Loved This
There's a whole bunch of reasons our recipe testers gobbled this up. They found it to be very easy, straightforward, and affordable. They also loved that the heat level could be adapted to suit their preference.
Elie Nassar joined in the chorus of cheers with, "This is a straightforward, real-deal Cajun gumbo that everyone loved."
What You'll Need to Make This
Oil–This may seem like a lot of oil, but it is necessary for creating the roux, which is the foundation of gumbo. Choose an oil with a mild or neutral flavor for making your roux.
Paprika–Our testers had success with using hot paprika and sweet paprika. Use whichever you prefer, depending on your heat tolerance.
Chicken–The gumbo recipe uses bone-in chicken, which will impart more flavor to the gumbo than using boneless chicken.
How to Make This Recipe
Make the roux. Cook the oil and flour over low heat, stirring often, until golden brown.

Toss in the onion, celery, and pepper and cook until softened. Add the garlic, thyme, and spices, and cook for 2 minutes. Pour in the chicken stock and bring to boil.

Nestle the chicken in the gumbo and simmer until very tender. Chop the sausage into bite-size pieces.

Remove the chicken from the pot. Pull the meat off the bones and chop. Return the cooked chicken and sausage to the pot.

Simmer the gumbo until the flavors meld and the stew is thickened. Stir in the scallions and parsley, and serve over rice.
Common Questions
What's a roux?
Generally speaking, a roux is a mixture of fat and flour that gets cooked together and is used to thicken sauces and stews. There are four types of roux, depending on how deeply colored it becomes while cooking, from light to deep bronze.

In gumbo, the darker, the better. A good gumbo roux is a labor of love that takes patience, but it's so worth it for the depth of flavor that it will bring to your dish.
What's the difference between gumbo and jambalaya?
Jambalaya is primarily a rice dish (think paella) while gumbo is more of a stew that's thickened with a roux and made with chicken, sausage, and/or seafood. Both gumbo and jambalaya are often made with similar meats and vegetables, but the process of making them and the end result are completely different.
What should I serve with gumbo?
This is generally served over steamed or boiled rice but is occasionally spooned over potato salad. Offer sliced scallions and hot sauce on the side for garnishing.
Can I make this in advance?
Definitely. The flavor of this stew actually improves with time, so feel free to prepare it a day before serving. Cool completely, then store in the refrigerator overnight. Rewarm it over medium-low heat.
Helpful Tips
Cook the chicken for an additional 15 minutes if you prefer it to be falling off the bone.
Store cooked gumbo in a sealed container in the fridge for up to 3 days or freeze for up to 6 months. Thaw in the refrigerator overnight before reheating.
This recipe is suitable for dairy-free diets.
Write a Review
If you make this recipe, or any dish on LC, consider leaving a review, a star rating, and your best photo in the comments below. I love hearing from you.–David
We love this dish so much we made it twice in ten days. Wouldn't change a thing except we might have used a bit more sausage than called for.

After dinner, you will go to bed dreaming about it and wake up in the morning wondering how to justify it for breakfast. It warms the heart, the soul, and the belly. Thank you for sharing this, you've given us a new winter dish to look forward to making!

kate
Cajun Chicken and Sausage Gumbo
This Cajun chicken and sausage gumbo is easy and authentic as can be and not nearly as complicated as you may think to make at home. Only slightly spicy and even a little healthy. Laissez les bons temps rouler!
Ingredients
1

cup

vegetable oil or mild olive oil

1

cup

all-purpose flour

1

cup

chopped onion

1

cup

finely chopped celery

1

cup

finely chopped green bell pepper

2

tablespoons

finely chopped garlic

2

teaspoons

dried thyme

,

or 2 tablespoons finely chopped fresh thyme

1

teaspoon

salt

1

teaspoon

freshly ground black pepper

1

teaspoon

sweet or hot paprika

1

teaspoon

cayenne pepper

2

quarts

homemade chicken stock or canned chicken broth

3 1/2

pounds

skin-on, bone-in chicken legs and thighs

1

pound

Cajun-style andouille sausage, smoked kielbasa, or other smoked sausage

1

cup

thinly sliced scallions

,

plus more for garnish

1/2

cup

finely chopped flat-leaf parsley leaves

Cooked white rice

,

for serving
Instructions
In a large, heavy-bottomed Dutch oven, preferably cast-iron or enamel cast-iron, heat the oil over medium-high heat until shimmering. When a pinch of flour sprinkled on the oil immediately blooms on the surface of the oil, scatter in the rest of the flour and quickly stir, thoroughly combining the oil and flour into a thick, smooth roux.

Continue cooking the roux, stirring often, as it turns from pale yellow to a rich, deep brown, adjusting the heat as needed to keep the roux slowly darkening without bubbling or burning. This can take anywhere from 20 to 60 minutes, depending on your pot and your stove. The finished roux should be darker than peanut butter and about the color of coffee with a little cream.

Add the onion, celery, and bell pepper to the roux and stir well to coat them. Let them cook, stirring often, until the vegetables are fragrant, softened, shiny, and evenly coated with the roux, 2 to 3 minutes. Add the garlic, thyme, salt, pepper, paprika, and cayenne, and stir well and cook for 2 minutes more.

Add the stock, stir well, and bring it to a lively boil, stirring often to dissolve the roux into the stock. When everything is boiling nicely, add the chicken. When the stock returns to a rolling boil, adjust the heat to maintain a lively simmer and cook, stirring now and then, until the chicken is cooked through and very tender, 45 minutes to 1 hour.

Meanwhile, chop the andouille into bite-size pieces, first halving each andouille link lengthwise and then cutting it crosswise into half-moon slices about 1/4 inch thick.

Using tongs or a slotted spoon, move the chicken from the pot to a platter and let it cool. When you can handle it, pull the meat from the bones, discarding the bones and skin. Coarsely tear or chop the chicken and then return it to the pot along with the andouille.

Cook the gumbo, stirring now and then, until the sausage has softened and everything has come together into a rich, flavorful, slightly thickened stew, about 30 minutes more.

Remove the pot from the heat. (You can cool, cover, and refrigerate the gumbo for up to 2 days to allow the flavors to meld. Skim any fat from the surface of the gumbo and discard. Warm the gumbo over low heat prior to continuing.)

Stir in the scallions and parsley. Serve the gumbo in bowls over rice or with rice on the side, garnished with more scallions.
Notes
For shreddable chicken–Cook the chicken for an additional 15 minutes if you prefer it to be falling off the bone.
Storage and freezing–Store cooked gumbo in a sealed container in the fridge for up to 3 days or freeze for up to 6 months. Thaw in the refrigerator overnight before reheating.
Dietary–This recipe is suitable for dairy-free diets.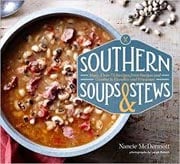 Nutrition
Serving:
1
portion
Calories:
671
kcal
Carbohydrates:
21
g
Protein:
31
g
Fat:
51
g
Saturated Fat:
12
g
Polyunsaturated Fat:
8
g
Monounsaturated Fat:
29
g
Trans Fat:
1
g
Cholesterol:
128
mg
Sodium:
999
mg
Potassium:
665
mg
Fiber:
2
g
Sugar:
5
g
Vitamin A:
677
IU
Vitamin C:
21
mg
Calcium:
50
mg
Iron:
3
mg
Nutrition information is automatically calculated, so should only be used as an approximation.
Recipe © 2015 Nancie McDermott. Photo © 2015 Leigh Beisch. All rights reserved.
---
Recipe Testers' Reviews
This is a straightforward, real-deal Cajun gumbo that everyone loved. The kids ate leftover gumbo for two days afterward. It really kept getting better.
I like that the author labels this Cajun-style as opposed to Creole. Creole cooking is lighter, probably more refined, and possibly might include tomato. This one is a hearty stew that is rustic and utterly delicious.
The most time-consuming step is making the roux. It took an hour or so for me to get it to deep brown without burning it. Be careful with the hot roux, it burns like crazy so don't splatter it around.
The cooking time can actually be mitigated in a couple of ways. It could be done way ahead of time and left in the pot with the heat off once it reaches the appropriate color. Just bring it back to temperature of "scalding hot" before proceeding.
Another method that I use almost exclusively for making roux is the Alton Brown oven method. Just mix the fat and flour and put the uncovered pot in the oven set to 350°F. It takes about 2 hours for it to get to the almost dark brown stage and don't require constant attention. Just give it a stir maybe every 30 minutes. This frees you up to get everything else prepared and have a couple beers, too.
I wanted to cut the level of spiciness in the gumbo for my kiddos, so I used sweet paprika and subbed hot paprika for the cayenne. I added healthy doses of Tabasco to my bowl, though.
When the raw chicken is added, make sure to skim all the usual gunk that comes to the surface. The chicken was ready in about an hour since I used the thighs and legs from a large free-range chicken. Smaller hens may take less time.
I followed this Cajun chicken and sausage gumbo recipe to the letter, and it turned out unbelievably great. The smell in the house as this was cooking was out of this world! I made this, let it rest in the refrigerator for a day, and enjoyed it with the suggested rice.
This is a recipe that is worth the effort…your family will think you're AMAZING! Definitely will have this again and again.
The paprika I used was hot, not sweet. I used store-bought chicken stock, and it seemed to be just fine. The roux did not take long (15 minutes tops) to reach a "coffee with creamer" brown. I had to adjust the heat quite often so it wouldn't smoke but no problems at all on the browning of the roux. The chicken actually took a little over an hour, just because I like it fall-off-the-bone tender.
Ohio doesn't know gumbo; I don't pretend to. What I do know is that we're on board with this spicy, richly flavored, meal-in-a-bowl chicken-and-sausage gumbo.
If you have a helper in the kitchen with you, pass them a beer and put them on roux-stirring duty so you can do all the chopping while you chat. It took 30 minutes for our flour mixture to look like café au lait. From that point, there's about 15 minutes of activity until you, too, can relax with a beer while the chicken stews away.
Pulling the meat away from the bones and skin was the only grumbly part; as I did so, I had to wonder if using boneless, skinless thighs would affect the final product.
Adding the andouille sausage is truly transformative—the entire pot is changed by the smoky, savory sausage. Fistfuls of scallions and parsley and a scoop of bright white rice gives each bowl a photo finish.
The perfectionist in me will tinker a bit more, as the stew was a tad greasy for me at the end, bringing me back to the skinless thighs idea…but a rest in the fridge, then scooping the solids off could do as well. Don't forget the hot sauce—Tabasco, Crystal, or any vinegar-and-cayenne-style hot sauce is perfect. I used sweet paprika.
We simply can't wait to enjoy this again! Great recipe!
I love gumbo—any kind—and I really liked this one. It's very easy, straightforward, and affordable. A very satisfying dish.
Since I had just made roasted chicken stock, I had lots of chicken fat left and used that for this dish. It worked very well. I used some smoked paprika, which is slightly hot already, so I omitted the cayenne.
Since I'm still not used to my new stove, my roux was done in just 16 minutes. Next time I'll do the roux on a very low flame.
After adding the veggies, then the stock, and then the chicken, I let the gumbo simmer for about 1 hour. The chicken was done but not quite falling off the bone. Exactly what I wanted.
After adding back the shredded chicken and the andouille, I let the stew simmer for another 1/2 hour to blend the flavor. I added a bit more salt, and then I was done.
Served with white rice and a bit of chopped cilantro and scallions, it's a keeper! I made it ahead of time and let the flavors mingle in the fridge. The fat separated a bit, but a rigorous short boil brought it back together.
If you're expecting a spicy-hot gumbo, then this Cajun chicken and sausage gumbo recipe isn't for you. If you want a gumbo with layers of flavor, then this is the perfect recipe for you.
I was concerned about the amount of cayenne pepper, so I used the sweet paprika. Next time I'll opt for the hot because I thought it could use just a little extra kick—not enough where it will sear your mouth but enough to make you sit up and take notice of the flavors.
I also used andouille sausage because I just love it.
The directions are very easy to follow, and the timing for me was perfect. It took 20 minutes in my enamel-coated cast-iron Dutch oven to get that beautiful deep brown coloring.
When making a roux, you need to remember, the lighter the roux, the thicker it will be. The darker the roux, the more flavorful it is, yet the flour will have lost a lot of its thickening power.
It took only 45 minutes for my chicken to cook through. Then, 30 minutes later, I had a very good pot of gumbo ready to eat. This does make a huge batch of gumbo but could very easily be cut in half for a smaller batch.
Select a Tester
My husband and I LOVED this gumbo dish. I've tried gumbos before and was never particularly impressed. Apparently, Creole versus Cajun spices makes all the difference!
My dish wasn't as dark as the picture of the recipe, but I think that's because I wasn't patient enough to let the butter brown fully. I'll make the effort next time.
I also think that, with this spice blend, you could make a quick "cheaters" version and still have a tasty meal. Subbing boneless chicken cut into cubes would really cut down cooking time although you would lose a bit of the flavor from cooking bone-in.
This chicken and sausage gumbo is a rather more complicated recipe than I usually use, but the end result was perfect. The flavors all come together to make an outstanding full-bodied gumbo.
When making gumbo, the above measurements are usually just a guide. That is the nature of gumbo. Use what you have.
You can't get a sear on the chicken when you are putting it into the pot with the roux. I have always seen either the chicken just put in raw or either browned before you start the roux. It wasn't seared but was cooked a bit and it was perfect by the end of the cooking time.
I didn't find that putting the pot half off the burner accomplished much. The trick is to not raise the whole thing a boil over high heat. It takes longer to do it on a low flame, but it works, in that you have no grunge on top that way.
The best part about gumbo is that it gets better and better the longer it simmers and/or sits in the fridge. And it freezes really well. If you have any left. So put a pot on the stove, cook it until you are ready to eat it, and it will be good to go.
I am not sure if the special blend of spices was the secret, but it will be good on fried chicken to use up what's left!
And if you want to really eat like down-home, put potato salad in that bowl instead of the rice. Either way, this one is a winner.
Gumbo is good with everything from iced tea to longnecks to Prosecco to a good oaky Chardonnay. Or maybe that's just the way we are used to doing things down here around NOLA!