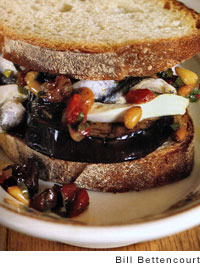 Eggplant is like a sponge, soaking up whatever moisture it encounters. This, at least in part, is why it's typically breaded when fried—the bread crumbs serve as a shield to limit how much oil is absorbed. In this sandwich recipe, however, we salt the eggplant for about an hour to remove excess moisture and then fry it without a coating so it absorbs some oil. Decadent? Absolutely; the eggplant becomes luxuriously creamy and custardy. As buffalo mozzarella is a bit milder and softer than regular mozzarella, it is a perfect complement to the eggplant, but you can use whichever mozzarella you prefer. Interestingly, both the eggplant and the cheese are really the supporting cast in this sandwich; it is the relish that's the star. The secret ingredient? Anchovies. If you need a purely vegetarian sandwich, leave them out, but they lend a subtle kick, and with the sweetness of the raisins and texture of the pinenuts, you have a picante and assertive relish.–Tom Colicchio
Eggplant Sandwich with Buffalo Mozzarella, White Anchovies, and Raisin-Pine Nut Relish
Quick Glance
45 M
2 H

Makes 4 sandwiches
Print Recipe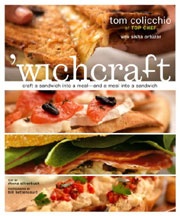 Ingredients
For the raisin-pine nut relish

1/4 cup pine nuts

3 tablespoons extra-virgin olive oil

1/2 cup diced yellow onion

1 teaspoon finely chopped garlic

1/2 cup dark raisins

1/2 cup white wine vinegar

1/2 cup roasted pepper, roughly chopped

4 fillets salt-cured anchovies, finely chopped

2 teaspoons chopped oregano leaves, or 1 teaspoon dried Sicilian oregano

For the eggplant sandwich

1 large eggplant, cut into 12 rounds

Kosher salt

1 cup extra-virgin olive oil

8 slices country bread

1 garlic clove, peeled

1/2 pound buffalo or regular mozzarella, cut into 12 slices

4 ounces (16 small fillets) white anchovies, marinated in vinegar and olive oil (not salt-cured), such as boquerones or alici

Raisin-Pine Nut Relish
Directions
Make the raisin-pine nut relish

1. Lightly toast the pine nuts in a skillet over medium-high heat. Be careful to not toast them too much as they will take on a bitter flavor. Set aside.

2. Pour the oil into the hot skillet. Add the onion and saute over medium-high heat until golden, stirring occasionally. Add the garlic and saute for another minute or so until the garlic is fragrant. Add the raisins and the vinegar. Reduce the heat and continue cooking for 2 to 3 minutes, until the vinegar has reduced by half and the raisins are plump.

3. Add the peppers, followed by the anchovies, 1/2 cup water, and pine nuts. Stir and reduce the heat to low. Cover the skillet with a lid and cook for another 10 minutes, until most of the water has evaporated. Once the relish has dried, add the oregano and stir well. Allow to cool completely before using. Keeps well if refrigerated for up to 1 week.

Make the eggplant sandwich

4. Distribute the eggplant on a sheet pan in one layer and generously salt on both sides. Lay another sheet pan on top of the eggplant and place a heavy object on top to add pressure. Set aside for 1 hour. Remove the weight and transfer the eggplant to paper towels and pat dry.

5. Add the oil to a large hot skillet, making sure to cover the entire bottom of the pan with about 1/8 inch of oil. Add the eggplant just before the oil starts to smoke—it should sizzle as the eggplant is dropped in and the eggplant should brown pretty quickly. Once the eggplant is golden on both sides, about 3 to 5 minutes, remove from the oil and transfer to paper towels. Allow the eggplant to come to room temperature or to cool completely.

6. Grill the bread slices on one side only. Rub the grilled side of 4 of the slices with the garlic. Top with the eggplant, followed by the mozzarella, the anchovies, and the raisin-pine nut relish. Top with the remaining 4 slices, cut the sandwiches into halves, and serve.
Eggplant Sandwich with Buffalo Mozzarella, White Anchovies, and Raisin-Pine Nut Relish Recipe © 2009 TC Enterprises. Photo © 2009 Bill Bettencourt. All rights reserved. All recipes and photos used with permission.
If you make this recipe, snap a photo and hashtag it #LeitesCulinaria. We'd love to see your creations on Instagram, Facebook, and Twitter.