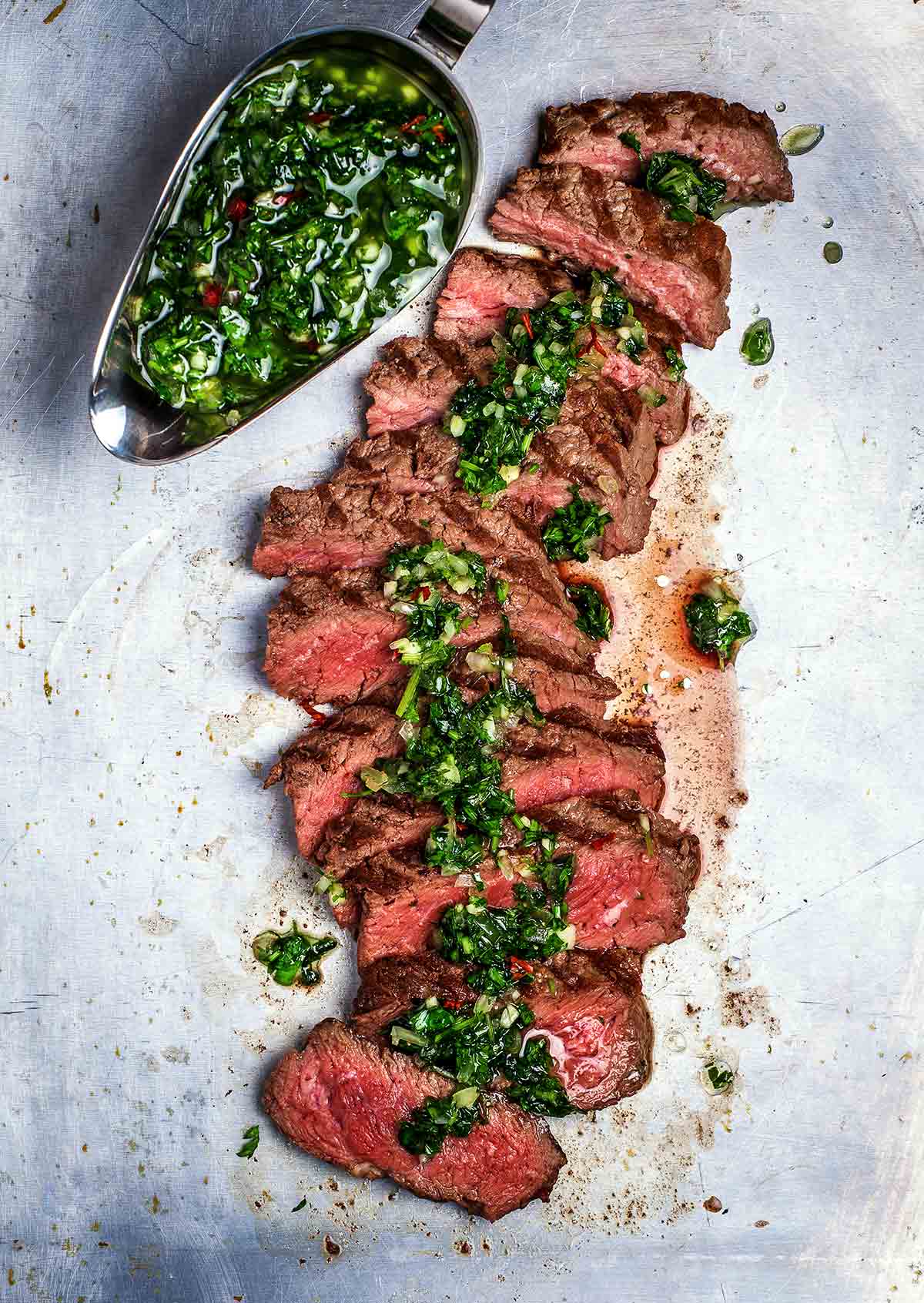 A show of hands, please, as to who has time to marinate a cut of beef during the week? That's what we thought. Not to worry. Chimichurri sauce is a deceptively simple mixture of parsley, garlic, oil, and vinegar that packs a wallop of taste explosion even when simply drizzled over steak or chicken or fish or any vegetal object of your affection. Just douse it after grilling if you don't have time to marinate it in the morning. To heck with planning ahead of time.–David Leite
Steak Chimichurri FAQs
Can I prepare chimichurri ahead of time?
While chimichurri can be made and served immediately, it can also be made in advance and kept in an air-tight container in your refrigerator for about a week. It should be served at room temperature though, so remember to pull it out about an hour before mealtime.
What is the internal temperature of cooked steak?
That depends on your preference. Insert a meat thermometer into the thickest part of your steak. When the internal temperature reaches 120°F (49°C), the meat is considered rare. At 130°F (54°C), it's medium-rare. At 140°F (60°C) it's medium; at 150°F (66°C), medium-well; and at 160°F (71°C) and above, it's well done and beyond. Once your steak reaches the desired temperature, pull it from the heat and let it rest on a cutting board for about 5 minutes before slicing and/or serving.

To achieve the pink juicy interior shown in the photo, aim for medium rare.

Can I use chimichurri on something besides steak?
Definitely. Chimichurri is a versatile condiment and would be welcome atop grilled chicken or fish.
Steak Chimichurri
Steak chimichurri is a classic Argentinian dish that marries tender grilled beef with a punchy herb and vinegar sauce. Here, rib eye steak is marinated in the chimichurri, grilled to perfection, and served with more chimichurri on top.
Instructions
Place the steaks in a large, nonreactive baking dish. Pour 1/3 cup of the chimichurri in a small dish and pour the rest of the chimichurri over the steaks. Turn the steaks to coat both sides. Cover and refrigerate both the wee amount of chimichurri and the chimichurri-doused steaks, turning occasionally, for at least 2 hours or up to 6 hours.

Remove the steaks from the refrigerator 30 minutes before grilling. Prepare a charcoal or gas grill for direct grilling over high heat.

Grill the steaks directly over the hottest part of the grill, turning and brushing with the marinade once, until nicely charred and cooked to your liking, 3 1/2 to 5 minutes per side for medium-rare.

Let the steaks rest for a few minutes or more. Slice and serve with the reserved chimichurri on the side for drizzling.
Notes
Appetizer, Not Entree, Steak Chimichurri
You can improvise a starter from this steak chimichurri recipe. Just cut the steak into cubes, skewer it onto toothpicks, and serve it with extra chimichurri on the side as a dipping sauce.
Nutrition
Serving:
1
portion
Calories:
591
kcal
Protein:
46
g
Fat:
46
g
Saturated Fat:
16
g
Polyunsaturated Fat:
3
g
Monounsaturated Fat:
25
g
Cholesterol:
138
mg
Sodium:
118
mg
Potassium:
608
mg
Vitamin A:
34
IU
Calcium:
16
mg
Iron:
4
mg
Nutrition information is automatically calculated, so should only be used as an approximation.
Recipe © 2003 Denis Kelly. Photo © 2020
tbralnina
. All rights reserved.
---
Originally published August 10, 2020