Our guide to freezing food properly covers everything from how to organize your freezer, the types of containers to use, and how to freeze some of the most used ingredients in your kitchen. All of these hacks come from our recipe testers, who rely on them each day. We have a hunch that you will, too.
How to organize your freezer
Before tossing this week's leftovers in the freezer, here are a few tips that will make your life a helluva lot easier next week.
Label EVERYTHING
Painters tape and a Sharpie are my favorites-everything that goes into the freezer gets a dated label that doesn't fall off and the writing doesn't rub off. And it's easy to remove when the container is empty.—Ellen Fuss
Rely on reusable containers
I bought plastic reusable microwave/freezer containers – small, med, and large that use the same cover. I add masking tape to the top and label with the date and contents so everyone in the house knows what it is and the date it was prepared.—Tricia M.
Cambro containers for storage in the freezer (as well as fridge and pantry). I use one-quart rounds for everything. Also, pint and quart deli rounds are useful, though I have a harder time justifying a case of those. I can buy Cambro containers and lids at restaurant supply stores and even Costco business locations carry them. They are sturdy and hold up well to the dishwasher and freezer.—Irene Seales
Buy the workhorse of the takeout world: aluminum pans
I use two- and three-pound disposable aluminum [Editor's Note: You may be able to wash and reuse the pans. Don't forget to recycle.] pans for make-ahead meals such as pot pies (top crust only), cottage pie, curries, etc. They stack nicely in the freezer. Just pull them out, thaw or not, and throw in the oven. Cleanup is a snap. Unexpected company? (Remember those days?!) Just pull out a couple.—Terri L.

How to freeze everyday ingredients
You may be surprised not just at what you can freeze, but also at how easy it is to stash ingredients for later use in a manner that makes future weeknight dinner prep a cinch.
Bacon
After I open a package of bacon, I separate the remaining strips on a sheet pan lined with parchment and freeze it. Then I put the frozen strips into a resealable plastic bag. It's easy to grab the quantity that I need and to cook it frozen, or if I need it thawed, it thaws super fast. It's a lot easier to chop when it's frozen, too.—Trisha T.
Bananas
I peel and freeze any black overripe bananas, like the ones that travel to school in lunch boxes and back home. I always have a BIG bag handy for banana bread or banana ice cream. My kids love banana ice cream in which we just blend frozen bananas and voila, an instant pleaser.—Louisa Sadiq
Bell peppers
I chop bell peppers and onions and freeze them flat in a bag so we can grab a quick handful when making omelets or a dish that we want to get done quickly. I also buy red peppers on sale/clearance and roast and peel them and freeze them in bags for later use.—Christi B.
Bread
I cut freshly baked bread, bagels, and English muffins before freezing them so that they're ready to pop in the toaster without having to thaw and cut. (I freeze all baked goods that are not consumed the day they are baked.)—Daniela Trapani
I put some wax paper between cut slices of bread BEFORE freezing, otherwise, it freezes as a solid block. A little wax paper makes getting a slice or two really simple.—Peter Quick
Chipotle en adobo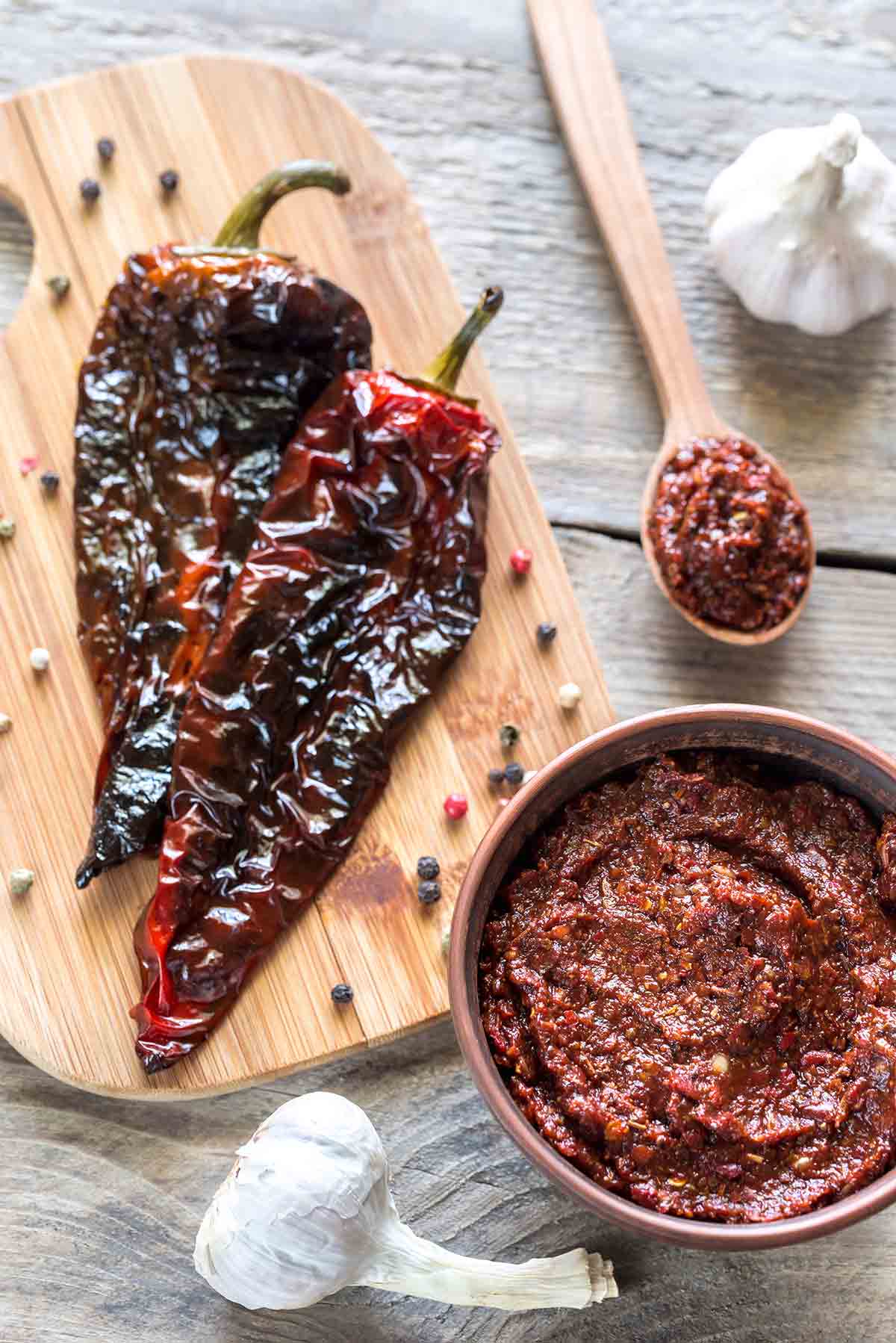 After using what my recipe calls for, I put individual chiles on pieces of plastic wrap, and then spoon some of the adobo sauce over each chili. I wrap them, freeze them, and then place them in a plastic baggie. You may want to place a note saying "Chipotle en Adobo" in each baggie.—Jackie Gorman
Citrus
When I'm using a number of oranges for the pulp, say in a salad, I always remove the peel with a vegetable peeler and toss the strips in a resealable bag in the freezer. Then, when I want some zest, I simply julienne as much as I need and back to the freezer with the rest of it.—Marcia L.
Whenever I use lemons, I zest them first and keep the zest in my freezer. I don't waste any rind and, more importantly, I always have ready-to-use zest on hand when a recipe calls for it.—Ellen Fuss
Every orange, lemon, and lime gets zested before the peel is tossed in the compost. I put the zest on a piece of parchment. I then fold and tightly wrap the whole "envelope" in tin foil and freeze.—Chiyo Ueyama
We buy bags of lemons and limes when on sale. I freeze lime and lemon zest and also juice. I like to have some handy in the freezer. I store it in Rubbermaid litterless juice boxes. Pink for lemon and green for lime. I have a few in the freezer and one of each in the fridge. Lemon is handy for whiskey sours.—Terri L.
Cookie dough
I also freeze cookie dough in rounds, not too much, but enough for a nice warm tray of cookies when my kids are home or last-minute casual warm dessert.—Tricia M.
Garlic
I mash soft roasted cloves, spread the mash in a rectangle on parchment paper, and score the garlic to divide it into roughly the number of cloves that were roasted (it sort of looks like a chocolate bar). Fold the parchment, wrap it in foil, and freeze. It's nice to be able to separate a little square (1 clove) and use it in salad dressing, etc.—Chiyo Ueyama
Ginger root
Store it in the freezer! You can easily break off what you need, when you need it, without losing flavor.—Robin Currie
I grate ginger straight from frozen.—Christi B.
Herbs
Leafy herbs, like cilantro and parsley, freeze well. I finely chop or cut them and freeze bunches in individual freezer bags. When I need to finish off a curry in a hurry or a sauce, etc., I break off a small handful, throw it in, and it's done.—Louisa Sadiq
When giving my rosemary bushes a good haircut, I freeze the excess rosemary on the stalks in freezer bags. Once frozen, the rosemary will fall from the stalks easily and you will have fresh frozen rosemary in the freezer to add to lamb stews, marinades, etc. It's fragrant and delightful.—Louisa Sadiq
Parmesan rinds
We go through a lot of Parmesan cheese. After using the cheese, I always save the rinds. I place them in plastic baggies and throw them in the freezer. I throw the Parm rinds into soups. I even make a Parmesan broth using the rinds from the freezer. I was at a market and was stunned to see what they were charging for a container of Parm rinds, something that most people just throw away. You will want to find the rind and take it out, especially after cooking in an Instant Pot. The rind does get soft and chewy. Not to everyone's liking.—Jackie Gorman
Pastry dough
I always have in my freezer (in addition to frozen stock) crostata dough – pastry dough to use in recipes any time. I find crostata dough so useful for last-minute desserts, and when I don't use fruit, I make a ricotta tart using many variations (with lemon zest, orange zest, pine nuts, dried figs, etc.).—Tricia M.
Peaches
I've known this for a while now but it always surprises folks. You can freeze peaches whole, unpeeled, straight from the tree (or farmers market or store). Then, when you want to use them, run them under lukewarm water for just a minute or two and the peels slip right off! We buy a bushel of peaches each summer from one of our local vendors and I freeze them all as soon as I get them home. Then, whenever I want peach anything, I can grab a peach out of the freezer, slip the peel off and slice it up slightly frozen. My favorite, though, is to take one of those amazing peaches, slip the skin off, chunk it into the blender with a "personal" size bottle of prosecco and a tablespoon of sugar (or a tablespoon of peach schnapps if I'm feeling it) and viola! Instant peach bellini!—Christi B.
Roast chicken or beef drippings
I love to save the beef fat when making a roast and use it in my roux for the gravy. It adds a ton of flavor. If I have extra, I keep it frozen in a container and use it later for sautéing veggies, which adds extra flavor to whatever I am using them for, especially when making beef gravy for meatloaf! Same goes for chicken drippings, particularly when roasting.—Victoria Filip

Soup and stock
This isn't a new trick, but it's essential for me. I freeze homemade chicken stock in large ice cube trays. We use them often for all sorts of dishes and sauces. I also freeze quart-size bags that are handy for last-minute risottos and soups—Tricia M.
This sounds like an advertisement, but I love Souper Cubes. When I make stock, I freeze it in 1 cup or 2 cup measurements, and put them in a resealable plastic bag. It is then so easy to thaw exactly how much I need.—Nadine Bonda
One of my favorite hacks is when freezing soups and sauces, I start by writing on all the quart-size freezer bags I will be using what is going in them and the date. I have a large cup from a stadium football game that I had my husband drill a hole in the bottom of for me. The cup is the perfect size to put a quart-size freezer bag in and have the lip fold over the edge of the cup. It makes filling the bag with soup and sauces so easy and keeps the top of the bag from getting stuff on it to make it not seal well.—Lori Widmeyer
Tomato paste
Whenever I need tomato paste if I have to open a fresh can, I freeze the rest of it in 1-tablespoon amounts and then seal in a freezer bag. I know that I could buy the handy little squeeze tubes of it, but I prefer the canned variety, and it's much cheaper as well. Same goes for coconut milk.—Linda M.
I put a whole can of tomato paste in a resealable bag, and flatten it out evenly to less than 1/4-inch, seal the bag, and freeze it flat. Then when I want some, I can easily just break off the amount I want, and seal up the bag, and put it back in the freezer.—Marcia L.