This braised chicken with tomatillos has a slightly tart green sauce made from tomatillos, onions, peppers, garlic, lime, and cilantro. The chicken is fall-apart tender. A perfect weeknight meal when you crave Mexican.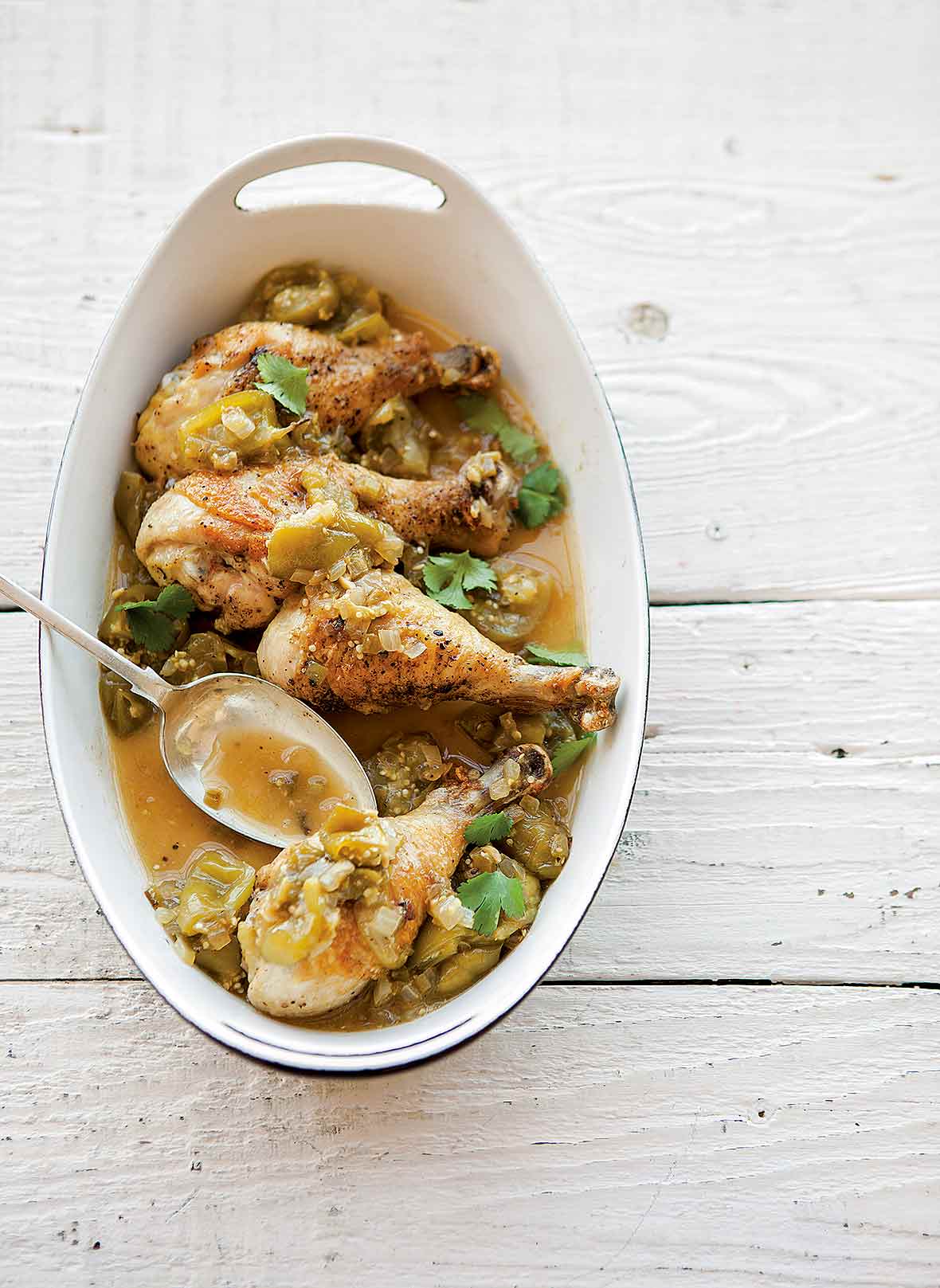 This easy-to-make, mild-in-taste, authentic-Mexican-inspired recipe makes an ample amount of sauce that even kids love. In fact, there's sufficient sauce for you to stash some surplus in the fridge, whether for Sunday supper or Monday lunch. Which means you can cook once, eat twice. As if we didn't love the recipe just for its taste. Originally published January 3, 2013.–Renee Schettler Rossi
What Are Tomatillos?
Small, round, and green, tomatillos look like unripe tomatoes–they're even known as tomates verdes in Mexico. They're not tomatoes, although like tomatoes they are also members of the nightshade family.) Tomatillos have a tart and somewhat herbal taste and are used in salsa verde, soups, and stews. To prep tomatillos prior to using them in a recipe, remove the papery husks and hold the tomatillos under warm running water while you scrub the sticky residue from the skin.
Braised Chicken with Tomatillos
Quick Glance
25 M
1 H, 15 M

Serves 6
Ingredients
Email Grocery List
2 tablespoons olive oil

Salt and freshly ground black pepper

3 1/2 pounds assorted chicken pieces, skin-on and bone-in or boneless and skinless

1 large yellow onion, finely chopped

2 cups homemade chicken stock or canned chicken broth

3 Anaheim or poblano chiles (fresh or canned), roasted, peeled, and finely chopped (in a pinch, 1 or 2 jalapeños will work)

6 cloves garlic, minced

1 1/2 pounds tomatillos, husked, rinsed, and quartered

3 tablespoons finely chopped cilantro, plus whole leaves for garnish

2 to 3 teaspoons ground cumin, or to taste

1 tablespoon fresh lime juice

Cooked white rice or warm tortillas (optional)
Directions
1. To make the Braised Chicken With Tomatillos in your slow cooker, see the Slow Cooker Variation below.

To make the Braised Chicken With Tomatillos on the stovetop, heat the oil in a large sauté pan over medium-high heat. Salt and pepper the chicken pieces on all sides. Working in batches, sear the chicken until browned on all sides, about 8 minutes. Transfer the chicken to a plate.

2. Reduce the heat to medium, add the onion to the pan, and cook until softened, 3 to 5 minutes. Add the stock or broth, stirring to scrape up any browned bits from the bottom of the pan. Add the roasted chiles, garlic, tomatillos, chopped cilantro, and cumin. Bring to a boil, then reduce the heat to low. Return the chicken and any juices that've collected on the plate to the pan, cover, and simmer, turning once, until the chicken is opaque throughout, 20 to 30 minutes, depending on the size and type. (Smaller pieces of chicken, boneless pieces, and white meat will cook more quickly than larger pieces, bone-in pieces, and dark meat.) Transfer the chicken to a platter and tent with foil to keep warm.

3. Add the lime juice to the sauce remaining in the pan and simmer over medium-high heat until slightly reduced and thickened, 10 to 20 minutes. Season with salt and pepper. If a smoother sauce is desired, pulse all or half the sauce in a food processor or blender until the desired consistency is reached.

4. Meanwhile, shred the chicken, if desired, discarding any skin and bone.

5. Pour the sauce over the chicken pieces or shredded chicken on the platter and garnish with the whole cilantro leaves. Serve with rice or tortillas on the side.
Slow Cooker Variation
Sooooo simple. Soooo satiating. We find that chicken thighs work terrifically well in the slow cooker. You can skip Step 1 above, then modify Step 2 so that you cook the onion and the cumin in the oil for 2 to 3 minutes, then add the chiles, garlic, and tomatillos and cook just until softened. At this point, add the stock, using only half the amount listed above. Pour half the mixture into the slow cooker, add the chicken, and then add the remaining mixture. Cook on low for 3 1/2 to 4 hours. Remove the chicken. If desired, shred the chicken and/or puree the sauce. Return the chicken to the sauce. Add the cilantro just before serving.

[Editor's Note: Bear in mind, no two slow cookers are exactly alike, just as no two cooks are exactly alike. This slow-cooker approach worked really, really well for us, although if you have a different slow-cooker cooking technique you want to try by all means, do so. And, natch, we'd love if you'd share it with us in a comment below.] Curious to hear more about working magic with your slow cooker? Peruse our entire selection of slow cooker recipes.
Recipe Testers Reviews
Braised Chicken with Tomatillos Recipe © 2012 Kate McMillan. Photo © 2012 Erin Kunkel. All rights reserved. All materials used with permission.
If you make this recipe, snap a photo and hashtag it #LeitesCulinaria. We'd love to see your creations on Instagram, Facebook, and Twitter.